#KOCOVID19 – England Boxing Clubs need YOUR support
May 11, 2020 | by Matt Halfpenny
England Boxing-affiliated clubs are today appealing for YOUR support to #KOCOVID19 and keep clubs running after the Coronavirus shutdown comes to an end.
The scenario
Clubs up and down the country who give fantastic service to their respective communities have been forced to close their doors until further notice, putting a tremendous financial strain on a number of them.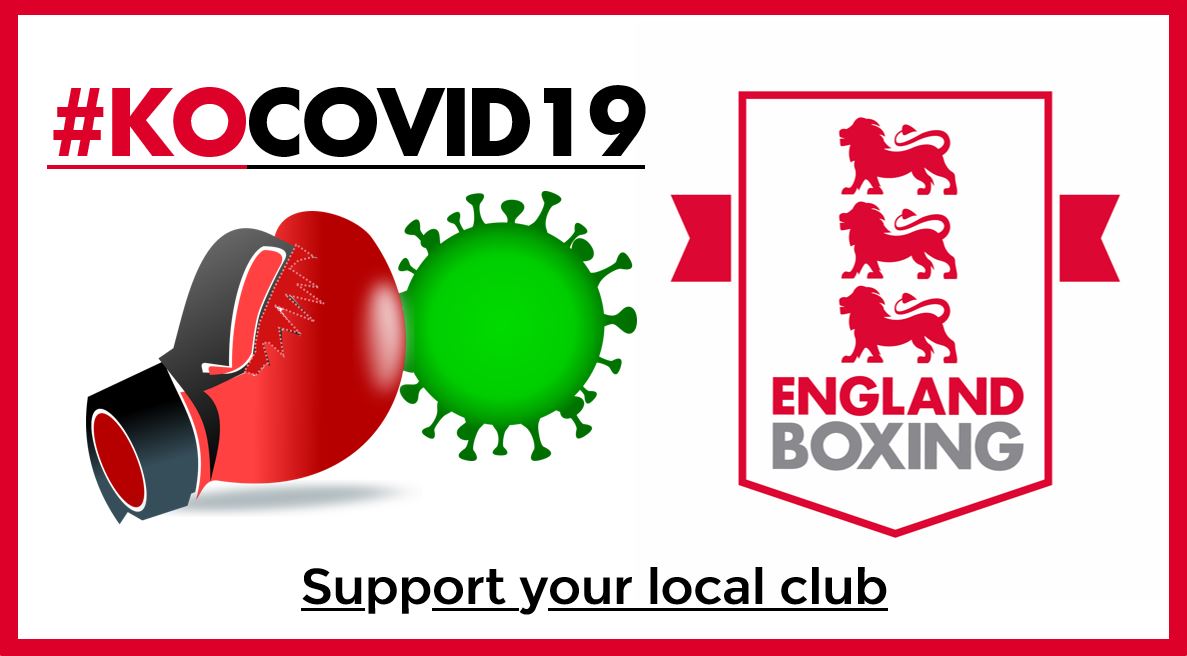 That puts at risk the fantastic community work they do on a daily basis, teaching thousands of people, often in England's most disadvantaged areas, to box.
A host of clubs also take on additional vitally important projects concerning mental health, Parkinson's, knife and gang crime, holiday hunger, inclusion, extremism and education, to name just a few.
It's why clubs are now appealing to the public – family, friends, members of the local community and local businesses – to give as much as they can, with no amount too small, and all greatly appreciated.
So if you know a boxer who has been putting in the hard yards, a coach who volunteers his time to keep youngsters off the streets or a club that is making a real difference in the area it serves, please donate as generously as you can.
Examples of why clubs need you support
How to donate
To make your pledge, simply:
Find your nearest supporting club from the list below (Clubs Accepting donations) and click on the link to their fundraising page.
Donate your amount online. Thank you so much – your support is greatly appreciated.
More than 80 clubs have so far joined in with the campaign – from Paignton Boxing Club in the South West to Benwall Victoria ABC in the North East.
Clubs accepting donations
The following clubs have set up fundraising pages which we'd love for you to support.
Clubs are listed in their respective regions by alphabetical order and then individually in alphabetical order.
Eastern Counties
East Midlands
Rainworth and Blidworth Boxing Club
Rushden and Higham Community Boxing
Home Counties
Wokingham and Emmbrook Boxing Club
London
Merseyside and Cheshire
Midlands
Coventry University Boxing Club
Nechells Green Amateur Boxing Club
Royal Leamington Spa Boxing Club
South Wye Police Boxing Academy
Stratford Upon Avon Boxing Academy
North West
Southern Counties
Minster Golden Gloves Boxing Academy
Tyne, Tees and Wear and North
North Star Community Boxing Club
Western Counties
Chard, Illminster and District ABC
Yorkshire
Show your support for the campaign
We'd love to read your backing for the campaign online. Post your message via @englandboxingofficial (Instagram), @EnglandBoxing (Facebook) and @England_Boxing (Twitter) and use the hashtag #KOCOVID19 to show support for your local clubs.
How do I get my club involved if I haven't already?
If you still haven't registered as a club and want to join in, f you are an affiliated and active club with England Boxing, simply go to justgiving.com and create a club donation page. You can use the social media post template and campaign poster attached, or create your own if you prefer.
Send your club's fundraising page link to England Boxing using the subject heading '#KOCOVID19' and we'll add it to this list of clubs.
Other resources for clubs
Click here to download the full campaign guidance document.
Click here to download a template letter and social media posts to send out.
Click here to download campaign poster.
Click here to download the campaign logo.
What to do if you need further support
 If you need help setting up a Just Giving or fundraising page for your club, or with promoting it throughout the campaign, just contact your regional Club Support Officer, whose details will be on the link here