Boxing made its first appearance as an Olympic sport at the 1904 St Louis Olympic Games in the United States, but due to short notice only American boxers took part!
At the 1908 Games in London five British boxers took all the gold medals. In 1912 boxing was not contested at the Stockholm Olympics because it was banned as a sport under Swedish law.
Until recently boxing was only contested by men in the Olympics, but in 2012 women competed for the first time, in three weight categories; 51kg, 60kg and 75kg. For the Tokyo 2020 Olympics there will be five weight categories for women and eight for men.
England's Olympic prospects train as part of the GB squad at the English Institute of Sport in Sheffield, under the guidance of GB Boxing Performance Director Rob McCracken and a team of elite coaches.
You can find out more about GB Boxing and the athletes and coaches at www.gbboxing.org.uk.
Read all the details from Tokyo 2020 by clicking here.
Olympic medalists for Great Britain to date
Detailed below are all Great Britain's boxing medalists from the London 1908 to Tokyo 2020.
Gold
Tokyo 2020 (contested in 2021 due to Coronavirus Pandemic) – Galal Yafai (Flyweight, 52kg)
Tokyo 2020 (contested in 2021 due to Coronavirus Pandemic) – Lauren Price (Middleweight, 75kg)
Rio 2016 – Nicola Adams (Flyweight, 51kg)
London 2012 – Nicola Adams (Flyweight, 51kg)
London 2012 – Luke Campbell (Bantamweight, 56kg, pictured above)
London 2012 – Anthony Joshua (Super Heavyweight, 91kg+)
Beijing 2008 – James DeGale (Middleweight, 75kg)
Sydney 2000 – Audley Harrison (Super Heavyweight, 91kg+)
Mexico 1968 – Christopher Finnegan (Middleweight, 75kg)
Melbourne 1956 – Richard McTaggart (Lightweight, 60kg)
Melbourne 1956 – Terence Spinks (Flyweight, 51kg)
Paris 1924 – Harry Mallin (Middleweight, 72.6kg)
Paris 1924 – Harold Mitchell (Light Heavyweight, 89.4kg)
Antwerp 1920 – Ronald Rawson (Heavywight, 79.4+kg)
Antwerp 1920 – Harry Mallin (Middleweight, 72.6kg)
London 1908 – Henry Thomas (Bantamweight, 52.6kg)
London 1908 – Richard Gunn (Featherweight, 57.2kg)
London 1908 – Frederick Grace (Lightweight, 63.5kg)
London 1908 – John Douglas (Middleweight, 71.7kg)
London 1908 – Albert Oldman (Heavyweight, 71.7+kg)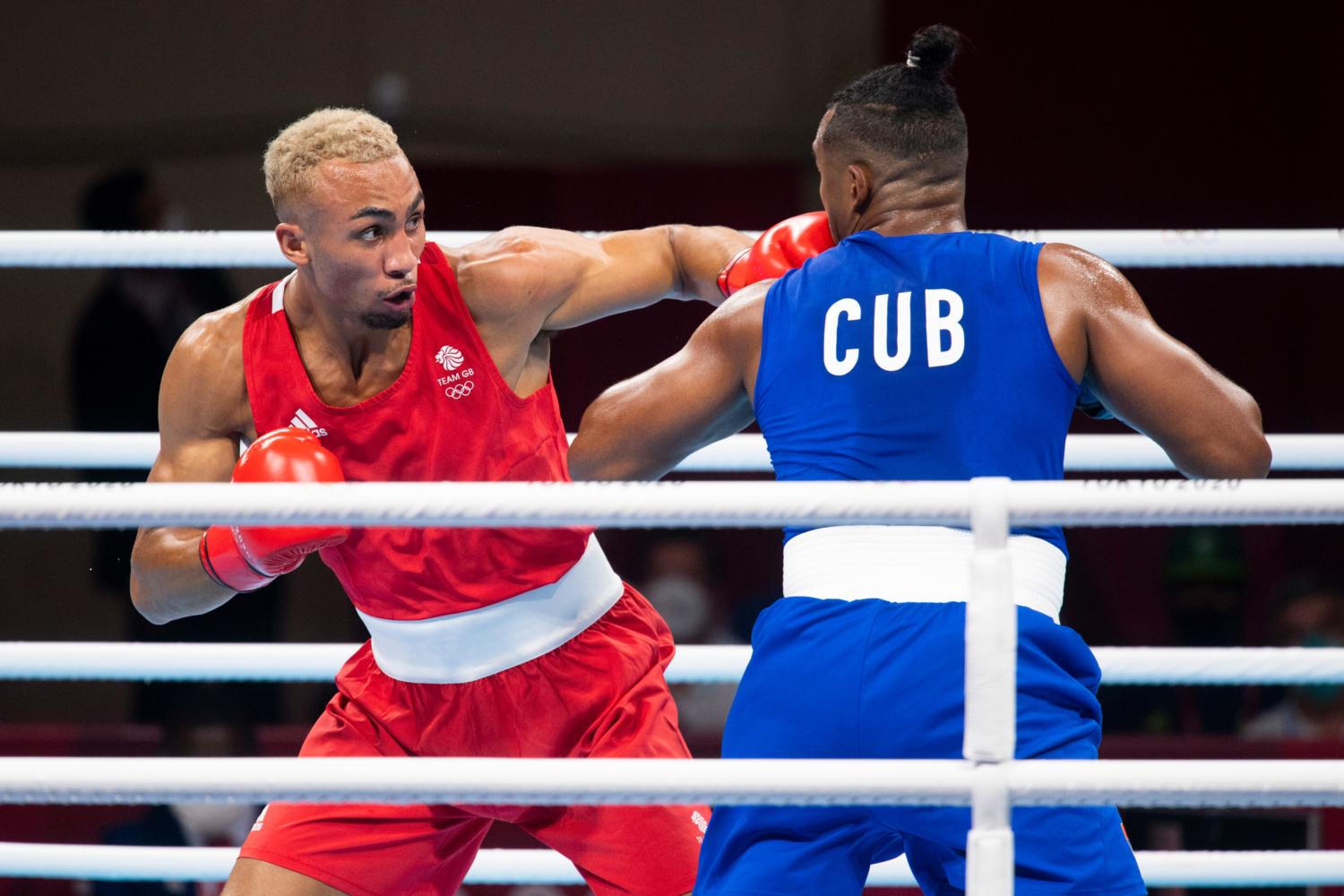 Silver
Tokyo 2020 (contested in 2021 due to Coronavirus Pandemic) – Pat McCormack (Welterweight, 69kg)
Tokyo 2020 (contested in 2021 due to Coronavirus Pandemic) – Ben Whittaker (Light-heavyweight, 81kg)
Rio 2016 – Joseph Joyce (Super Heavyweight, 91kg+, pictured above)
London 2012 – Fred Evans (Welterweight, 69kg)
Athens 2004 – Amir Khan (Lightweight, 60kg)
Munich 1972 – Ralph Evans (Light Flyweight, 48kg)
Melbourne 1956 – Tommy Nicholls (Featherweight, 57kg)
Melbourne 1956 – Nicholas Cargano (Welterweight, 69kg)
London 1948 – John Wright (Middleweight, 73kg)
London 1948 – Donald Scott, Light Heavyweight, 80kg)
Paris 1924 – James MacKenzie (Flyweight, 50.8kg)
Paris 1924 – John Elliott (Middleweight, 72.6kg)
Paris 1924 – T Peterson (Light Heavyweight, 81kg)
Antwerp 1920 – Alexander Ireland (Welterweight, 66.7kg)
London 1908 – John Condon (Bantamweight, 52.6kg)
London 1908 – Charles Morris (Featherweight, 57.2kg)
London 1908 – Frederick Spiller (Lightweight, 63.5kg)
London 1908 – Sydney Evans (Heavyweight, 71.7+kg)
Bronze
Tokyo 2020 (contested in 2021 due to Coronavirus Pandemic) – Karriss Artingstall (Featherweight, 57kg)
Tokyo 2020 (contested in 2021 due to Coronavirus Pandemic) – Frazer Clarke (Super-heavyweight, 91kg+)
Rio 2016 – Joshua Buatsi (Light Heavyweight, 81kg, pictured above)
London 2012 – Anthony Ogogo (Middleweight, 75kg)
Beijing 2008 – Tony Jeffries (Light Heavyweight, 81kg)
Beijing 2008 – David Price (Super Heavyweight, 91kg+)
Barcelona 1992 – Robin Reid (Light Middleweight, 71kg)
Seoul 1988 – Richie Woodhall (Light Middleweight, 71kg)
Los Angeles 1984 – Robert Wells (Super Heavyweight, 91kg+)
Moscow 1980 – Anthony Willis (Light Welterweight, 64kg)
Montreal 1976 – Patrick Cowdell (Bantamweight, 54kg)
Munich 1972 – Ralph Evans (Light Flyweight, 48kg)
Munich 1972 – Alan Minter (Light Middleweight, 71kg)
Munich 1972 – George Turpin (Bantamweight, 54kg)
Rome 1960 – Richard McTaggart (Lightweight, 60kg)
Rome 1960 – James Lloyd (Welterweight, 67kg)
Rome 1960 – William Fisher (Light Middleweight, 71kg)
Melbourne 1956 – Nicholas Gargano (Welterweight, 67kg)
Melbourne 1956 – John McCormack (Light Middleweight, 71kg)
Antwerp 1920 – William Cuthbertson (Flyweight, 50.8kg)
Antwerp 1920 – Harold Franks (Light Heavyweight, 79.4kg)
Antwerp 1920 – George McKenzie (Bantamweight, 53.5kg)
London 1908 – William Webb (Bantamweight, 52.6kg)
London 1908 – Hugh Roddin (Featherweight, 57.2kg)
London 1908 – Harry Johnson (Lightweight, 63.5kg)
London 1908 – William Philo (Middleweight, 71.7kg)
London 1908 – Frederick Parks (Heavyweight, 71.7kg+)