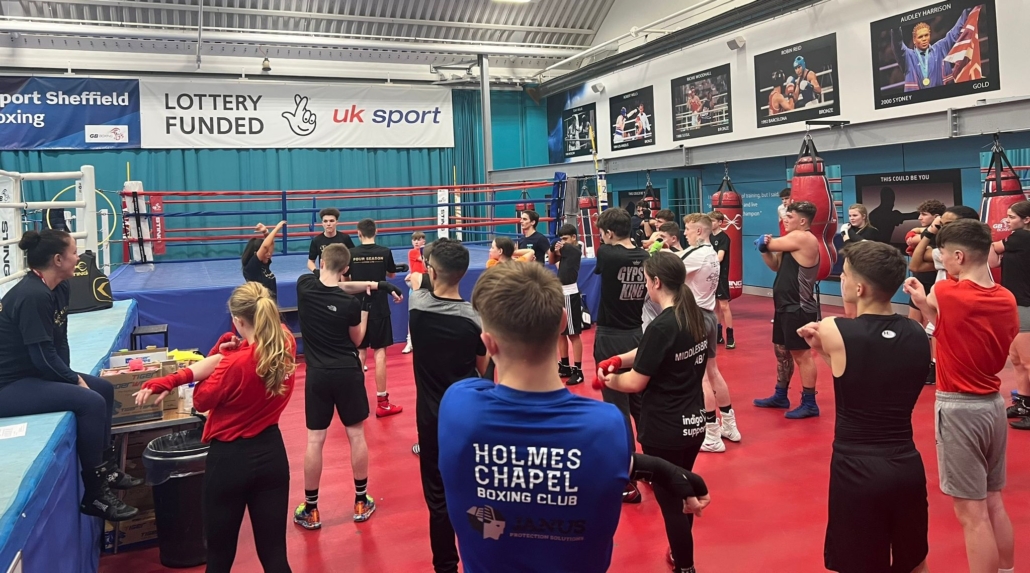 Women coaches – and club boxers – excel at face-to-face workshop
January 30, 2023 | by Matt Halfpenny
The current cohort of Women's Coach Development Programme (WCDP) coaches came together at English Institute of Sport (EIS) in Sheffield yesterday for the second instalment of their face-to-face workshops.
As well as their mentors being in attendance, each coach brought along two boxers from their own gyms to help elevate the experience.
The day kicked off with a session from Boxing Science, delivered by Tommy Munday, which gave boxers and coaches advice on making small changes within their warm-up routines that can significantly impact on their performances.
The focus on the day was around close-range fight control and developing the ability to dominate the exchange of short and medium range punches, whilst maintaining an effective defence.
Each coach was then given a group of boxers with varying weights and abilities and tasked to 'coach in the moment' with support from their mentors.
The groups were introduced conditions into sparring sessions to make it beneficial from a development perspective for all involved.
National Coach Mick Maguire led a session on partner pad drills and simple effective pad work to enable the coaches to grow in confidence.
The boxers then finished the day with a themed bag and pad session with all the coaches, following a reaction game as fun to finish.
Lead on the WCDP, Women and Girls Officer, Laura Sargeant, said: "I am so proud of how much these coaches have progressed over the short period of time that we have been working with them.
"By placing them in real life boxing scenarios and being able to adapt their coaching to the situations, it really has brought the best out in them.
"I feel they now have more confidence in their ability to be able take on any challenges that may come their way. They have really bonded as a group and all support each other and hopefully will continue to do so."
"The mentors, who are all from last year's Female Coach Development Programme have been absolutely outstanding and go above and beyond to help their mentees grow and develop.
"It also provides them with a platform to keep developing and growing their knowledge and leadership skills. They are a vital part of the programme and I would like to thank them all for their commitment and continuous support.
I would also like to express my thanks to Boxing Science for their input to the day, and National Coach Mick Maguire who delivered an amazing session."
If you want to find out more about the Women's Coach Development Programme, please email: laura.sargeant@englandboxing.org