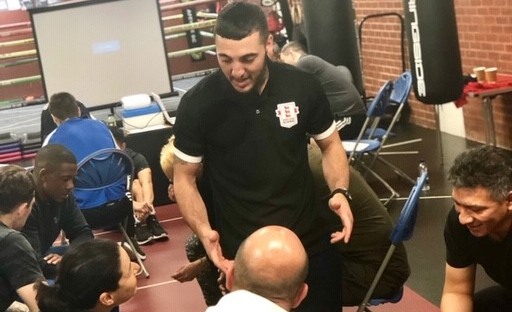 Could you be a Coach Educator?
April 19, 2021 | by Matt Halfpenny
England Boxing is looking to recruit, develop and deploy more Coach Educators within the sport.
The development of coaches is essential to the future success of boxing and, as such, Coach Educators play a key role.
Those coaches who have a blend of education (teaching, facilitating, learning, mentoring, lecturing) and coaching experience (boxing, athlete development, youth development) are ideally suited to the Coach Educator position.
When it comes to qualifications, Coach Educators need to be a minimum of England Boxing Level 2 and have the intention of completing the three Level 2 Progression Workshops within six months.
England Boxing are also looking to re-engage with Level 3 and 4 Coaches, to whom a specific communication has been sent already via email.
Process of becoming a Coach Educator
If you are interest to become a England Boxing Coach Educator, please review the profile by clicking here, which gives an insight into the skills, behaviours, knowledge and understanding required.
Once you have reviewed the profile, please complete the online coach developer course from the Open University by clicking here.
Current Coach Educators have be asked to complete this online course and the feedback has been positive (it takes between 24 hours and 48 hours to complete).
Please submit your e-certificate as evidence of completing the course, you need to complete this before progressing to the next stage of the training process.
The next step is to then attend an online training seminar for some specific training about the courses (specific the Coaching Assistant).
The last part of the process is to complete some tandem delivery with current Coach Educators (this is then the Coach Educator profile will be used).
As part of the process you will need to demonstrate competency across all the areas of the profile.
Once signed off, you will be able to deliver both the England Boxing Box Course and the England Boxing Level 1 Course and the England Boxing Level 1 Refresher Course.
We will also complete an online interview process to ensure you have the clarity and support you need, while an internal verifier will also come and watch you at some point during delivery.
Time frames
If you are interested please complete the Open University course before the end of July 2021.
England Boxing will then deliver a one-day training session online (date TBC).
Ideally, you would progress to the tandem training delivery in August 2021 and start the process of becoming signed off as a England Boxing Coach Educator.
Further queries
If you have any questions, please contact Chris Porter chrisporterconsultant@englandboxing.org
Note: pic is pre Covid-19