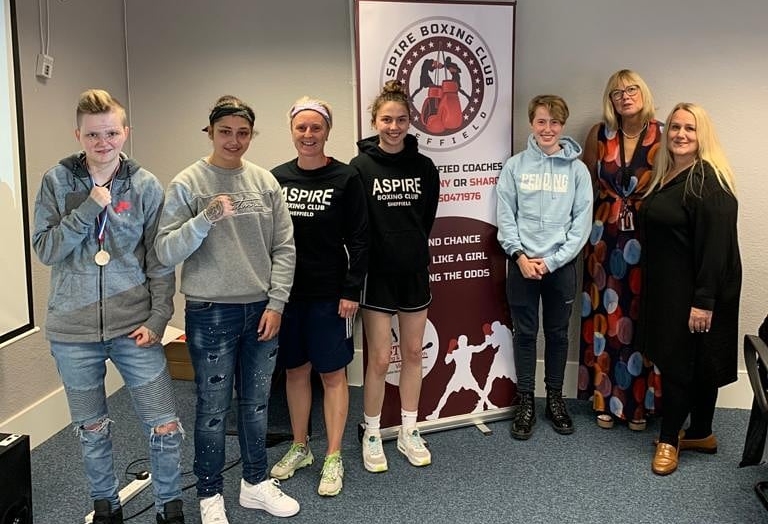 South Yorkshire knife crime programme uses boxing to drive its success
August 29, 2021 | by Matt Halfpenny
Yorkshire region's Aspire Boxing Club has successfully delivered a summer holiday knife crime programme that is helping to keep young people safe.
Second Chance uses non-contact boxing to facilitate discussions around gangs, criminal exploitation, friendships, opportunities and knife crime.
The project, made possible by home office funding, first came into being in 2019, with the assistance of the then England Boxing Yorkshire region CSO Ashley Hurrell.
After proving to be a big success, it was hoped it would run again in 2020, but the onset of the Coronavirus Pandemic meant it was not able to be staged in the same way.
However, this year has seen its full return with two males and 10 females completing the programme to earn a certificate.
Sessions over six weeks were run by coaches Ronny Tucker and Sharon Holford of Aspire Boxing Club, alongside Niamh Stanley, who is part of the club's Grow Your Own Coaches scheme.
"The young people have been amazing," said Head Coach Tucker. "Second Chance offers young people the opportunity to train, get fit, meet new friends and, most of all, give them the chance to have fun.
"When the idea was first suggested, I had my doubts about it, but the sessions in 2019 went really well – and this time it went even better.
"The main aim of the sessions is keeping young people safe, but it was clear that participation in boxing also helped to increase community safety. Some have decided to continue boxing and we have signposted young people to gyms in their area.
"Boxing is a great tool to promote mutual respect and tolerance and teaches important social and interpersonal skills and it has proven to be an effective tool in keeping young people from falling into a cycle of anti-social behaviour, violence, crime and drug use."
The presentation for those who successfully passed the course was held in the city centre, with The Element Society kindly acting as hosts.
In attendance were South Yorkshire Police and senior managers from Sheffield City Council, including the Director of Children's Services, Carly Speechley, who praised the young people for the progress they had made.
Aspire invited a guest to talk to those present about the impact of knife crime, having suffered the heartache of her son being stabbed and killed, which left most in the room in tears.
Tucker added: "This has been a very successful project and we will continue to run them, and it was great to see one of the young people do a presentation about what the project had done for her.
"We look forward to liaising with the current Yorkshire CSO (Alicia Winbolt) about running further sessions."