Schools Championships 2023: Spectator info
May 4, 2023 | by Matt Halfpenny
The England Boxing National Schools Championships 2023 heads for the Guildford Spectrum next weekend (Saturday 13th May and Sunday 14th May) – and you can be there to watch it!
Some of the best young female and male boxers in the country will battle it out in the bid to claim coveted golden gloves (Class A and Class B) or gold medal (Cadets).
Members of the public are welcome to attend, with the action starting at 12noon (11am doors) on both days.
Tickets are available to purchase by card only. Prices are £30 per adult, £10 per senior (over 60), £10 per junior (six to 16-year-olds) and free for children aged five and under.
A family ticket (two adults and two children) is available for one day for £70, a saving of £10, or for two days for £130, a saving of £30.
Weekend tickets are also available, a saving of £6 for adults and £2 for seniors and juniors.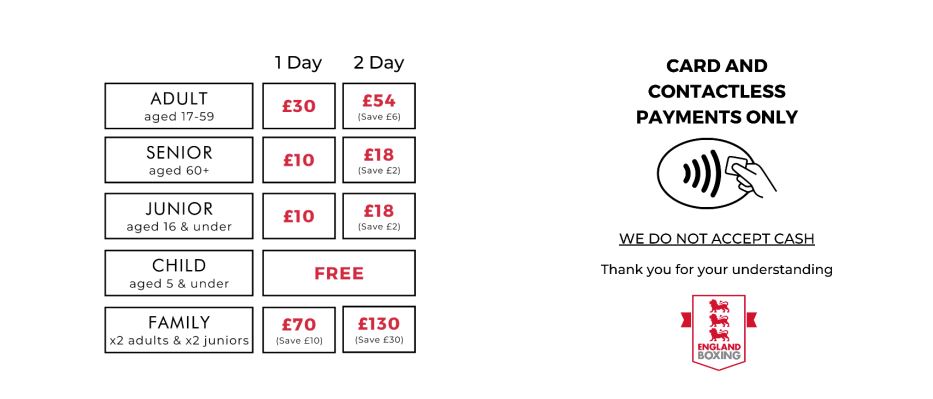 Please stay seated
Once in the arena, spectators are reminded that they must remain seated at all times and not stand up against the ring barriers.
Should spectators stand in seating areas, boxing will be stopped and will not continue until everyone is sat down. Please adhere to this instruction, not just out of respect for others, but also for everyone's health and safety.
Please note: No food or drink will be allowed into the spectators area.
Parking and filming
There is car parking available at the venue, free of charge. Please note that Guildford Spectrum is a multi-use leisure complex and therefore car parking spaces are allocated on a first come, first served basis.
An England Boxing photographer and videographer, as well as live streaming, will be capturing footage on the day of the event that may include capturing images of spectators. By attending as a spectator, you agree this imagery can be used by England Boxing and other media outlets.
Any spectator wishing to take photos or videos with professional equipment who is not accredited by England Boxing will be required to sign a photography permission form on arrival. These will be available at the England Boxing ticket desk.
Follow on social media
You can follow the action on England Boxing's Instagram, Facebook and TikTok, while lives results and videos will be posted on the England Boxing twitter page.
All coverage across social media will use the hashtag #EBNSC23
You can go to the England Boxing National Schools Championships home page by clicking here.
Live streaming
For those who cannot make it to Guildford, all bouts will be shown live on the England Boxing YouTube channel.
Further, specific, details will be released in due course.
Find out more
You can find out more details about the event by viewing the Key Info Circular by clicking here.