Schools Championships 2023: boys' preview (Class B, Under 63kg)
May 11, 2023 | by Matt Halfpenny
Winning a national title is not just a proud moment for a boxer – it means just as much to those who coach them, and the clubs where they train.
Just look at the example of Birch Green's Dominic Zoltan Kosztyu.
Were he to prevail in the England Boxing National Schools Championships 2023 Class B Under 63kg category, at the Guildford Spectrum this weekend, it would represent a watershed moment not just for him, but all those in his support network too.
The youngster, of Hungarian descent, has shown his promise at a gym that has also been undergoing its own development.
Birch Green was opened by Colin Day 10 years ago after another club in the town, Skelmersdale ABC, shut its doors.
A fire at the venue and then the onset of Covid-19 have been obstacles to subsequently overcome, but the club is now firmly on the up and seeking its first national champion, which would mean so much to all those who have helped Birch Green to this point.
"We've had to rebuild after what has happened in the past but the last couple of years have been great and we're really starting to gather some momentum as a club now," said Day.
"If we could have a national champion in Dominic or Michael (Henders, who goes at Class B, Under 52kg) it would mean everything to not just us but the town.
"It's one of the most deprived areas in the country and if we could have someone win a national championships it sends out a really good, positive message that you can be rewarded for your hard work. Hopefully it can inspire others.
"Dominic really puts his heart in it – it's what he really wants to do. He's come on really well in the time he's been with us and he's strong.
"You saw from his celebrations after winning the Merseyside and Cheshire title just what it meant to him, so I know he would love that feeling at a national level."
Facing him in the opposite corner for his semi-final will be Sporting Ring and Southern Counties' William Loveridge, who is already a two-time national champion.
He won these Championships at both Class A (Under 56kg) and Cadet (under 56kg) in the past two years, beating the Midlands' Alfie Till on both occasions in those finals.
Coach Clifford Smith is confident that his charge, who has won all 12 of his bouts to date, can do the business once more and make it a hat-trick.
"William has been with us since he started boxing and, as his record and achievements so far show, he's a very capable boy," he said.
"He's a special talent and someone who can box very well but, if he needs to do it the hard way, he can do that too.
"He's a very hard worker and has a confidence about him. We believe he will win this title again, and he is ready to go and do it.
"He had a good win in the quarter-finals and showed that he has a very good boxing IQ. There are two more bouts now to come for him to go and make it three in a row."
In the other side of the draw is London representative Alexander Fares, from the All Stars Boxing Gym in the West of the capital.
He has reached the last four stage by beating Leon Emery of Attleborough in the pre quarter-finals then eliminating Kenzi Raya of Northampton in the quarter-finals.
Coach Steve Palmer said: "Alexander's been with us for a year now and started boxing competitively this season with five or six bouts and doing pretty well.
"He's a pleasant and well-mannered character and quite determined as well and he's been training hard six days a week leading up to this.
"Boxers from Miguel's and Stonebridge have given him some good sparring and he has boxed well, particularly in his quarter-final to get through.
"I think he will enjoy boxing in front of the crowds as there is always a good atmosphere at these national championships. When he boxed Kenzi in the quarters, most of the crowd were in his opponents' favour, but he responded well.
"It's fairly local for us this time, so hopefully he will have a few more there to support. We are confident, but the other boys are in good shape and will want it to, so he can't be complacent and has to give it everything."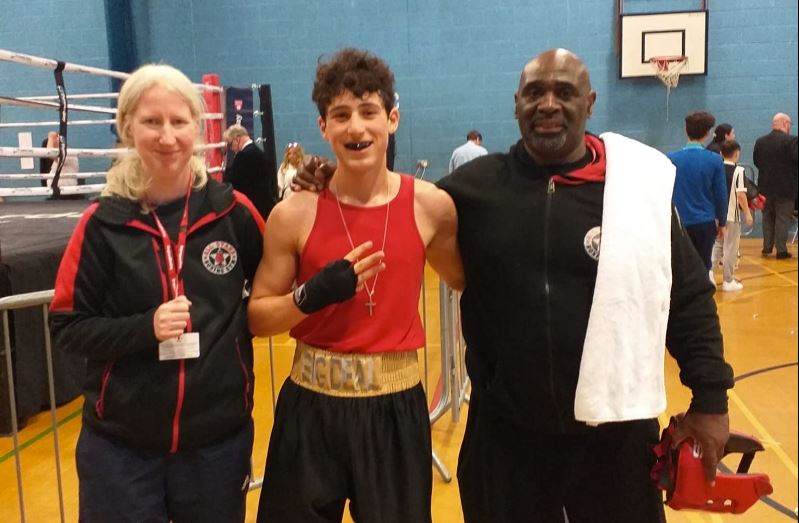 The fourth semi-finalist, Lambton Street's James Scott, has unfortunately had to pull out of the competition.
The Class A Under 54kg champion in 2022 damaged a rotator cuff in his shoulder in completing a pre-quarter-final victory over Bobby-Lee Brewster, forcing him to withdraw.
More on the Schools 2023
Click here for spectator info. Click here for the Schools Championships home page. Follow across social media via #EBNSC23