Junior Championships 2021 preview: The Male Under 75kg Junior contenders
October 29, 2021 | by Matt Halfpenny
Boxing runs through the blood of the Crickmar family – with teenager Kacey the latest bidding to make his mark.
Look back through the record books all the way to 1951 and it tells you that Joe Crickmar was a losing finalist in the ABA Championships against Albert Halsey at the Wembley Arena.
In 1981, and again in 1982, it was the turn of son Dave to shine as he won back to North East London Divisional titles in the London regional.
Now a third generation of the family, in the shape of the 15-year-old Islington Boxing Club Under 75kg contender, is out to create a name for himself by winning a Development Class B title at this weekend's England Boxing National Junior Championships 2021 in Hereford.
Dave, who now coaches his son, believes that Kacey has every chance – and can become the best Crickmar boxer of the three in years to come.
"He's progressed a long way since he joined Islington and I think he's got the potential to be the best of all of us if he keeps working at it," he said.
"All through last summer and the lockdowns he's been keeping himself active and fit and more recently he's been able to spar with Kejai Bryan (who won a national title at the Schools in December).
"He lost in the lead up to the start of these Championships, but he bounced back well in the London finals and then won a really competitive and close bout in the quarters, so we have big hopes for him. If he sticks to his boxing and listens, then he could go all the way.
"He goes to see his grandad regularly, who's 91 now, and they are always talking about the boxing. I know he would love to see young Kacey win a national title. He's very proud of him."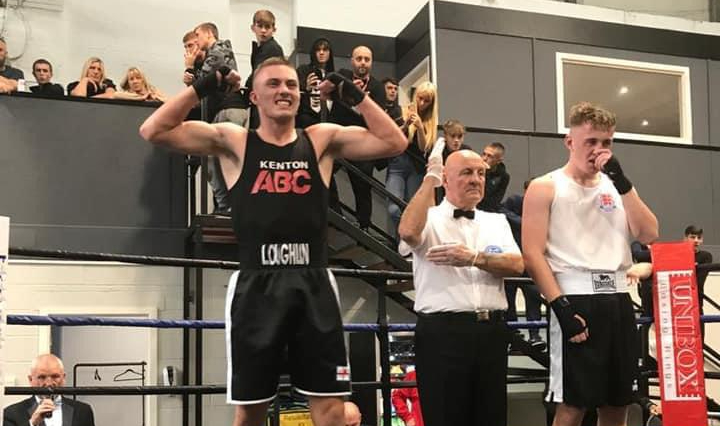 Standing in Crickmar's way at the semi-final stage will be Tyne Tees and Wear boxer Harry Loughlin, a member of Newcastle's Kenton club.
He boasts an impressive record so far of eight wins from 10 bouts and was buoyed by victory in his category at the MTK Box Cup last weekend.
Coach Craig Pape is hoping that his boxer can do the business to help put a burgeoning club on the map with their first ever male national title winner.
Only relatively recently established, Kenton is already pulling in around 30 juniors and a similar number of seniors, with around 35 carded boxers.
"It's not too bad to stay we started out with just my two kids at first, and in Harry we have someone who is a massive part of the club and represents what we are all about," said Pape.
"He's been with us about a year on and off because of lockdown, but he's had four bouts since then, and he's looked good.
"He travels about 30 minutes just to train with us, coming from Jarrow, which is actually nearer to Sunderland, but you can see he is determined and has that will to win.
"He's quiet, but he's also very tough in the ring, wants to learn and he's very good to watch, liking to box on the front foot.
"My daughter, Beau, is the only national champ we have had so far, but hopefully Harry can change that over the weekend."
On the other side of the semi-final draw, Malachi Flowerdew is seeking to put the small gym of Progress on the map.
Located halfway between Norwich and Ipswich, close to the Suffolk market town of Eye, Head Coach Gareth Edwards, an engineer by day, took two years to build the gym himself, above his work office.
And while he knows it's location away from the big conurbations means that numbers are always going to be limited – not helped in recent times by the Covid-19 Pandemic – he is pleased to put them emphasis on quality over quantity.
In Flowerdew, he has been delighted to see a transformation over the course of the last four years as the teenager has developed from a shy and introverted boy to a confident and composed young man.
"When he first came into the gym, he was lacking in confidence, but he just kept coming and coming and has gradually got into it – and it's done him the world of good. The change in him for the better has been unbelievable.
"It's not been plain sailing all the way, and he's lost a few close bouts, but he's stuck at it, even when we didn't see him during lockdown.
"He was due to box at Under 80kg at the Juniors last year in Liverpool until Covid hit, and at one point he went up to around 83kg, but when he came back into the gym he had worked really hard to lose more than 10kg and was down to 72kg.
"Over a period of time he has trained well and eaten right and put on the right amount of weight for this Championships. He can't wait for this opportunity and it means everything to him."
Completing the last four line-up is Osmaan Sharifi, who has already had three wins to get to this stage, winning the East Midlands title and also beating an opponent from Merseyside and Cheshire in the inter-regional stages.
Boxing out of the same Leicester Lightning gym as 2019 European Junior Championship bronze medalist Vinny Huczmann, the 16-year-old has enjoyed some top class sparring and has the promising record of only one defeat in his nine bouts.
Lightning Coach Chris Slatcher said: "Osmaan's a strong, come-forward kid who will keep going and going.
"He's a hard trainer who always puts in 100 per cent. He lives the right life and does everything we ask of him.
"If he were to come up short, it would certainly not be for lack of effort or heart, it would only be because someone was technically better.
"He's got better and better as the tournament has gone on, and he was disappointed that he's had to wait to this week for the semi-finals because he'd built up some good momentum.
"But he will go to Hereford with great confidence and I'm sure he will relish it."
*****
Boxing at the England Boxing National Junior Championships 2021 starts at 1pm on Saturday and 12noon on Sunday.
Click here to view streaming details.
To keep up to date, go to the Junior Championships home page here and follow the action on social media using the hashtag #EBNJC21.