Women's Winter Box Cup 2019 – Finals Day report
December 8, 2019 | by Matt Halfpenny
Nina Hughes demonstrated that age is no barrier to boxing excellence as she came through a tough bout to claim victory on Finals Day at the England Boxing Women's Winter Box Cup 2019 at the Guildford Spectrum.
The evergreen 37-year-old mum box superbly to record a unanimous victory over German Zeina Nassar, representing Repton, in the Elite A 57kg category.
Former England international Hughes, from the Chadwell St Mary club, enjoyed the experience of the all women and girls competition, which is aspiring to help grow the strength and depth of the female side of the sport.
"I really enjoyed being out there," said Hughes. "I watched her box in her semi-final yesterday, but it often turns out differently to what you plan when you get in the ring.
"Zeina pushed me hard and I was pleased to win in the end, and be a champion here.
"It's a very important event because it helps girls get extra bouts and gives them experience in a multi-ring event.
"It's good to give younger boxers the chance to gain experience and you can see the standard, with the help of events like this, is rising all the time. It's certainly moved on a lot since I first started."
The battle of the European Junior medallists was always going to be an entertaining bout and a close run thing – and it was Ireland who go the better of England.
Meeting in the Junior A 50kg category, Leinster Female Boxing's Robyn Kelly, who took bronze in Romania in May, beat Minster Golden Gloves' Shelby-Marie Lee, who had claimed silver.
"I was nervous at first and I knew it was going to be a tough bout because she had also won a medal at the European Championships," said the split decision victor.
"I tried to control the bout with my jab, but it was a bit scrappy at times.
"It was great to be a bout that was on the BBC and I know there were a lot of family and friends cheering me on back home."
The first to be crowned champion at this year's event was Katie Lane, who was first bout on in Ring A.
The Berinsfield boxer secured a hard-fought split decision against Nicole O'Sullivan of Corinthians at Junior A 63kg.
She said: "In some ways it was a bit daunting being first, but it was also good to get out there and get it done, especially as I didn't know my opponent.
"To be the first champ feels amazing, especially because I didn't enter this last year. It's the best feeling ever.
"I was quite happy with my performance, but you always think that you can do better."
Savannah Stubley, of Empire, was a winner of a Best Boxer category at last year's inaugural event – and was determined to show her quality again in Surrey.
The dedicated teenager, who according to her coach has never missed a training session yet, was a winner in an excellent Youth A 51kg bout with Wildcard's Rebecca Unsworth.
"I'm so proud to have been a double champion at the Box Cup in its first two years," she said.
"I think my final was a good, skilful bout. I've trained every day for this and I love it – I wouldn't want to do anything else."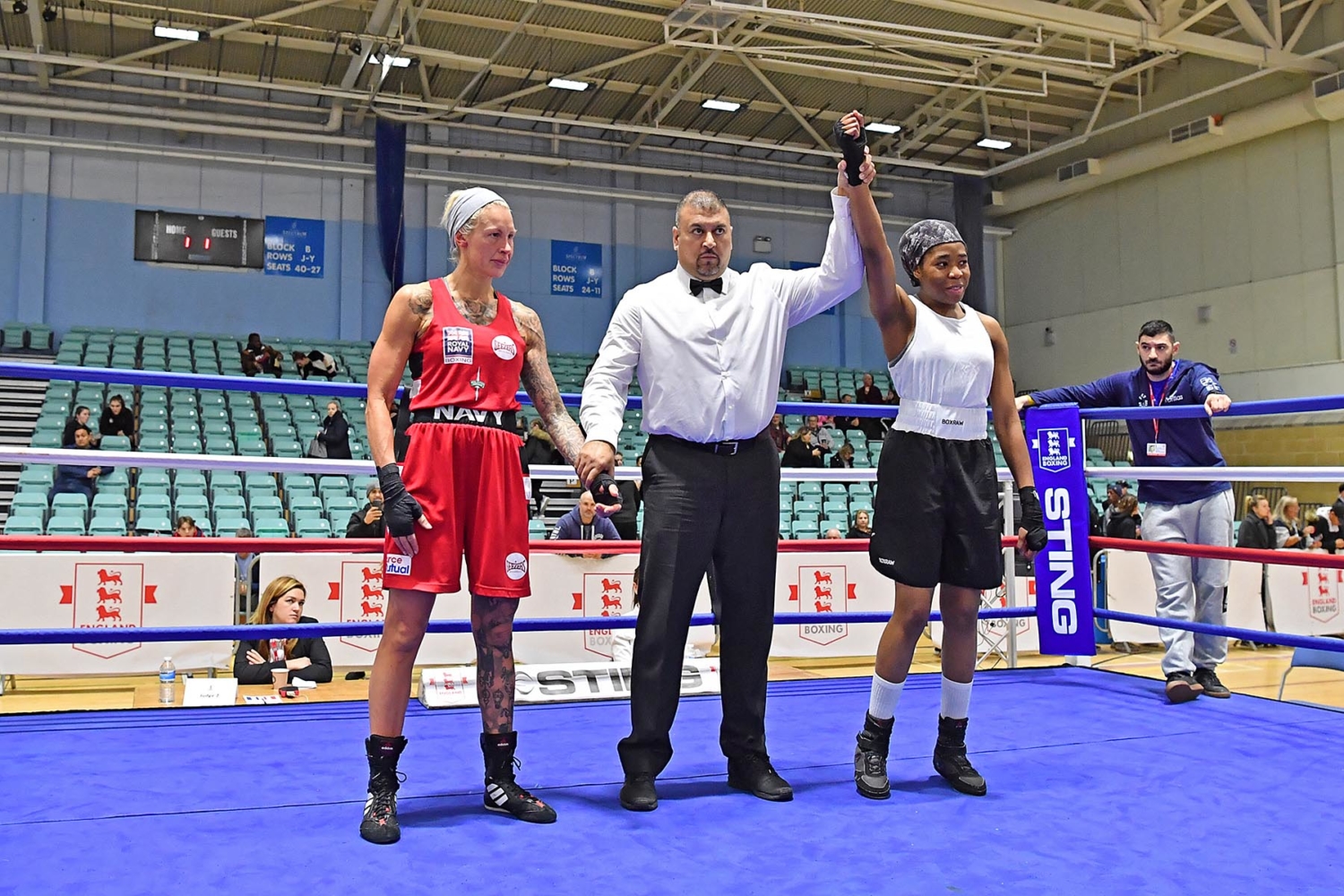 The quickest bout of Finals Day was between Finchley's Patricia Mbata and Andrea Marshall of the Royal Navy at Elite C 69kg.
The Londoner proved far too powerful, catching her opponent early to end the contest in the first round.
Mbata, who had beaten Jess David of Dyanamics in her semi-final and was named the tournament's Most Promising Elite Boxer, said: "I wasn't expecting my bout to end that quickly, but I'm delighted to have won.
"All my training has paid off and I boxed to my game plan and I was not going to be denied… I was just too psyched and determined to win!
"The Women's Winter Box Cup is a great platform for women and girls who are boxing at all levels to perform on."
Also winning her final by stoppage was another capital boxer in the shape of Islington's Alexandra Petcu, who triumphed at Youth C 75kg.
She got the better of Beth Dalgleish of Southern Counties' Brighton and Hove and said: "I'm very pleased with how things have gone for me this weekend.
"Next is the Golden Girls in Sweden, so I'm hoping I can win another gold there, and this was great preparation.
"This was a big event with the three rings, the crowd and television coverage. I've enjoyed being part of it."
The inaugural winners of the Best Team Award was shared jointly by Ireland's Leinster Female Boxing and Mesa Sports of the Netherlands.
Most Promising Youth Boxer was Leanne Murphy of Togher, while Best Youth Boxer was Daina Moorehouse of Leinster Female Boxing.
Best Junior Boxer was Charan Dhesi of East Hull and Most Promising Junior Boxer was Belvedere's Hayley Riddle.
Joining Mbata in winning an Elite award was Islington's Jem Campbell, the reigning England Boxing National Amateur Champion, won was named Best Elite Boxer.
Check out the full Finals Day results.
(All pics by Andy Chubb)