NACs FInals Day round-up: GB duo Bowen and Wilkinson delighted to 'double up'
December 13, 2021 | by Matt Halfpenny
Aaron Bowen and Jodie Wilkinson underlined the class that has elevated them onto the GB Boxing programme by clinching back-to-back England Boxing National Amateur Championships titles on a memorable 2021 Finals Day in London.
The pair had won their maiden crowns in 2019 at Manchester Central, but the intervention of Covid-19 meant they were unable to defend their titles in 2020.
But after the tournament was pushed back from March and April to November and December – enabling boxers sufficient time to prepare following lengthy absences from gyms due to lockdowns – they were able to compete again this year.
It was an opportunity they grasped with both hands to win their respective Male Under 81kg and Female Under 69kg divisions in front of an enthralled crowd at the University of East London's SportsDock, an area that is a hotbed for amateur boxing.
Bowen, who won a division in 2019 that included Conner Tudsbury, Karol Itauma, Been Rees and Carnell Brown, was again made to work hard to clinch a coveted national title belt that has been won in the past by the likes of Tyson Fury, Nicola Adams, Anthony Joshua and Savannah Marshall.
Having come through a quarter-final with Adam Olaore (Empire) and a semi-final against Sonny Coates (Royal Air Force), the number one seed faced number two seed Omar Augustine (Earlsfield) in the final.
The bout lived up to the hype and more, with a ding-dong contest from first bell to last that never let up in intensity and saw the Box Smart Elite man win by a 4-0 split decision.
The West Midlander's performances through the rounds earned him the accolade of boxer of the tournament and saw him presented with the Mickey May Award as a result.
"I've lost to him (Augustine) twice so I knew it was going to be hard and he came at me as I thought he would do. At times I had to really dig in," said Bowen.
"But I stuck to what I had to do and got the job done. The pressure was on being the number one seed, which makes it that extra bit special to win again."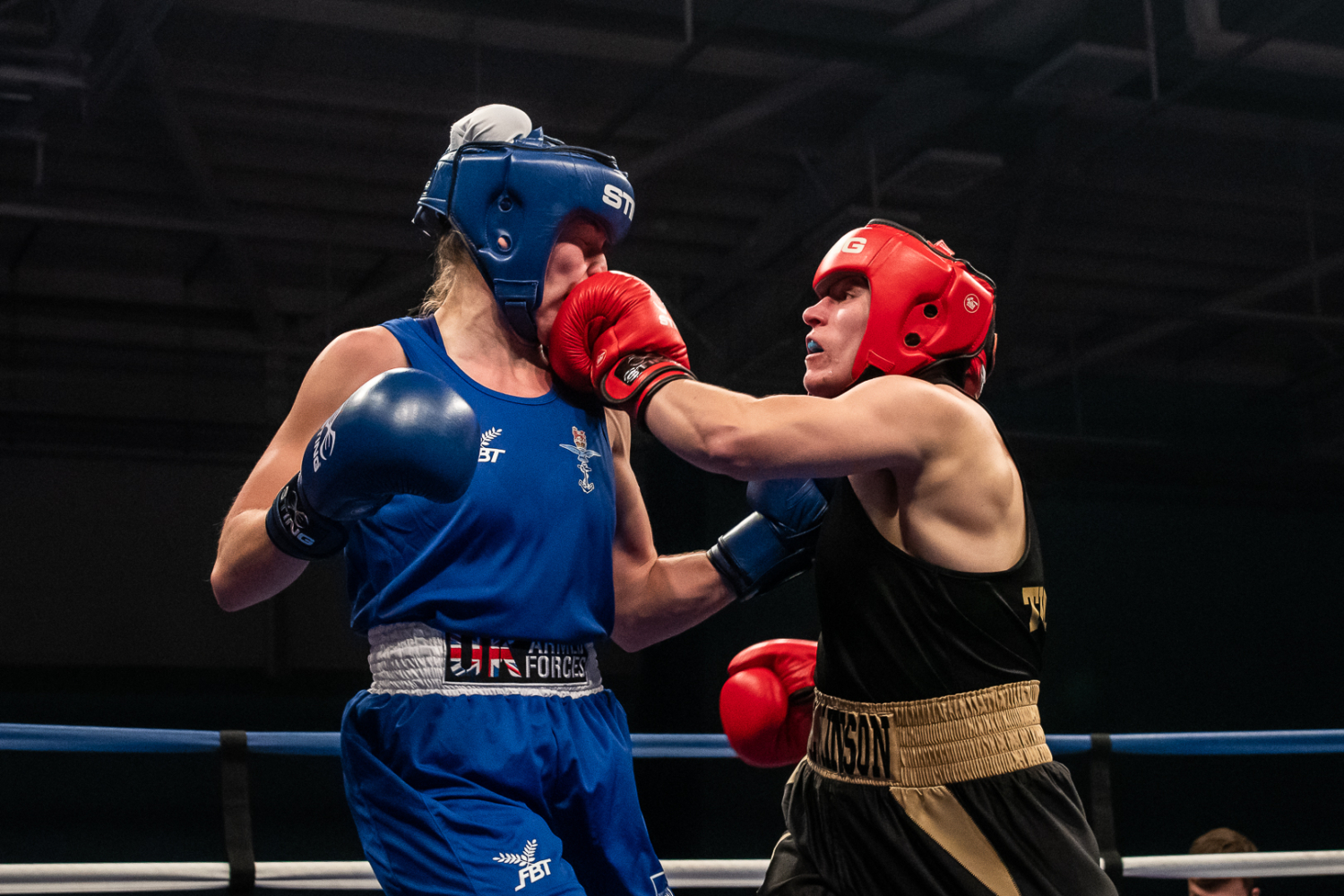 Tigers' Wilkinson was no less impressive, securing a unanimous decision in beating the Army's Lucy Kisielewska under the lights and one ring set-up that saw each boxer make an entrance to their own choice of music.
The Yorkshire representative had previously edged a tense semi-final against Omarah Taylor (Box Smart Elite) on a split decision.
She said: "I'm buzzing to be a two-time champion. My opponent was trickier than I thought and I've not really boxed anyone like that before.
"But it showed that I can adapt and beat anyone, and I'm so thankful to my coaches at Tigers and at GB."
A third boxer to 'double up' was Islington's Jem Campbell, who followed her 2019 triumph at Female Under 69kg by this time winning at Under 64kg.
After a tense encounter, she got the nod in a 3-2 split decision against Sarah Dunne of Metro.
"I don't think it's sunk in just yet. I probably didn't perform as well as I could have, but I'm super-thrilled to get the belt.
"To win it in 2019 and then drop a weight and win it again this year has left me buzzing."
Cindy Ngamba accomplished a similar feat – winning at Under 75kg having won at Under 81kg – in 2019.
Just as she did back then against Carly Ogogo, the powerful puncher stopped game opponent Jerry-Lee Palmer of West Warwicks.
She said: "I'm very happy with what I did out there. I train very hard, just like every boxer at this tournament has.
"We're up early in the mornings to put the work in, so it's very pleasing when it plays off like this."
The other GB boxer to make it through to Finals Day, Ramtin Musah, caught the eye on the way to his Male Under 75kg category success against Channel Islander Billy Le Poullain (Amalgamated).
It was a sweet success for the Beartown boxer, who missed out in the 2019 final, here he lost on a split to Birtley's Mark Dickenson.
"I feel amazing to have the belt because I have trained so hard for it," he said. "It's taken three attempts, but I got there in the end.
"When I looked at the draw I saw that I had a tough route through if I wanted to win it, but I knew I was more than good enough to do it and I showed it in the ring."
But it wasn't just the established names that enjoyed success on the banks of the River Thames, with a host of newcomers making their mark.
Seven of the 18 champions – Ellis Trowbridge (Hodbox), Billy Adams (Dagenham), Patris Mughalzai (Powerday Hooks) and Patrick Hewitt (Leigh) of the men and Savannah Stubley (Empire), Olivia Holmes (Rotunda) and Sameenah Toussaint (New Kings) of the women – emerged as winners when only recently old enough to be eligible to enter.
It beckons a bright future for them, with all the winners and runners-up in all divisions earning an automatic GB assessment as a result of their respective achievements.
Merseyside and Cheshire's Holmes, who beat fellow senior newcomer Holly Heffron (Hall Green) in the Female Under 54kg final, said: "I was up against a top opponent and it was tough, but I'm delighted to come through and win the title.
"All my life I've been working towards this moment, so it's amazing to finally get here and I can only go up from here."
The final bout of the night saw a rematch of the England Boxing National Senior Development Championships 2019 final between Harvey Dykes (Hillcrest) and Ike Ogbo (Border City).
And it was Ogbo, an A&E doctor in Carlisle by day, who reversed the result of their previous meeting to clinch a maiden senior triumph – sparking a roar of delight and punch of the sky from the delighted victor.
He said: "It feels like I have taken a big breath and been holding it in for the past month and now I can exhale and enjoy the fruits of my labour… I'm very happy.
"I'm now just going to relax, enjoy it, get back to work – and try not to let it go to my head too much!"
The day also saw the finals of the England Boxing National Senior Development Championships 2021 decided, with the event moved from its usual October slot to help with rescheduling because of Covid-19.
Those 21 finals were boxed across three rings and saw London's boxers make use of home advantage by winning 10 of those contests.
To watch back bouts, view highlights and listen to winners' interviews, go to www.youtube.com/EnglandBoxingChannel
Click here to view a full list of NACs and Senior Developments 2021 Finals Day results.