NACs 2023: Finals Day preview – Vuong v Wood (Under 60kg)
April 18, 2023 | by Matt Halfpenny
If anything underlines just how strongly amateur boxing has bounced back from the Covid-19 Pandemic, then Saturday's Under 60kg bout on England Boxing National Amateur Championships 2023 Finals Day is it.
Unable to practise their chosen sport for more than a year, it was inevitable that some would-be contenders lost interest, while others who were old enough and good enough moved into the professional ranks, where they were permitted to continue to train.
Some said the result was a dip in the strength in depth when it came to Championship boxing in the immediate aftermath of Covid; that there wasn't quite the same level of competition as there has been previously.
But the standard this year, particularly at Elite level, demonstrates that if there was a temporary lull, it is most certainly in the past now.
On the back of boxers and club membership numbers being at a record-high since digital records began, a whole generation of new talent is coming to the fore across the age categories – in both the male and female ranks.
And a perfect example of that is talented teenage duo Cameron Vuong and Frank Wood, who will vie for a coveted national title belt this weekend, bidding to follow in the footsteps of 2022 winner Giorgio Visioli.
In a number of respects, the two boxers are very similar, and not just in terms of their age.
Both cite their dads as big inspirations, both are based at gyms where a collective of up-and-coming boxers drive each other on, both have dedicated themselves full-time to boxing in a bid to fulfil further ambitions in the sport and both are desperate to win – and confident that they will do.
But the two men's circumstances are also quite different. Vuong, 20, hails from the far north of England (Blyth) has enjoyed only modest success so far – at least relative to this prestigious occasion – and will enjoy significant home support, with the contest being staged in what he considers his home city.
Wood, 19, meanwhile, hails from Benfleet in Essex, trains in one of England's most southern counties in Kent and can boast an impressive haul of national title wins through the age groups. Yet he knows that by stepping up in weight from Under 57kg and competing on his opponent's turf, he will go in as an underdog in many people's eyes.
It all sets it up for being a tantalising, intriguing and explosive encounter when the bell rings to start their bout at just after 2.20pm (Bout 11) on Saturday afternoon.
For his part, Vuong is eager to demonstrate he has come of age by landing not only his first national title, but the 'big one' as well.
Although he has spent a decade in the sport without a break, it is only in the past year or so, since joining Birtley, that he has really knuckled down to take it really seriously.
It means he has given up his jobs to focus on preparing for this year's Championships – a decision he believes has now been fully vindicated by his progress to the final two.
"I have always been there or thereabouts in Championships, but always seemed to fall at the last hurdle and lose to eventual winners or drop a close split decision," said Vuong, "I have beaten about 10 different national champions in my time, so I know I can do it, but it has just never quite happened for me – yet.
"But there is a big difference in me since I moved to Birtley last June or July and started training there, where the coaching I have been getting has been unbelievable.
"When I left school at 16, I got an apprenticeship doing dry lining and plaster boarding and then I worked building car batteries in Sunderland for the Nissan Leaf, but I hated them both and I told my dad I wanted to do the boxing full-time.
"He told me to give it a go and was very supportive – as all my family always have been, they've always backed me in whatever I have done – and I have never looked back.
"Since them I've been training two or three times a day, putting the hard work in, and it has started to pay off.
"Having given up a 'Plan B' to go for this, I have a lot of motivation to make it as a boxer, and I want to win things, starting with this title.
"It would be unbelievable to win and it gives me goosebumps just thinking about it."
Red corner contender Vuong first got into boxing as a youngster when he used to watch Manny Pacquiao fights with his dad and then asked to be taken to his local gym.
After coaches described him as a natural, he quickly became hooked and says he now 'lives and breathes it'.
At Birtley, Vuong is benefiting from training alongside a succession of amateur and professional champions, including the likes of Calum French, Cyrus Pattinson and Mark Dickinson.
"Pat and Luke (McCormack) had gone by the time I joined the gym, but I'm well aware of what they have achieved and I've loved to watch all their fights," he said.
"Everyone in the gym, whether amateur or professional, is working hard to get where they want to be and pushing each other on to achieve… it's a good place to be.
"My coaches (Graeme Rutherford and Jacob Dickinson) deserve a lot of thanks, but it's also been down to me to put in that extra effort to make things happen."
Having already secured an GB and England Boxing assessment by clinching a final place, Vuong – who lists Floyd Mayweather, Shakur Stephenson as his biggest boxing idols – is determined to put on a show to further push his case for a place on one of those programmes.
Another big motivation is to make sure that his local support, which will include family, friends and those from his gym, go home as happy.
"It's been a great experience boxing in these championships and it was surreal when they handed me the golden envelope with the details of my assessment," said Vuong.
"When you look at all the names who have won this title in the past, you have to pinch yourself a little bit, but I'm still very focused on what I still need to do.
"It's only about 20 minutes from the gym and about half an hour from Blyth to the Finals Day venue, so I should have plenty of people shouting for me.
"I feel like I thrive with the crowd behind me, so that's a good place to be. The bigger the moment, then the better I get.
"Whether people are watching at the venue at home or on the streaming, I want to put on show and get that win. I love the game and I can't wait for Saturday to come."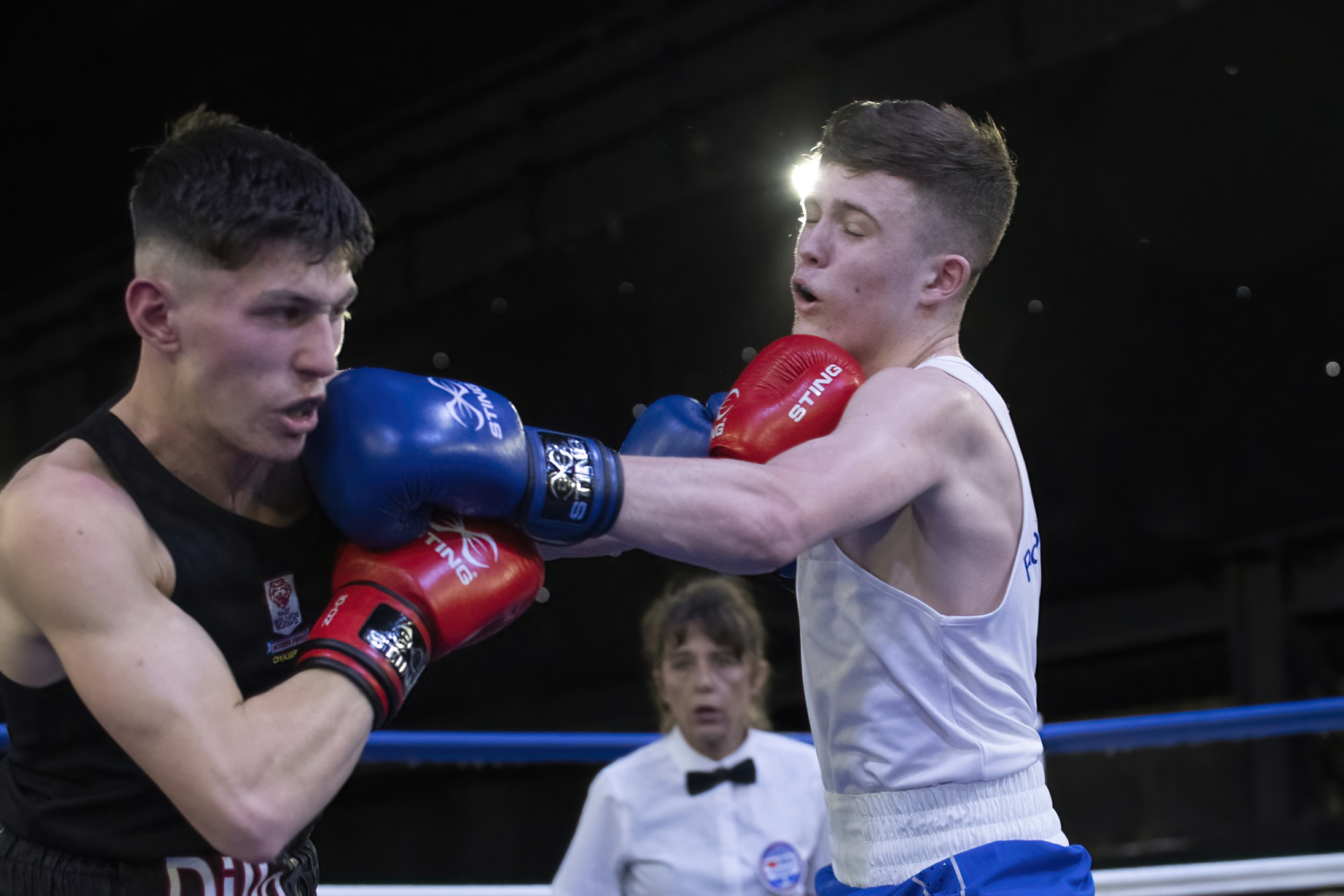 Wood, who will box out of the blue corner, credits his dad for helping him succeed in boxing by ferrying him to training whenever he needed.
Although his uncle, Danny Hunt, won a professional British title, it was coincidental that he made his way into the sport.
A slow starter – "I didn't win anything as a Schools boxer" – Wood claimed his first National title as a Junior Cadet and has never looked back, claiming a string of successes, including a number for former club West Ham.
The southpaw has also been on the England Performance pathway for a number of years and represented the Three Lions at the IBA Youth World Championships 2022 in Spain in November.
"It took me a bit of time to get going, but I've had a successful boxing career since those early days and now I've got to this final, I have to win it," said Wood.
"I know that I have been there and done this before and my opponent hasn't, so I'm not nervous about the bout and I'm confident I can win.
"Every bout I have had I have been cool and I will be that same way again. Once the bell rings, there's only you and your opponent and there is nothing else anyone can do."
Like Vuong, Wood is training with a strong pool of boxers at the newly-formed Ropes and Glory in Chatham.
Their number includes IBA Youth World Championships 2022 winner, Enriko Itauma, who has recently turned professional, and Mason Payne, who will also be travelled to the North East as an Under 75kg finalist.
Wood said: "Enriko has been a big inspiration to me because we have trained together with him for England and now we are at the same gym.
"If you are having a bad day or finding it tough, then he is really good at putting things in perspective and helping you through… he's hoping to be there to watch me on Saturday.
"Like me, Mason is another '04 boy and we are going up to the finals to compete together. If we can both get the win, it would be brilliant."
While recognising that most of the support will be in favour of his opponent, Wood is still confident in his own ability to deliver when it matters.
He is also adamant that stepping up in weight will not be an issue, having proven his standing at this weight with his three wins so far.
"I know I'm in his back yard, but I like being in that situation and I think I can make it work in my favour," said Wood. "I enjoy the challenge.
"Every single opponent I have come up against so far has been bigger, but I have dealt with it and found a way to win. Speed and movement are just as important.
"I can't really describe what it would mean to me to win this title but, you will see it in my face and emotion at that point.
"It's the hardest thing to win in amateur boxing – everyone wants to win it – and there's literally nothing that I can think of that is better."
More on the NACs 2023
Finals Day key info circular: Click here. Spectator info: Click here. NACs home page: Click here.
Pics by Clive Wood