National Amateur Championships 2021: Female Under 54kg quarter-final preview
December 2, 2021 | by Matt Halfpenny
It will be a changing of the guard in the Female Under 54kg category at the National Amateur Championships this year, in more ways than one.
For a start, whatever happens over the course of the next two weekends aduring the quarter-finals (Saturday 4th December) and semi-finals (Sunday 5th December) at Cannock and on Finals Day (Saturday 11th December) at the University of East London's SportsDock, there will be two new finalists and a new champion.
The reigning title holder from 2019 – the last time this Championships was contested before Covid-19 intervened last year to force postponement – is none other than Charley Davison, who followed up her success by clinching a place in the GB Boxing squad and, ultimately, boxed at Tokyo 2020 in the Olympics this summer.
Her opponent, Nina Hughes, is a former winner of this title and has now turned professional after a long and successful amateur career.
There is also a distinct shift in emphasis in terms of age and experience, too, with a glimpse of what the future holds in the shape of a new generation of boxers coming through.
Yes, there will still be established seniors looking to take advantage of Davison and Hughes moving on, but there is also a triumvirate of young hopefuls looking to make an instant impression in stepping up from the Youth classification.
The first of that trio is Holly Heffron, the 19-year-old who has come through the ranks at the Heart of Portsmouth Club on the South Coast, but is, for now at least, based at Birmingham club Hall Green while she studies at the University of Birmingham.
The Sports Science student hopes to become a physiotherapist in the long-term, but is focusing on her boxing going into the weekend as she bids to successfully follow up her first national title win in 2020, when she claimed won the England Boxing National Youth Championships belt at Under 51kg.
"It's going to be different from the Youths, boxing against fully-grown women, but I'm not putting any pressure on myself and I'm just going to go out there and enjoy it," she said.
"For my quarter-final bout, I am going up a weight and she is coming down, so it will be interesting to see how that goes. I know a little bit about her ,as we won at the same Youths last year, but I don't think I've ever sparred her.
"I feel stronger than I have ever felt boxing at this weight. I've had my first senior bout and won and the main thing I want from myself is to put in a good performance.
"I would love to win it. If you can win the NACs it can help you get on the GB squad, which is the aim.
"It's been really good to try something different by training at Hall Green while at Uni, but I know all the Heart of Portsmouth lot will be cheering me on at the weekend too."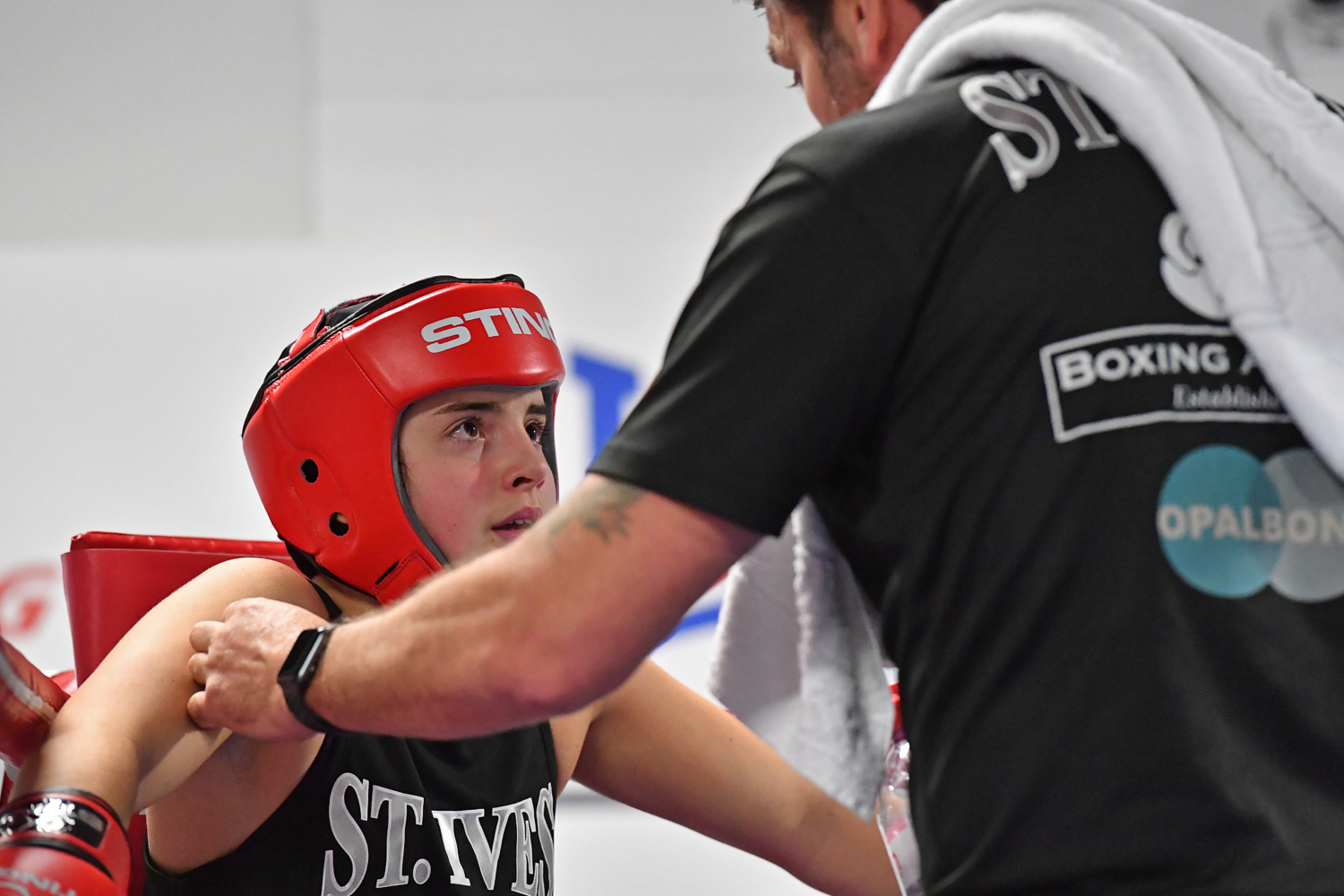 Standing in the opposite corner will be fellow teenager Megan Morris, also 19, of St Ives ABC in Cambridgeshire.
The England Boxing National Youth Championships 2020 winner at Under 57kg hopes training alongside a strong female squad at her gym will have been of benefit to her.
Should she go all the way to the title, it would be a rapid rise for the former gymnast, who first walked into a gym in September 2018.
"I would love to be able to box for England, as I was hoping to do so after winning the Youths, but then Covid-19 stopped it, which was a shame," she said.
"Hopefully if I perform well here then it will push my claims in that regard and also with GB. If I do well, then these things might follow.
"I did gymnastics from the age of six until I was 15, which definitely helped me build up strength and fitness… I don't think I'd be here without it.
"When I first went along to St Ives, I didn't want to punch anyone or get punched, but a year or so later I was winning my national title, so it's all happened quite fast.
"I think it's helped that we have a fantastic group of female boxers here in Shona Whitwell (who is a member of the GB Boxing squad), her sister Harli, Emma Baghurst, Chloe Giglio, Millie Symons and others.
"I think all of us in the gym have learned from Shona with the international experience she has and what she brings back with her from GB."
"It would be interesting if I went on to box Liv Holmes, as she beat me on her own show in Liverpool and I beat her on mine, so it would be great to see who wins in neutral territory.
"Another reason I'd be pretty pleased if that happened would be because if we did, I think we would both be in the final!"
Just like her fellow 19-year-olds, Olivia Holmes, of Rotunda in Liverpool, is out to make a big impression in the senior ranks, having finished as runner-up at this weight in the England Boxing National Youth Championships last year.
The West Lancs College student is studying for a Level 3 Sports Diploma and would like to go into a career in nutrition.
For now, though, it gives her very useable knowledge when it comes to weight management ahead of her bouts as she hopes to emulate her heroes, having watched, fascinated, as Nicola Adams won at the 2012 Olympic Games and Savannah Marshall subsequently became a professional World Champion after a successful amateur career.
"I'm really looking forward to boxing as senior," she said. "I've worked really hard in training and while I know it's a step up, I have to get used to it if I'm going to get where I want to be.
"While I'm going in to try to win it, I know I'll be coming up against older and stronger girls than I have done before. There are also others like me who are in it for the first time and trying to mix it with the established seniors.
"It inspires me to see that Charley Davison is a past winner and what she has gone on to do. It shows how things can change very quickly in a short space of time.
"It's nice to have something to fall back on away from boxing with my interest in nutrition and it does come in handy.
"I've had two senior bouts so far, winning one and losing one, so we'll see how this goes. I just want to keep progressing and hopefully I can get the three wins along the way."
But not everyone vying for the title is new to boxing at senior level, and one such boxer, Jay Dujon, of Repton. She is determined to use all of her experience to good effect.
The 36-year-old from East London comes into the tournament as the number one seed as is out to underline why she has been given that tag.
While the famous Bethnal Green gym she represents is noted for producing male champions at all levels, it is thought she would become the first woman who has pulled on the famous green and gold to win a title at senior elite level, if she could go all the way to victory.
Nikki Paksi came close as she lost in the Under 75kg national final to Natasha Gale in 2016, and Caroline Dubois has won at Youth level, but Dujon, who also coaches elite level gymnastics to children, would love to break new ground as she readies herself for the trip to Staffordshire.
She said: "Like everyone else has found, it's not been easy to manage training during the Covid lockdowns, and it's been hard to find opponents to box with things still getting back up to full speed, but it's about making the most of what you've got.
"It would be a fantastic to get a female champion up there on the wall at Repton, and help inspire the next generation of female boxers, so I hope I can make a big splash in this tournament and go all the way.
"But I'm not taking any potential opponent for granted, and I know there will be a lot of talent in my division. Some of the girls coming up from the Youths might actually have more experience in terms of bouts than some of those who have been a senior for a while.
"I draw confidence from the fact that I'm the number one seed, but it doesn't mean anything unless you back it up by going out there and showing why you were given that seeding. It only means something when you win a title.
"Of course, my experience can help me because I've been in this situation and environment before, and I can draw on that. I can't wait to get going… it's been too long. I want to go out there and prove myself."
For Sacha Smith, 30, it's a relief to have been back in full training for the past few months having suffered a broken foot at the beginning of the year, which initially hindered her Championships preparations.
The Midlander, who now lives in Leeds and boxes at the city's Tigers club, had to train, for a time, with a boot on and was only officially signed off from her treatment in September.
However, training nine times a week around her work as a project manager for a software company, has allowed her to catch up quickly, meaning she is now 'raring to go'.
She said: "It was a bit of a nightmare to have the break in January, just when I was starting to step things up. I haven't even got an interesting story about how I did it… I just rolled it!
"I was off my feet for about three weeks, but because of the Championships I knew I had to do what I could and couldn't sit back and do nothing after that, so I managed to keep a reasonable level of fitness by doing what I could.
"The good thing with my work and working from home is that I have had the flexibility to fit my work around training and vice versa.
"As I've been working hard to get my weight down, I've also been doing walks on top of my training to burn off the extra calories, but now I feel as fit as I've ever been and I couldn't have done anymore.
"When I started boxing, it was at Under 64kg, so I'm used to being punched by people at that weight. Now I'm down to 54kg for the first time, I'm hoping that will work in my favour.
"I'm confident, but I'm also realistic. I'm probably the least experienced in terms of number of bouts in this division, and maybe all the divisions, but I've done all I can to prepare well."
Jade Ashmore (picture by Fiftyoneeight) is another experienced campaigner who has revelled getting back into her boxing training after the enforced lay-off because of Covid-19.
The 2016 finalist – where she lost to Lisa Whiteside – has used the period of down time to good effect to take a break, which has, in turned reinvigorated her interest and passion.
A personal trainer by trade, the 23-year-old has cut back on her client work in recent weeks to make sure she is at the peak of her powers for this event.
"The camp I have had in the lead-up to this is probably the best one I have had before a Championships," she said. "I know I have the ability to do it and it's about putting what I have been working into practice.
"The start of Covid was the first time since I started boxing that I hadn't trained for it, so it gave me a chance to reset and recharge. It was a first for me… I'd never not boxed.
"But the break probably did me good and I've come back strongly. I felt a lot of pressure as a kid to do well, but now I'm a bit older, I feel I can handle it more. I'm in the right place mentally and physically.
"I can't put into words how it would make me feel if I could win the title. It's what you want to win when you start boxing. I've only got better since I was last in the final, so I'm ready for another go at it."
A seventh contender should have been Ceri-Anne Casey from O'Dells Community Pride in Birmingham, but she has been forced to pull out this week after contracting tonsillitis.
Her coaching team say she is hugely disappointed and that she will be back in the future to challenge.
Who she will be looking to depose as reigning champion when she does is return is anyone's guess at this point – and it's sure to make for some compelling viewing over the coming days…
*****
Boxing at the England Boxing National Amateur Championships 2021 starts at 12noon on Saturday and Sunday.
Click here to view streaming details. To keep up to date, go to the National Amateur Championships home page here and follow the action on social media using the hashtag #EBNAC21.