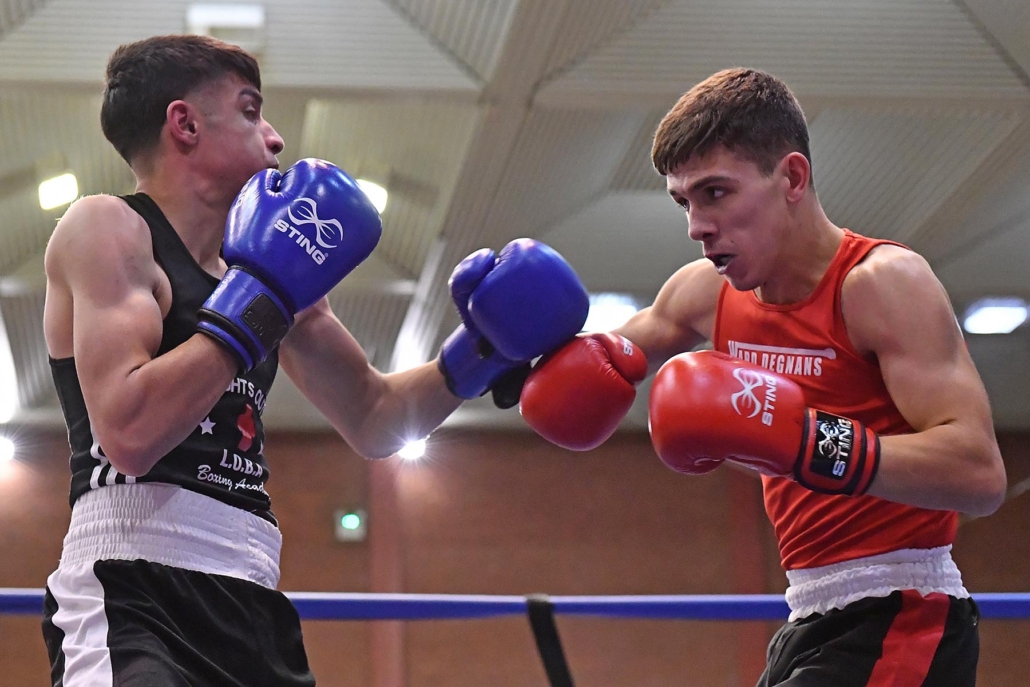 NACs and Senior Developments q-f and s-f report: Exciting new generation make it tough for GB contingent
December 7, 2021 | by Matt Halfpenny
The GB seeds did not have it all their own way at an exciting quarter-finals and semi-finals weekend of the England Boxing National Amateur Championships (NACs) 2021, staged at the Chase Leisure Centre in Cannock.
Three of the six on the programme from which Olympic Games representatives are selected – Hamza Mehmood, Joe Tyers and Courtney Bennett – missed out on a place at this Saturday's Finals Day (11th December), which will be held at the University of East London's SportsDock.
They found their path to glory in the country's most prestigious amateur event, which dates back to 1881, halted by stiff competition that saw the emergence of a host of bright young talent following the extended break from action because of Covid-19.
Hodbox's Mehmood, who had been looking to win his third consecutive NACs title went out at Saturday's quarter-final stage as he was shocked by a unanimous decision victory for Eastside Ibrahim Shakil.
After negotiating their respective quarter-finals with few alarms, Tyers went down by a split decision to the fleet-footed Ibraheem Sulaimaan (Eastside), while the referee stopped Bennett's bout with Harvey Dykes (Hillcrest) after the Royal Resistance man was unable to continue because of injury.
There was considerably more serene progress for two of GB's other three seeds, with Ramtin Musah (Beartown) and Aaron Bowen (Box Smart Elite), coming through their quarters and semis with unanimous and comfortable 4-1 split decisions apiece.
Jodie Wilkinson (Tigers), however, was made to work much harder to make it through as she edged out Omarah Taylor (Box Smart Elite) via a tight 3-2 split decision – and was visibly relieved to get the nod.
A number of other number one seeds also perished in front of the BBC cameras, underlining the strength in depth of talent coming through from Youth level.
Boxers from Bolton's Metro led the way in inflicting those upsets, with 2019 finalists Ben Turner and Hannah Shield beaten by Ibrahim Kola and Sarah Dunne respectively, while Repton's Jay Dujon was upset by Hall Green's Holly Heffron, who won her weight category at the England Boxing National Youth Championships last year.
There was cause for celebration for the Channel Islands as Amalgamated's Billy La Poullain booked his final spot by stopping well-fancied Jimmy Sains (Repton) in the quarter-final and then outpointing a tough opponent in Joel Bartell (Guildford) in the semis.
In the women's draw, Lucy Kisielewska won her all-Army clash against team-mate Terri-Leigh Stewart to set up a final with Wilkinson, while Jem Campbell booked another final spot after winning in 2019, albeit at the different weight of Under 64kg.
The weekend also saw the staging of the England Boxing National Senior Development Championships 2021, which is usually contested separately but was added to the programme following previous postponement due to Covid-19.
In all, this weekend's showpiece Finals Day will see 39 bouts – 21 in the Developments across three rings, followed by 18 in the NACs on a single, standalone ring.
Spectators are welcome to attend and can pay on the day, with more details available on the event's Key Info Circular via: www.englandboxing.org/competitions