NACs Final Day Female Under 57kg preview: Roni Dean v Sameenah Toussaint
December 9, 2021 | by Matt Halfpenny
For Roni Dean, boxing has always run in the family, so when the chance came for her to join in, she jumped at it.
Not only did the 26-year-old's dad Matt step between the ropes in his younger years, but so too did her uncle, while her brother and cousins have all pulled on the gloves too.
It came as no surprise, then, that she eventually followed suit – and soon became hooked.
So while she did not take up the sport until relatively late on compared to some of her peers, her dedication to the gym and strict diet has propelled her to top of the amateur tree and an appearance at the showpiece England Boxing National Amateur Championships 2021 Finals Day.
Dean from her hometown club of Thetford Town in Norfolk – which her dad set up having previously coached at Attleborough – is on the brink of making history for the gym by becoming its first ever national champion.
It's a prospect that brings huge excitement to the Under 57kg boxer, who is hoping to bring some travelling support down with her from East Anglia for the big occasion.
"To be fair, when I first went along to the gym, it was only ever to get fitter and lose some weight, but because my whole family is into it, it's always been part of my life, so I suppose it was always going to happen that I would give it a go at some point," she said.
"I was training a lot and eventually I plucked up the confidence to say that I wanted to get in the ring and that's when I fell in love with the sport.
"I absolutely love it now, even the training, and I don't know what I would do without it. I always thought that I had it in me to be a national champion, but it has been a rocky road at times to get to this point.
"Most boxers will probably say it, but I felt I was on the wrong end of some bad decisions. I remember losing on a close split in the Developments one year and it did cross my mind to pack it in.
"But I was soon back in the gym training really hard and while I was saying I wouldn't have another bout, I think my dad always knew that I would! He knows I have got the bug for it.
"Since September, I've also worked with a nutritionist to sort out a proper diet and it's worked really well. I was going to drop down to 60kg, but it's worked so well, I've managed to get in at 57kg and I feel really strong there."
At Cannock last weekend for the quarters and semi-finals, Dean opened her account with a split decision win over West Wirral's Katie Flynn.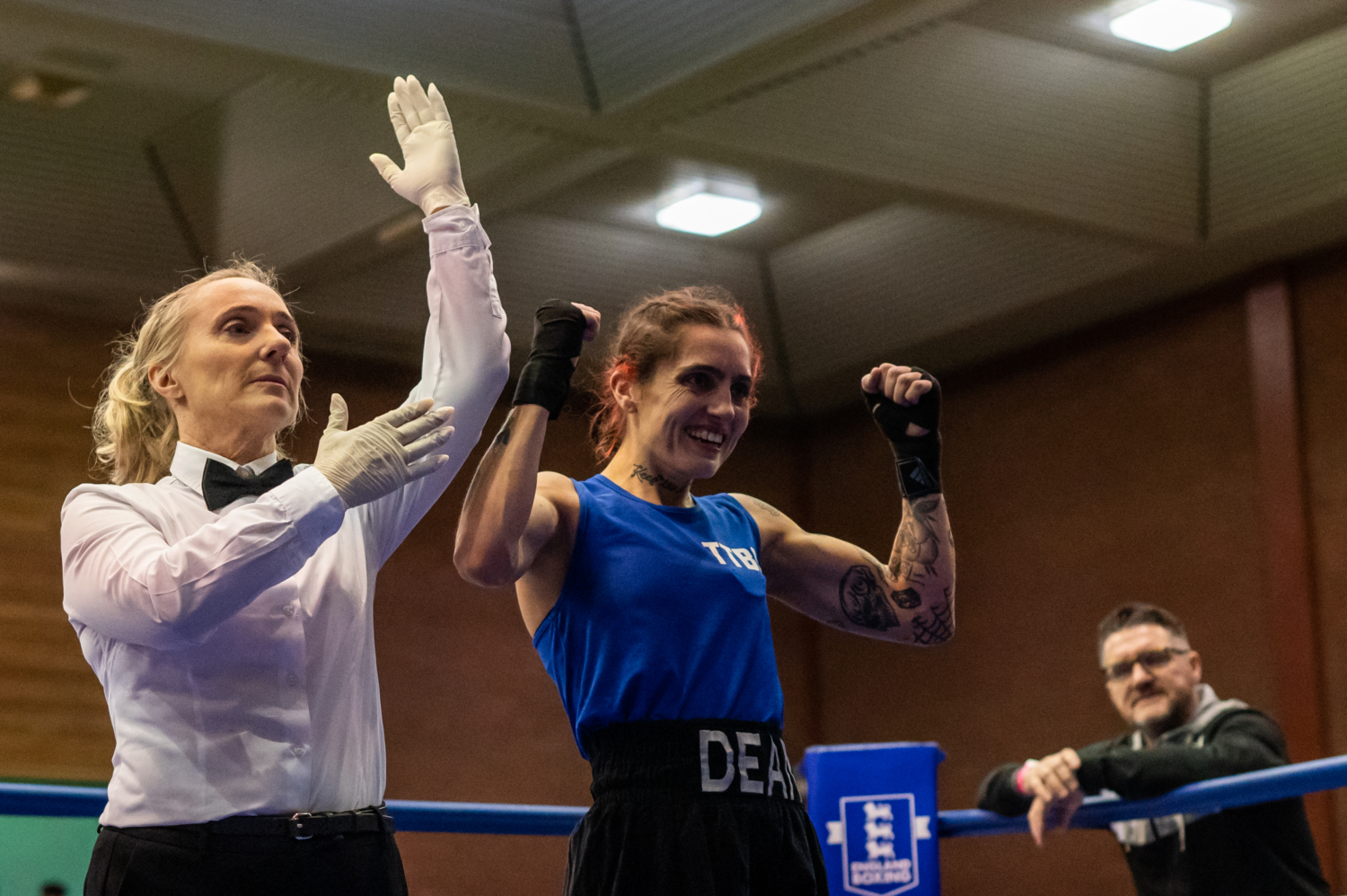 She followed that up in her last four contest with another split success, this time over the Army's Lily Devlin.
Dean, who will box out of the red corner in London, was pleased with her performances and said: "After I've had the rough end of split decisions in the past and you hear those word said, you fear the worst, but this time I came through and I was happy with the way that I boxed.
"They were two very different types of opponent, so I was pleased that I showed I could adapt. The second bout was tougher, a bit of a war, but I like bouts like that we're people are coming forward at you.
"I have confidence in my coach and that's a good place to be in. I always listen to what he's got to say – once I've stop badgering him to give me some water when I first sit down!
"Obviously it helps having someone who's family corner for you because they know all about you, your personality and how much it means to you, but it's also good that he is so calm and can see things that you can't always see when you are in the heat of battle."
Away from the gym and the ring, another source of gratification for Dean is her job as a adviser for Volunteer Norfolk, which helps people get into jobs and training.
She's also an active coach at the gym in Thetford, where she hopes she can help bring through the next generation of young female boxers.
"I love helping people and it is a rewarding job," said Dean. "It's so relatable, because everyone has struggles in their lives at some point and if I can help take just one step forward, then that's great.
"The coaching is another thing where you can give something back and get something out of doing it. We've just had a boxer have their first bout after being in the gym a while and it's great to help people on that journey.
"You pick up things when you are boxing and hopefully you can pass them on. It's great to see a lot more girls coming into the gym now – the last time we had a new starters session there were four girls – and it's nice to be playing a part in that.
For now, though, Dean only has eyes on the weekend, the prize of a national championship belt and etching her name on history alongside such names as Nicola Adams, Savannah Marshall, Stacey Copeland, Karriss Artingstall (who won at this weight division in 2018) and Charley Davision.
She said "I'm still buzzing from my two wins last weekend to get to London, and I'm hoping that there is one more to come now.
"You have to sacrifice things because of your training, like going out with your friends, but it will be worth it if I can bring home that title."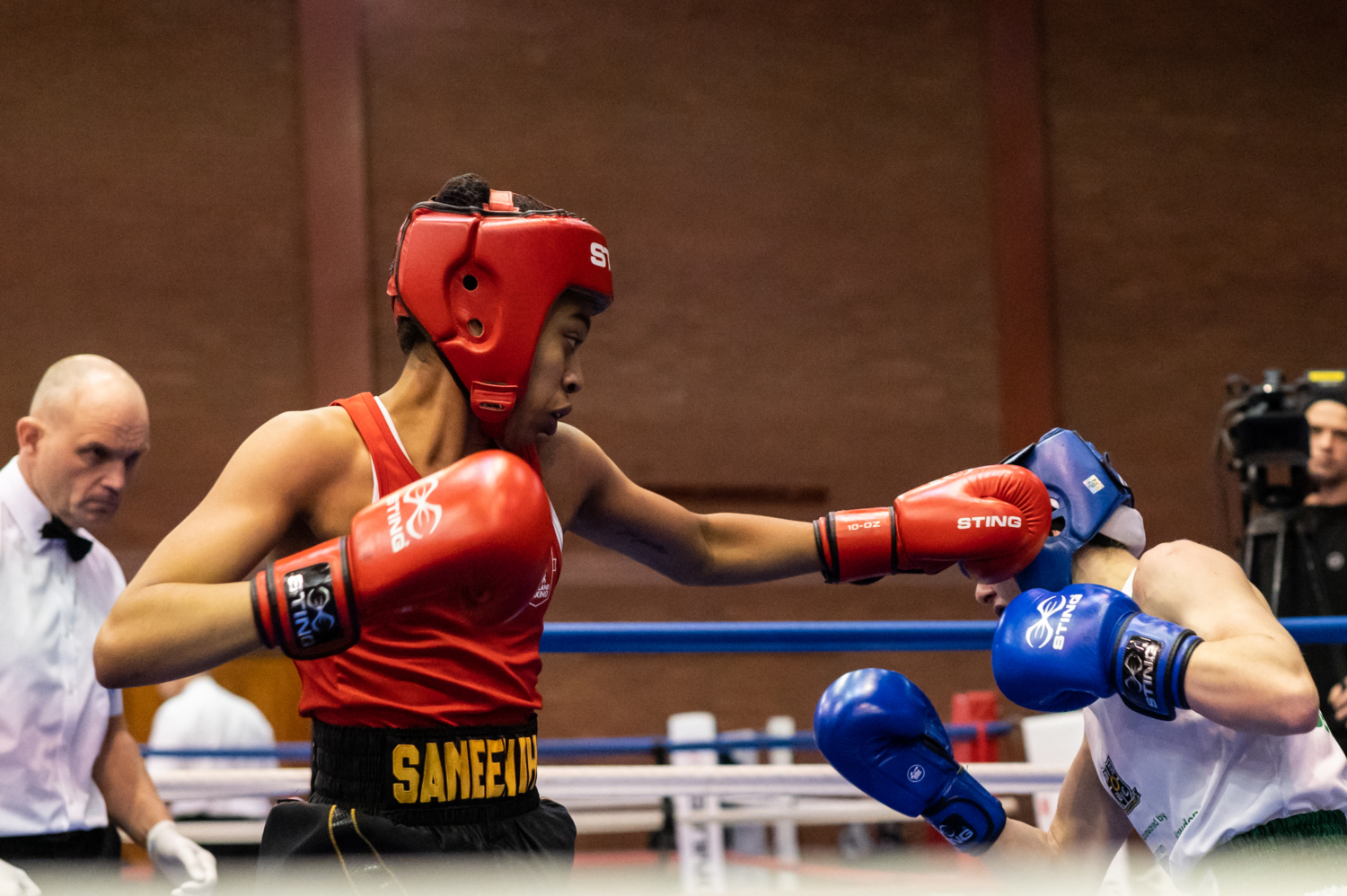 In contrast, opponent Sameenah Toussaint, who will box out of the blue corner at the University of London's SportsDock, was not overly-enamoured when she first tried out boxing. It wasn't quite love at first sight.
It was only when she won a couple of bouts and became a national champion at Schools level that she really started to enjoy it – and take it much more seriously.
But her time invested has reaped dividends, with plenty of success on the domestic scene, culminating in an England Boxing National Youth Championships title success last year (at Under 54kg), having been part of the England Talent Pathway and represented her country at international level.
With her sights set firmly on clinching a place on the GB Boxing squad, Toussaint is delighted that she has made a seamless transition to the senior ranks, even if she didn't necessarily expect to reach the final at the first time of asking.
Now there, she is determined to go on to claim the title and underline her credentials as a future Olympic hopeful.
"To win this title in my first year as a senior would mean the world to me," she said. "Doing that would make a massive statement.
"Right now, my goal is to get onto the GB programme – I've been having regularly assessments since last April – and this would really push my case in that regard.
"I've always been on the radar (of England Talent and GB), but I think this would cement my credentials and show I belong at this level, if I could win the final.
"I think what has helped me on the way through to this stage is that I have had plenty of experience and bouts, even if it hasn't been at this level.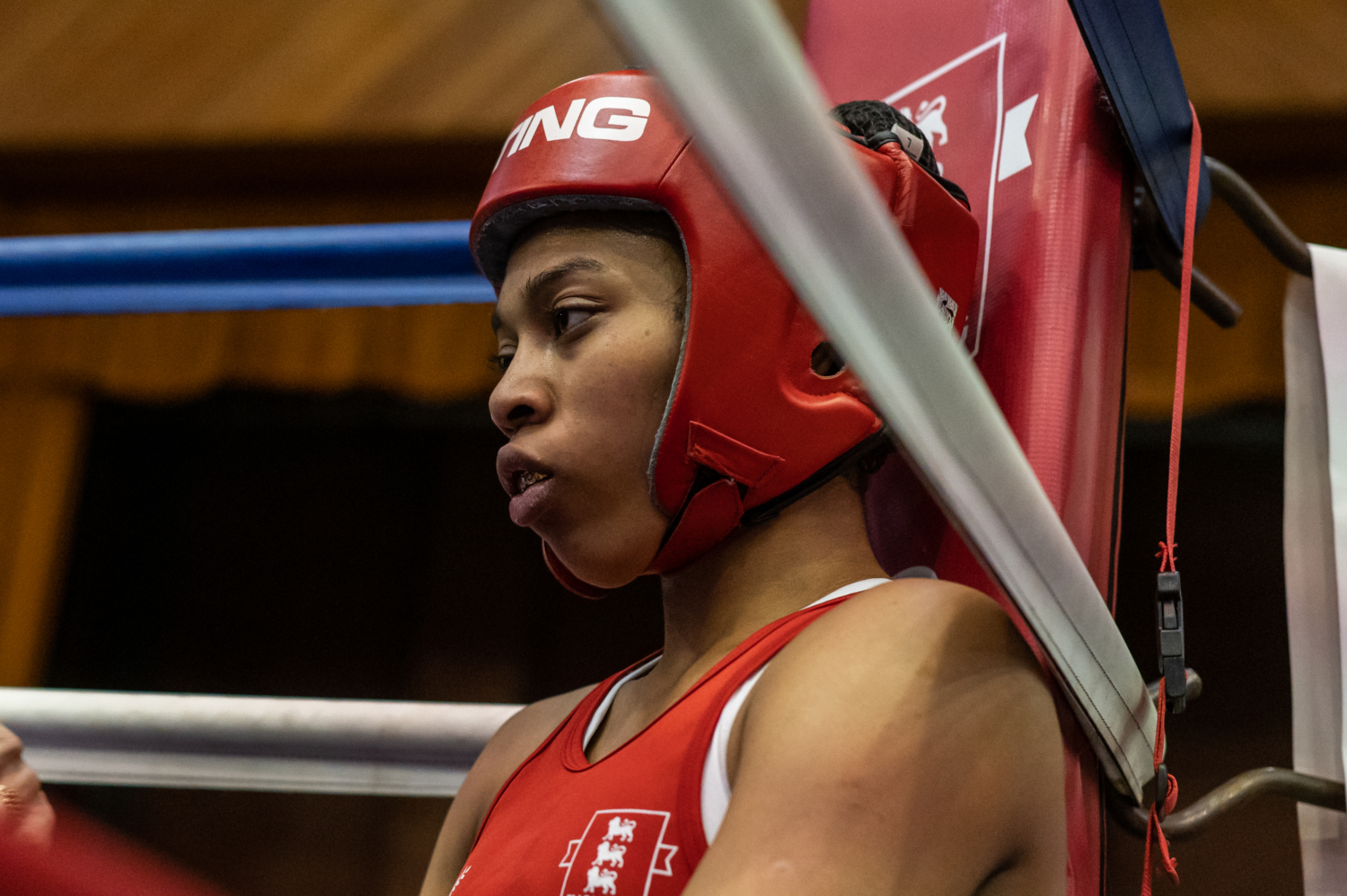 "I'm buzzing for this final. I wanted to get into it, but you never know quite how it is going to go when you move up to senior level.
"It was a big win for me over Elise (Glynn) because she has beat me a couple of years ago in the Youths and there was a lot of pressure on it with us both pushing to be on GB.
"We've been sparring each other once a month, so I know her very well, but I had to put any friendship aside when we stepped in the ring."
Toussaint, who hails from Harrow, now attends the New Kings Boxing Club, having moved with her coach from the Patrick Wilson School of Boxing (formerly Northolt). She fits in her training around her full-time job at Boots.
Watford-born, it comes as no surprise that Anthony Joshua is one of her boxing heroes, along with the likes of Nicola Adams and Katie Taylor.
She added: "It's always a bit of a rush… getting home from work, having my meal straight away and then getting out for training, but you make it work.
"It takes me a bit longer to get to New Kings because of London traffic, and it was a tough decision to leave Northolt, but I think it was the right one for me personally in the end.
"Like me, AJ is originally from Watford, so I'm a big fan of his and then Nicola and Katie have really helped to take women's boxing forward to where it is today.
"When I first started out, it was very hard to get anyone to spar, let alone have a bout with, and you could often end up boxing the same person three times in a row.
"But now there is a much bigger pool of women and girls and that is growing all the time, as is the standard of the boxing, which is good to see."
Toussaint has benefited in her rise both from a SportsAid funding bursary and the Talented Athletes Scholarship Scheme (TASS), who have provided strength and conditioning support.
She is hoping that the final being in the capital will bring her that extra bit of backing.
"I'm hoping that I will be able to get some decent support there. My mum and dad will be there, but I think some of the members of the club are going to come along too, which you might not normally have.
"I have watched some videos of my opponent, so I know what to expect and I always like to do a bit of analysis before I step in the ring with someone.
"I'm sure it will be a good bout, but hopefully I can just have the edge."
*****
Boxing at the England Boxing National Amateur Championships 2021 Finals Day starts at 1.30pm on Saturday (11th December) and follows the England Boxing National Senior Development Championships 2021 Finals Day, which starts at 11am.
Click here to view streaming details and click here to see the Key Info Circular. To keep up to date, go to the National Amateur Championships home page here and follow the action on social media using the hashtag #EBNAC21.