Countdown to Tokyo: McGrail determined to make sacrifices worth it with Olympic success
July 19, 2021 | by Matt Halfpenny
In the third of a series of Tokyo 2020 Olympic Games boxing previews, Peter McGrail explains the strain that the Coronavirus Pandemic – and Tokyo 2020 – has put on family life, making him doubly determined to make the trip worthwhile.
xxxxx
Almost everyone has been forced to make sacrifices in their lives because of Covid-19. For Olympic hopeful Peter McGrail, that has meant even more time away from the family he values so much.
While the vast majority of the amateur boxing fraternity in England has suffered several periods of gym inactivity because of the Pandemic, members of the GB squad have been fortunate enough not to suffer that disappointment, receiving special dispensation to continue their training as elite athletes.
But the moving back of the Tokyo Olympics by 12 months – now starting this Saturday (24th July) for the boxing tournament – has taken its toll on the 11 who have qualified in other ways.
By now, McGrail had reckoned he would be signed up as a professional and already be making his way into those ranks, with a bout or two already under his belt.
The biggest hit, though, has been to the time spent with loved ones, with weeks and months spent away from his Liverpool home training – not just at The Lion's Den in Sheffield, but also at overseas training camps – exacting a heavy toll.
It is a price the two-time AIBA World Amateur Championships bronze medallist feels will be worth paying if, in less than a month's time, he can follow in the footsteps of a host of boxing greats by having a coveted Olympic gold medal hanging around his neck.
"I'm 25 now and I have been with the squad for five years. I have always missed my family when I have been away, but in the last couple of years, it seems like I miss them more than when I first came into the GB Boxing squad," explains McGrail.
"I just love being around my brothers, the rest of the family and my girlfriend. Boxing has taught me just how important my family is to me  and people who don't travel that much probably don't realise just how much of an effect it can have on you.
"My family have tried to come to most of the major tournaments I have been involved with, everywhere from China to Bulgaria to Ireland, but they can't be there all the time when I'm away training and that's tough.
"They can't go to the Olympics this time, which is pretty gutting because they have followed me all the way through. My mum and dad, my brothers, my girlfriend and her family, club coach and friends all had it booked for last year and they've all had to get their money back.
"But if that's the way it has to be, then that's how it has to happen. In the end, I'm just glad that the Olympics are going to happen at all, because they were obviously in doubt at one point.
"There's been a lot of sacrifice, but hopefully it will be worth it in the end. This is one million per cent the most important tournament of my career so far because an Olympic medal is the one thing I am missing.
"The only thing I'm going there for is to win a gold medal and I know I'm good enough to do it."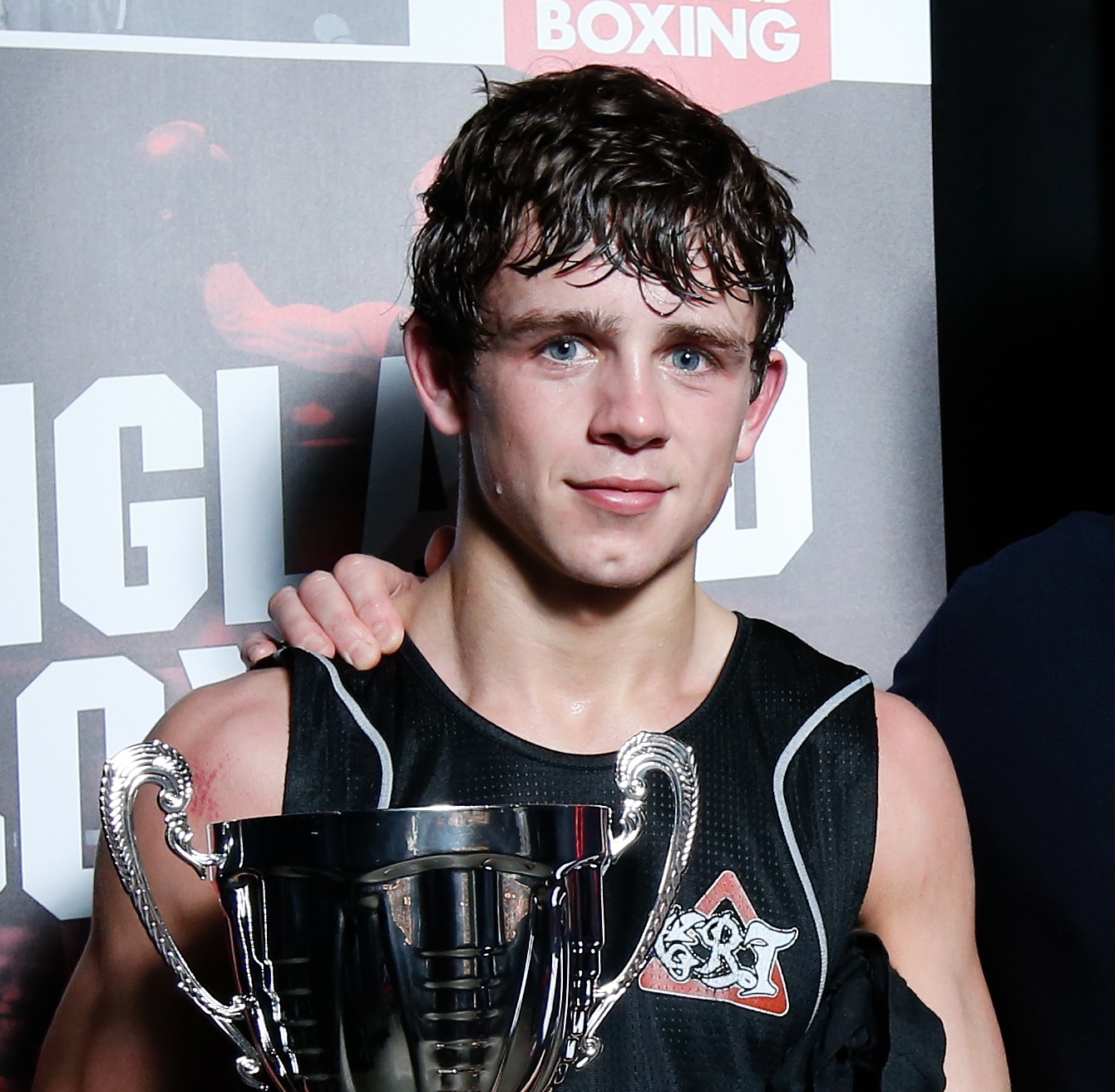 Like many kids growing up in Liverpool, McGrail loved football as a youngster and in his younger days was more likely to be dreaming of playing in the Premier League than stepping into a boxing ring.
However, all that changed once he first set foot inside his local gym, where his promise quickly became apparent.
McGrail recalls: "When I was 10 and playing for a local football team, a mate in that side suggested I go along to my local boxing club. There were six of us who went down and only two of us are still involved now. I loved it from the word go.
"After two weeks, my first coach, Paul Stevenson, who still coaches me now, said I would be a national champion – and he was right! It proved to be a good decision to go along.
"My first bout was on my home club show, but I lost it on a split decision. I lost my first three bouts actually, but then I won my next 19, which was when I really announced myself.
"I won my first National title at Schools level at Dagenham in 2009 and I also boxed for England in the Three Nations that same year.
"I was not a horrible kid and did quite well at school, but I wasn't the best behaved and used to mess around.
"Boxing taught me that if you work hard, then you will get the results and I have been working hard for years in the gym."
McGrail has high hopes of matching the achievements of two of his biggest idols in the weeks, months and years to come.
The featherweight boxer (Under 57 kg), who won the England Boxing National Elite Championships in 2016 in his home city, knows that a strong performance in Tokyo is an important stepping stone on that path.
"Being left-handed and a southpaw, I grew up following Manny Pacquiao, who, like me has fast feet and quick hands," says McGrail.
"I'm also a big fan of another southpaw, Vasyl Lomachenko, who was an Olympic champion twice before turning professional.
"I would love to go down that same road and emulate what those two have done in their careers.
"There are some good lads at my weight in the Olympics, as there are at all the weights, but I believe I am one of the best and, if I perform as I know as I can, then I can beat them all.
"If I were to win a silver or bronze medal then there's no doubt I would be disappointed for a few weeks afterwards because, when you've been brought up as a winner, then that's what you want to do.
"After that I might look back and as time goes on and be proud of the fact I've won a medal at the Olympics for my country, but I'm aiming higher than that.
"You don't really think about all the great boxers that have been on that stage before. I feel ready to do it and I'm just focusing on the present.
"I might feel different when I get there, but it's just been about doing things right session by session and week by week."
While the qualifying journey of everyone in the GB squad was affected by the Coronavirus outbreak, McGrail's journey was stranger than most.
He was one of only two GB boxers – Galal Yafai being the other – who secured his passage to Tokyo at the original European qualifying event in London last March before a suspension was forced upon the organisers because of the Coronavirus outbreak.
McGrail did travel to the rearranged qualifiers in Paris in June as he vied for seeding with others who had also guaranteed their places.
There, he suffered a 3-2 split decision defeat against Hungary's Roland Galos in one of the most entertaining bouts of the tournament.
McGrail reflects: "It was a strange situation in London because I won my bout to qualify and I was buzzing, but then the event got called off and nobody was really that bothered.
"I was made up to be through to the final tournament, but then I knew I was going home into lockdown instead of boxing again (to secure ranking points and a better draw) and watching the rest of the team.
"If things had gone through as normal, without Covid-19, then it might have been a bit more special, but the main thing was that I knew I was going to be in Tokyo and the pressure was off.
"In that respect, in that I got to qualify before the tournament had to stop, I was one of the lucky ones."
McGrail, who has frequently trained in Sheffield from Monday to Thursday, and at the gym at Everton on Fridays and sometimes Saturdays, is relishing his shot at Olympic glory now that the Games are less than a week away.
And while preparations have been far from ideal because of the Pandemic, he is determined to use the experience positively.
"It wasn't the ideal way things would have happened – that would have been for the event to take place on schedule," he says.
"Yes, we are now a year further down the line and those who went to the Games would now be a year further into what they are doing next, but you can't be too negative about it, because you can't change it and instead you have to take the positives.
"It's a year to get, stronger sharper, quicker, fitter and cleverer in the ring, and that's the way you have to try to look at it. When the bell rings in Tokyo, I'll be ready."
You can follow all the Olympic boxing action from 24th July 24 to 8th August 8 right here at org/news_articles and across social media.