Countdown to Tokyo: Pat McCormack 'ready to take over' and claim Olympic gold
July 22, 2021 | by Matt Halfpenny
In the sixth of a series of Tokyo 2020 Olympic Games boxing previews, GB's Pat McCormack explains why he feels like now is his time to rule the amateur boxing world.
xxxxx
It's a sign of these Covid-19 times that Pat McCormack takes questions on his Tokyo 2020 hopes in a virtual press conference via a Zoom call, rather than being sat amid a huddle of journalists.
But despite the unusual set-up that is a world away from what the 26-year-old would have experienced in the lead up to his previous Olympics appearance in Rio, what is unmistakably clear from his answers and his demeanour is that the Birtley boxer means business.
And that, put simply, is because he has unfinished business. Five years ago in Brazil, McCormack's quest for a podium place was derailed at the last 16 stage as he was beaten by Cuba's Yasniel Toledo on a split decision at light welterweight (Under 64kg).
At that point, many expected the North Easterner to turn professional, as many of his team-mates from that squad subsequently did. McCormack, though, had other ideas. He believed he could claim victory at the greatest show on earth and has dedicated himself to doing just that ever since.
The signs he can fulfil his ambition appear good. In the rearranged European Qualifying tournament in Paris in June, the Welterweight (Under 69kg) looked sharp, slick and hungry.
Not only that, but he beat nemesis Andrei Zamkovoi, the Russian who had beaten him in the World Championships final in 2019, to live up to his status as number one seed and win the tournament, giving him a more favourable draw in Japan.
Yet the Sunderland-born man knows that he can afford to take little for granted as he readies himself for what is to come. He remains focused, determined and confident, with an eye on the prized top spot of the podium.
"I like to enjoy myself out of the ring 100 per cent, but as soon as we get to tournaments, it's like a little switch flicks on and there is no messing about. It's just boxing and getting these medals is all that matters," he insists.
"Experience is the main thing I will bring into this from Rio. I have also been to three worlds, three Europeans, the Commonwealth Games twice, so I feel like I am the main to beat.
"When I went to Rio I had just turned 21 and had only been to one major. I have beaten world champions and Olympic medalists since then, so I'm ready to go and take that gold medal home.
"I think my boxing brain will help me. I've just been working on little things. I've beaten all the top lads at my weight.
"If I perform well then I can't see anyone beating me. I'd rather be the number one seed expecting to win gold than the underdog coming in."
At his side throughout the current Olympic cycle, pushing him on, has been twin brother Luke, who has also qualified for Tokyo in the lightweight (Under 63 kg).
While he demonstrates nerves of steel in the ring himself, Pat finds it much harder to stay calm when watching his sibling.
He believes having a family member inside the camp will be a significant advantage, having competed in his last Olympics as the only McCormack.
He says: "Both of us going to the Olympics together is unbelievable. It is much better to have my brother with me than not.
"We have been all around the world together boxing at different tournaments but, at Rio, I was there by myself, so it's great to be going together this time. If we were to both medal it would be a dream come true.
"When Luke was in his qualifier, I was more nervous than when I was boxing and when he qualified I was buzzing more than when I won my tournament.
"My family are delighted. We had a little party when we got back from Paris, but then it was straight back into training for the Olympics.
"It doesn't bother me that they can't be there because I will still have Luke shouting for me, which is all I need! We've always shared rooms and we will be in it together again this time."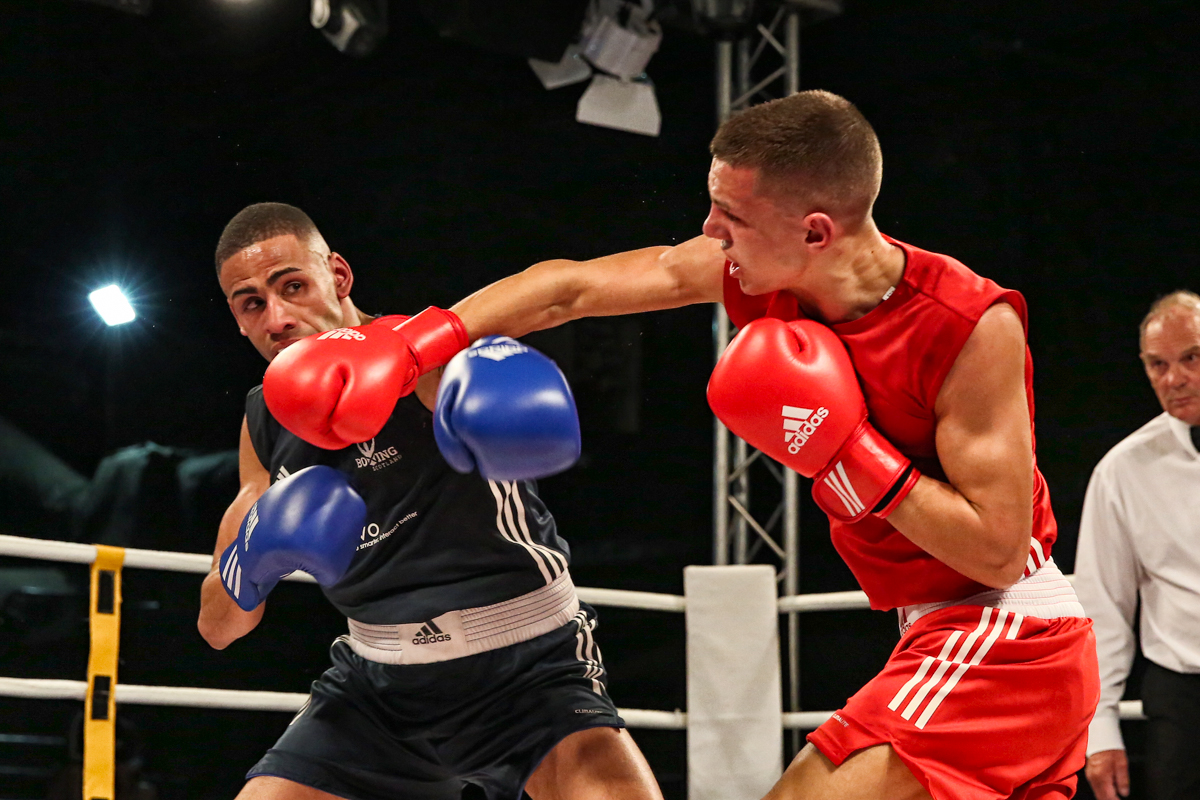 Having performed so well in the Paris qualifier to come out on top, there will be added pressure on McCormack to strike gold when the boxing action in Tokyo gets underway on Saturday (24th July).
But it is a tag he relishes, rather than shies away from.
"I don't feel being the number one seeds brings pressure – it gives me confidence," he explains. "When I was going to the World Championships I was going as the number two seed and got the gold medal. When I went to the European Games I went as the number one seed and won the gold medal, and the same for the qualifying tournament.
"Every time I am seeded, I've reached my seed, so if I'm number one seed going into Tokyo, I will be going with confidence that I can bring back the gold medal.
"When I first got on the squad there was the likes of Anthony Joshua and Luke Campbell both winning medals and I always wanted to win one myself.
"When you look at all of them up on the wall in the GB gym, Amir Khan, and the rest, it would be a dream come true to go down in history with them."
Although much of his training in recent years has been at GB Boxing's Lions Den base in Sheffield, McCormack has never lost sight of his roots.
He is extremely grateful for the input of those at his club, Birtley, and is also proud to act as a role model for other youngsters living in the region where he was born and raised.
A prime example came last February, when he and Luke attended the England Boxing National Youth Championships 2020 to cheer on local hopefuls Shaun Huddart and Jack Dryden.
"McCormack, twice a winner at the England Boxing National Elite Championships in 2015 and 2014, says: "I owe a lot to my club coach Graeme Rutherford, because he's the man that got me on the GB squad and the one I go back to and train with at the weekend.
"I think it (Birtley) is probably the best amateur club in the country at the minute, and I think we've had eight on GB with two going to the Olympics, so you can't knock the results.
"It's a big thing to be representing the north east and hopefully this can pave the way for the young boxers coming through. You can go out and make a name for yourself wherever you are from.
"The north east crowd are probably the best in the country. My mate Cyrus Pattinson boxed recently and the crowd were unbelievable – and it's good to know I will have all those people behind me."
McCormack was recently given a glowing reference from GB team captain Frazer Clarke, who described his team-mate as the 11-strong squad's 'stand-out' boxer.
But the main himself is adamant that every single one of those who will take to the ring under his country's colours has a chance of coming back home with silverware.
The Great Britain team won 14 boxing medals back in 1908 and have not come close to matching that total since.
Beating that total is obviously unobtainable this time, too, but topping the most boxing medals accrued in the last 100 years – the five achieved in 1956 and 2012 – is a realistic target.
"It's good to hear that Frazer thinks I am the standout boxer on the team, but we have got some great boxers on this team, the best team I have ever been on, and when it comes to Tokyo I think we are going to get the most medals that we have done in recent times," says McCormack.
"We have got two world number ones, number threes, number fours, everyone is on the top 10 so hopefully we will bring back a few medals and pull off a few shocks too.
"We went to the Europeans and got the most medals there and did the same at the World Championships, so it can be done. We can do better than any other team in modern times."
If he is to win gold, McCormack believes it is inevitable he will have to overcome old foe Zamkovoi again.
And given the fact that the two have been evenly matched in highly-skilled bouts so far – McCormack losing the first after a cut to the head following a head clash, forcing an early decision that went the way of his opponent – he knows he will have to be at his best to prevail.
He adds: "When we met at the Worlds, I got caught with a couple of backhands in the first round and probably lost that and at the start of the second round I felt I was just starting to come into it and find my range when the head clash happened. I didn't really get to showcase what I am all about.
"So, in Paris, it was massive to beat him. He'd been on my mind since I lost to him in the Worlds. I was dying to get back at him.
"Finally to get him back at him was like taking over the throne. I thought I was winning in the final round, but I had to let it all out and make sure by leaving everything in there.
"It was 100 per cent the most satisfying win on my career so far to beat the World champion. But you are only as good as your last performance and I can definitely get better. I feel like I'm going to peak perfectly for Tokyo.
"I said to him (Zamkovoi) after the bout 'Olympic final next, me and you, and it's 1-1'. Now it's time to make it 2-1. I've done it before and got the beating of him, so now it's time to go out and do it."