Development Championships 2022: male preview (Senior Under 80kg)
October 21, 2022 | by Matt Halfpenny
A lot has changed in the world since there was last a standalone England Boxing National Development Championships, in 2019.
First came the Covid-19 crisis that saw no tournament contested in 2020, before the 2021 edition was pushed back to the end of the year, again because of the Pandemic, with the respective Junior, Youth and Senior categories contested alongside their open class equivalents at rearranged – and combined – events.
Following on from that has been the Ukraine War and the cost-of-living crisis that has brought upheaval to most of our lives, across a country that has been in the state of flux.
What has not changed, though, as this weekend's finale of the Development Championships 2022 in Banbury will demonstrate, is that emerging boxers' thirst to reach the top and showcase their talent remains undimmed.
Tommy Ledwidge, for instance, is hoping to be the next off the production line of Coventry boxing talent by following in the footsteps of Christ The King clubmate Huey Malone and another who has boxed for the gym, GB's Commonwealth Games bronze medallist, Aaron Bowen.
All three went to the same school as youngsters and the 22-year-old is hoping he can go on to be similarly successful to his former classmates, after reaching the national stages with four victories – two in his region and then at the pre-quarter and quarter-final stages.
"I'm pretty pleased with how I have boxed so far and it feels like all that I have been working on in the last three or four years is now starting to come together," said Ledwidge.
"I am a lot more relaxed and picking my shots better. I'm a very busy boxer and put something into my punches now when I come forward on the front foot.
"I had a tough bout in the Midlands final where I won on a 4-1 split against Josh Martin, who I believe was a national champion at Junior level.
"I've had some other good wins too by unanimous margins and I've forced some standing counts. I'm not worrying about who I could box next, I'm only concerned about myself.
"The dream would be to go onto GB, because I've heard so much from Aaron, who is a good friend of mine, who has told me how good it's been being part of the squad.
"Just seeing what he has done, and what Huey has done, shows what is possible if you are prepared to work hard enough."
An electrician by trade, Ledwidge has been training hard for these Developments, where he has been able to tap into the knowledge and experience of Malone, a winner at this year's England Boxing National Amateur Championships in April at Under 67kg.
"Huey is definitely someone I can and am learning from," he added. "When we're on the bags, or sparring, as we have done from time to time, I am always trying to pick things up from him.
"He has already been there and done it and won at a national level, so he knows what it takes. You pick up some of the different shots, how to spin off and pick your angles, that sort of thing.
"He's won it and now I'm coming to do the same. I believe I have what it takes to be a champion at this level."
Footballer-turned-boxer Dylan Phoenix-Morrison believes his can-do mindset has helped him bounce back strongly at the start of this season following a frustrating post-Covid injury.
The 23-year-old only started boxing at 17, with the fact you are in control of your own destiny – unlike in a team sport – appealing to him.
Having had spells with Gateshead Victoria and Bilton Hall, he has settled at Kenton ABC, where he has really hit his straps, stopping nine of his last 10 opponents, including both encountered on his way to this stage.
"I had a long period of not boxing, first with Covid and then with a thumb injury, which kept me out for about a year, so I'm just grateful to be back," he said.
"I live for the sport; I love it. I really like the respect that it brings and I feel like I am getting stronger and learning every time I box.
"I am really happy to be part of this competition… I have seen the opportunity and I am trying to seize it. Of course I believe I can go all the way. I believe you have to have that if you are going to succeed and I tell that to the youngsters who come into our gym.
"I think that is why I have been able to stop quite a few opponents recently. It's because I truly believe I can put my opponents away when I get an opening."
A former doorman, Phoenix-Morrison now takes on some work as a personal trainer and a barber to maintain an income.
But he insists that nothing distracts him from his main focus of training twice a day, six days a week.
He said: "I'm a very competitive person by nature and if I am going to do something, then I go all in and want to do it to the best of my ability.
"Boxing at Kenton really suits me because not only are there excellent coaches there, I also like the family-run atmosphere where there are no egos.
"We have one or two boxers going down this weekend and hopefully that squad can do well for the club and we can come back with a champion or two."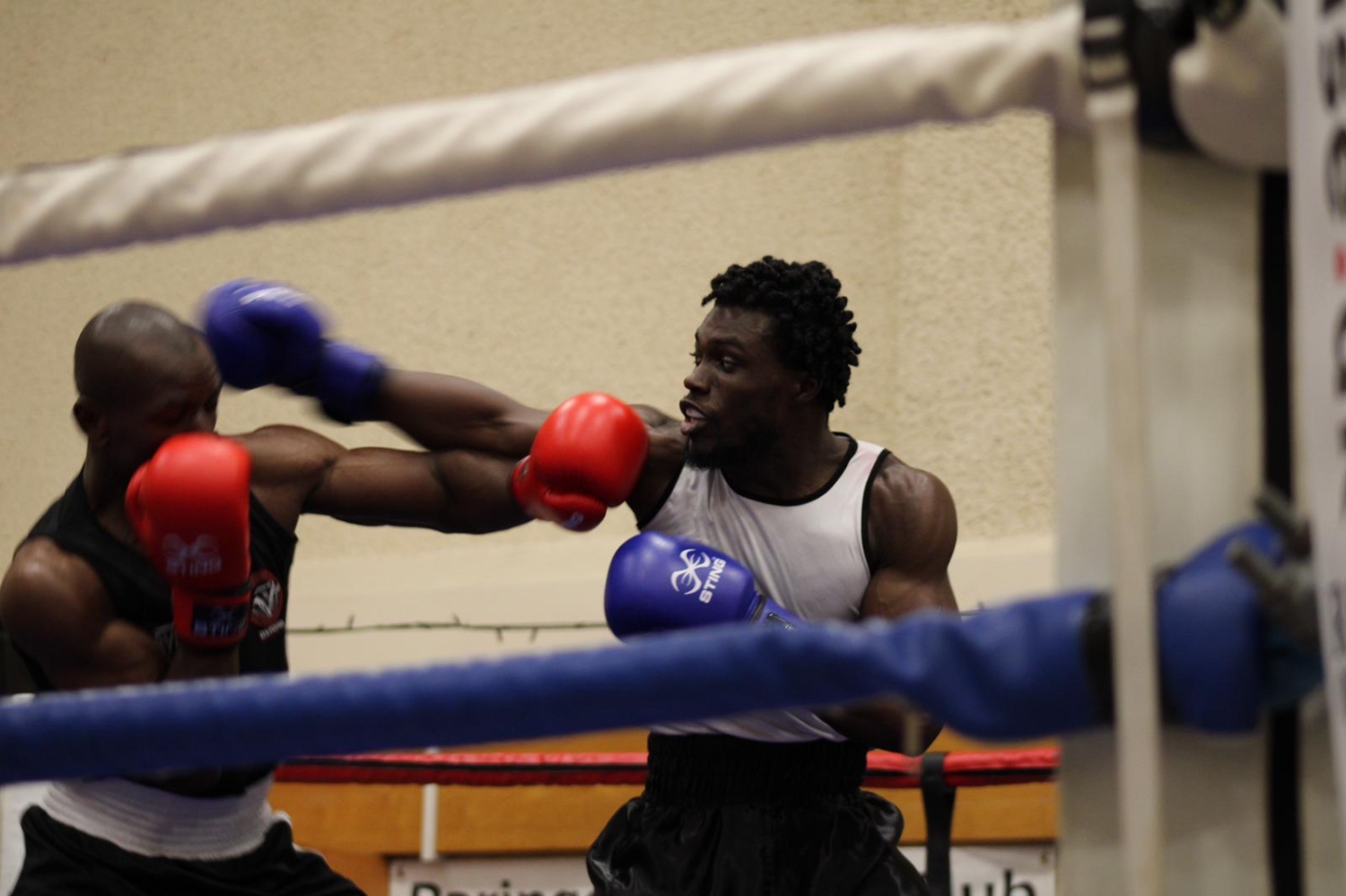 Londoner Joey Ephson is another who has moved around clubs before eventually settling south of the river at Fitzroy Lodge in Lambeth.
He has won four bouts to claim a place in the last four, including two in his region, one against a Western Counties opponent in the pre-quarters and another from the Home Counties in the quarter-finals.
Now 25, he first took up boxing at the age of 14 when two coaches from a local club came to his school when he was living in Mitcham.
"I won my first bout against a boxer from Belvedere that was my bout in about four months, so I felt a bit rusty, but people were still complimenting me saying I looked strong," he said.
"I took that on a split, as I did in the regional final where I had a tough bout against a boxer from Limehouse, who I think had won at National Youth level and just stepped up.
"I had a long trip down to Exmouth for my third bout but won it by stoppage and then boxed in Harlow against a strong opponent but came away with a unanimous win, so it's been really pleasing how things have gone.
"I think what has helped me is, number one, I have stayed focused and prepared well each week, and, number two, I have adapted and boxed the way I need to for each opponent."
After 'two to three years away from the sport where I started to get involved in things I shouldn't have', Ephson has never looked back since returning to the gym.
"Boxing has changed my life, no doubt about it," he added. "This is my focus now and this tournament and trying my best to win it is all that matters right now.
"I'm confident I can do it, but I have to make sure that I have given it everything and don't have any regrets."
The fourth contender for the Under 80kg title, Nabil Abdullahi has a simple driver for his title tilt – his late mum Habiba.
She sadly passed away in April and the 20-year old from the Cambridge-based Albion Boxing Academy is determined to honour her memory by going all the way in Banbury.
"I'm doing this for my mum, because she was always my biggest supporter," he said. "Last year I lost in the quarter-finals, so this time I want to do it for her.
"This is a big stage for me and the standard is going to be high, but I know in myself that I can go all the way and win it.
"I had a tough bout at Aldershot against an opponent from the army who was extremely fit, which I was pleased to come through, and I probably haven't been at my very best so far, with the coaches telling me off after every bout!
"But that hopefully shows that there is more to come from me and I know I need to be better to beat my opponents at this stage."
So far, Abdullahi has clocked up four wins – two in his Eastern Counties region before triumphing in the pre-quarters and quarter-finals.
The student in philosophy at Cambridge's has been able to call on brother Khaleed for support, who also boxed in this year's Developments, reaching the London regional finals for TM Boxing.
Abdullahi added: "I feel for Khaleed because he is a doctor and boxed coming in on the back of just an hour's sleep in 48 hours because of his work.
"But he's very much there for me emotionally and I can talk to him about where I am at, so that's great.
"It was my brother who got me into it (boxing), so hopefully I can put on a good show for him."
More on the Developments 2022
Click here for spectator info. Click here for the Development Championships home page. Follow across social media via #EBNDC22