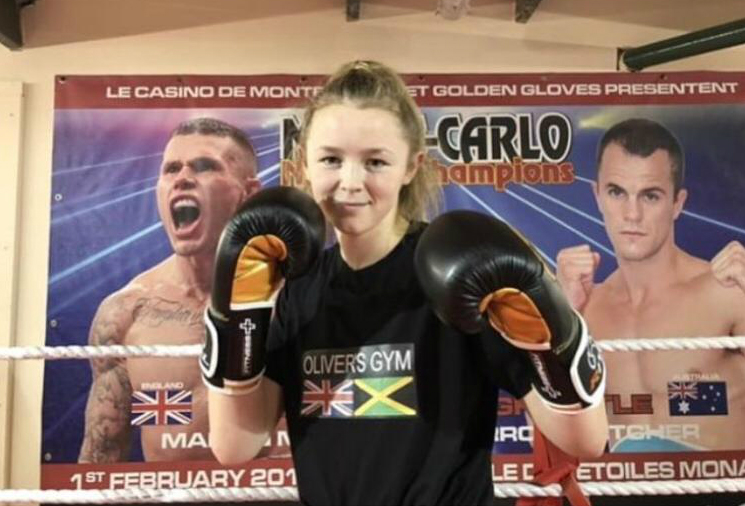 Developments Finals preview – Norris v Underwood (Under 60kg)
October 25, 2019 | by Matt Halfpenny
When Jodie Norris takes to the ring for her England Boxing National Development Championships final on Sunday, she won't be boxing on her own.
That's because the 15-year-old Female Junior Class A Under 60kg prospect insists she will have former trainer Oliver Harrison, who sadly passed away in April, looking down on her.
Harrison trained Amir Khan during the early stages of his professional career, along with the likes of Jamie Moore and Martin Murray.
And it was he who took the teenager, a student at The Co-op Academy in Swinton, under his wing when she first stepped through the doors of his gym, Oliver's, in Pendleton, Salford.
Norris is now determined to repay the faith that her mentor showed in her by claiming a maiden national title.
"When I first step into the gym he was really good to me and showed a lot of faith in my ability, so I really miss him," she said.
"This weekend, it will be exactly six months since he died and it would mean the world to me if I could win the bout for him. It will feel like he is in that ring with me.
"What was great about Oliver was that he never lied about anything – he told you it how it was – and I will be forever grateful to him."
Norris started boxing in March 2017, deciding she wanted to have a go having watched a bout on the television with her granddad.
She is also looking forward to also competing in December's England Boxing Women's Winter Box 2019 with the regional North West Women's Warriors squad, with whom she regularly trains.
"My last bout was in April last year, which I lost, but I feel I learned a lot from it and I am much stronger now.
"I have worked hard in my training and my confidence is up. I have trained at a camp with some of the England girls and I feel like I'm ready. I feel like boxing is what I was meant to do."
Her opponent, Lilly-May Underwood, however, is just as determined to win, having used boxing to make a positive change.
The 15-year-old used to be teased about her weight and initially took up the sport as a means to lose weight, quickly shedding three stone.
But she found she enjoyed it so much that she decided to compete – and boasts a 5-0 record so far in her fledgling career.
"I used to get bullied, but I don't now and I have so much more confidence. Boxing has been great for me,"  said Underwood, from Maidstone.
"I started just to slim down, but now I absolutely love it and all the training that goes with it. I do a lot of strength and conditioning in addition to work in the ring.
"Because I am home schooled, I've been able to get in extra training around my work and I've been able to get down to around 58kg, from starting off at 66kg.
"I can't wait to get in there at the weekend and hopefully I can keep that unbeaten record going."
Having won her category at the England Boxing National Junior Championships 2019 in March, Underwood is now looking to 'double up'.
On that previous occasion at the Magna Science and Adventure in Rotherham, she won a unanimous decision against Eastside's Charlotte Bannister.
She added: "It would mean the world to me if I could hold both titles at the same time – I just love winning.
"I've been in touch with Jodie on social media and never realised I would end up boxing her in the ring, but once that bell sounds I will be fully focussed."
* Jodie Norris (Oliver's) will take on Lilly-May Underwood (Westree) in a Female Junior Class A, Under 60kg contest on Sunday – Ring B, Bout 3.
Follow the action live via streaming on our YouTube Channel and on our social media channels, Instagram, Twitter and Facebook, via the hashtag #EBNDC19