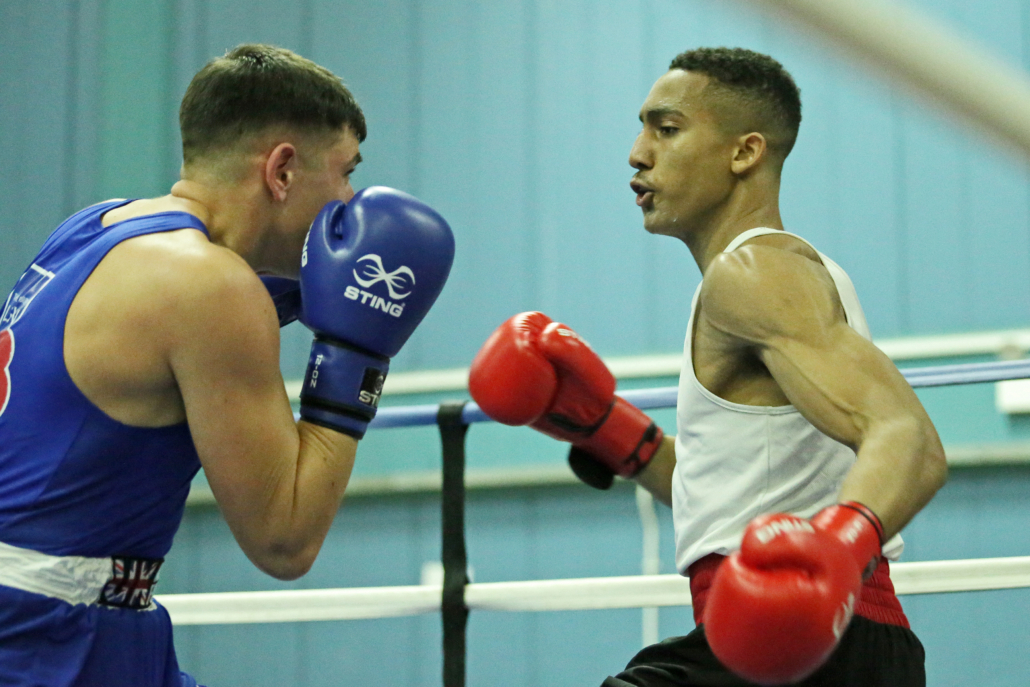 Developments Finals preview – Brown v Pinnock (Under 81kg)
October 25, 2019 | by Matt Halfpenny
Raphael Brown hopes to be laying down the law at the England Boxing National Development Championships 2019 in Banbury this weekend.
The boxer from Left Hook ABC in Shadwell, East London, is a student at the University of West London, where he hopes to graduate and eventually go into the legal profession.
But tomorrow the only thing he will be keeping counsel is his tactics as he bids to secure victory in the Male Class B Under 81kg division.
"I'm really pleased with how things have progressed, especially as I am so busy and trying to pack a lot of things into my life," said Brown, who lives in the Isle of Dogs area of the capital.
"There is a lot of reading with the law course and then I'm training most days of the week, so it's pretty hectic and I don't get much down time.
"I did toy with the idea of skipping this year, my second year, and going back to it because I know I can do really well at the boxing and I don't want to be spinning too many plates, with working as a personal trainer and labourer at times as well.
"Winning the Developments can be a real stepping stone and I think it will be an amazing experience for me in Banbury."
Brown beat the Army's Bradley Whitehead by a unanimous decision in his semi-final at the Oasis Leisure in Swindon last Saturday (19th October) – his fourth victory of the competition.
He felt that was his toughest bout so far – and where his unusual training techniques came in handy.
Brown added: "He was a lot better than I thought he was going to be and he pushed me hard, but I believe I can find a way to win whether people come to box, which he did, or not.
"The yoga that I do has certainly helped me. It helps me clear my head space, take some time out and allow my body to relax and recharge ahead of my next training session."
Across the ring, opponent Brandon Pinnock has also made his way through four bouts to reach the final.
The Coventry boxer, who represents Midlands Club Bulkington Sports and Social ABC, has returned from a self-imposed three-year absence from the sport to great effect.
"I boxed from the age of 13 to 16 but then I started working and I found it a bit tough doing both at the same time as I came out of school," he said.
"They were long days and it was a big adjustment, but being a bit older now I decided I would give it another go and it's gone really well.
"I think it's worked in my favour that I took a step back and had a break from it. I had lost my drive a little bit, but now I've got the fire back and I'm enjoying it again."
Pinnock, who works in engineering as a toolmaker by day, began his boxing journey at Christ The King ABC.
He beat Declan Bridge of Majestic in his North semi-final at Newton Aycliffe Leisure Centre last Sunday.
Pinnock added: "My semi-final was a good bout. I felt I had done enough, and I won it on a split.
"My jab is a weapon for me and sets me up for everything. I'm really looking forward to this final – it's all I've been thinking about.
"I've been delighted to get this far in the competition and it would be brilliant to get one more win and go all the way. It's something I really want to win."
* Brandon Pinnock (Bulkington) will take Raphael Brown (Left Hook) in a Male Senior Class B, Under 81kg contest tomorrow – Ring B, Bout 19.
Follow the action live via streaming on our YouTube Channel and on our social media channels, Instagram, Twitter and Facebook, via the hashtag #EBNDC19