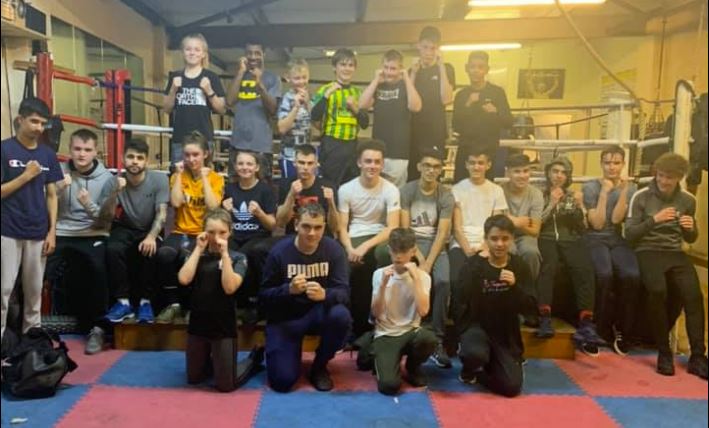 Wednesbury ABC fights back against Covid with new gym
February 25, 2021 | by Matt Halfpenny
Wednesbury ABC is looking forward to welcoming even more local people through its doors after moving to a new, refurbished gym.
The Black Country Midlands Region club – situated between Wolverhampton and Birmingham – has used significant grants from Sport England and the Active Black Country and money generated by members to modernise its facilities ready for reopening after the current Coronavirus lockdown.
Wednesbury has been a consistent presence in amateur boxing since the early 1950s and has enjoyed tremendous competition success across its 70-plus years of history.
But the current club committee has really started to branch out further in terms of community programmes over the past two to three years, which, in turn, has seen the club bloom in terms of membership numbers.
When the Covid-19 Pandemic hit and it became clear amateur boxing clubs would be closed for significant periods, the club was determined to use the time in a positive manner.
As a result, the committee was supported to apply for a Sport England Community Emergency Fund grant by England Boxing's Midlands Club Support Officer Mick Maguire, from which they successfully secured £7,500.
That, together with the other funding secured, has allowed them to move from a premises with shared with Eroll Johnson's TKO gym in Wharfedale Street to a new leased building offered by Sean Jolley, of local business Wednesbury Coachcraft.
"Wednesbury ABC has shared a venue for the previous 15 years but with our club growing year on year, it felt right to scale up and support our ever growing, diverse boxing community, said Wednesbury secretary Tony Tobin (pictured below).
"With the emergence of Covid-19 and the club activities being temporarily closed down, it offered us a chance to reassess things and look at the future of the club from a different point of view.
"We were determined to use the time to search out potential premises and explore the possibility of emerging from Covid in an even stronger light.  Thankfully we have been able to secure our own standalone premises, and we'd like to thank the landlord Sean for his help.
"We have matched the investment from Sport England and Active Black Country with a further sum of money from our own club funds to complete the building works – and every member of the club has been working every spare minute available to make sure we could get the new premises ready for the time when we can open up again to our community."
"Wednesbury ABC has all-but completed the refurbishment works now and, as you can see from the pictures, it has been a labour of love and at times a daunting task, but we're delighted with the outcome."
Tobin, a familiar face all over England at Championship events where he finds time to officiate on for England Boxing and the Midlands, is part of a committee that understand the value of young people being connected to an amateur boxing club.
He and brother, Con, both started as young boxers with Wednesbury in the mid-1970s and have gone on to become ever-present members of the club committee and coaching team.
Along with the Tobin brothers, other members of the staff include Stuart Grainger, Vince Bailey and Vinny Court, all of whom boxed for the club before joining the ranks as volunteer coaches and committee members.
The final pieces of this outstanding assembly of local volunteers is completed by Michael Ward and Adrian Syrret, who also put in tremendous amounts of work at the club having boxed for other local clubs earlier on in their lives.
Tobin adds: "The club have always been a strong force in competition boxing and in terms of being a stronghold for our local young people to come along and take part in safe and regulated activity.
"However, recently our committee have recognised the demand for community-led projects and they have all worked hard to create additional opportunities for the young people of Wednesbury and the surrounding areas which has added even more impact from our club to the community it serves.
"Covid has had, and is still having, a terrible impact on all our lives. We are not out of the woods yet, but each day brings a little more light at the end of the tunnel for us all.
"We at Wednesbury, and indeed, I am sure, the entire amateur boxing community, will continue to fight and make sure that we can still offer our wonderful sport of boxing to the young people of our country when the situation allows."
For more information on Wednesbury ABC go to their Facebook and Instagram pages or email wednesburyboxin@hotmail.com
Top and bottom pics of members are pre Covid-19 in the club's old gym.