Strava Challenge: Peterborough Police are top of the teams!
March 15, 2021 | by Matt Halfpenny
A clear two-horse race in the England Boxing Strava Running Challenge team competition provided an exciting finale to the seven-day battle over the course of week 10.
Despite covering more than 2,500km between them – further than flying from London to Athens –just 44km separated last week's victors Barum, who had finished just ahead of Peterborough Police.
But this time it was the Eastern Counties club (pictured above) who, with a collective 1,295km (805 miles) from 38 runners, pipped their Western Counties rivals, who clocked 1,251km (777 miles) from 34 runners.
The City club's boxers distance was comfortably the most of any at 986km (613 miles, from 31 participants), while seven coaches and non-boxers accounted for the other 309km (192 miles).
Leading the way for Peterborough were Chris Baker (89.8km), Imraan Shirazi (81km) and Vicki Baker (70.3km), but it was a real team effort with 34 of their number registering at least 10km.
While Barum just missed out overall, they were comprehensive winners of the coaches and non-boxers category, with 460km (286 miles) covered by eight participants, bolstered by Gavin Lane's 187km, more than anyone else during the week.
He was well supported by Clem Hughes (137.2km) and Annaka Lloyd (92.5km) as 26 boxers accounted for an impressive 791km (491 miles).
In overall third place was Wallasey (with Matty Murphy, Patrick Gregson and Peter Sefton pictured above), who leapfrogged above Brandon by completing just six more kilometres than they did last week (528km to 522km) from 19 runners taking part.
That was thanks to a fine contribution from their 13 boxers who notched 388km (241 miles), while the coaches and non-boxers chipped in a further 140km (87 miles).
The Wirral club's top three performers were Matty Murphy (79.8km), Peter Sefton (78.9km) and Mark Drew (65km).
Brandon were again strongest in the coaches and non-boxers section where they finished third with their top three competitors, Simon Patterson (122.3km), Alex Oliver (86.1km, pictured below with daughter Kara Mai) and Paul Bainbridge (41,5km), running 250km (155 miles) between them.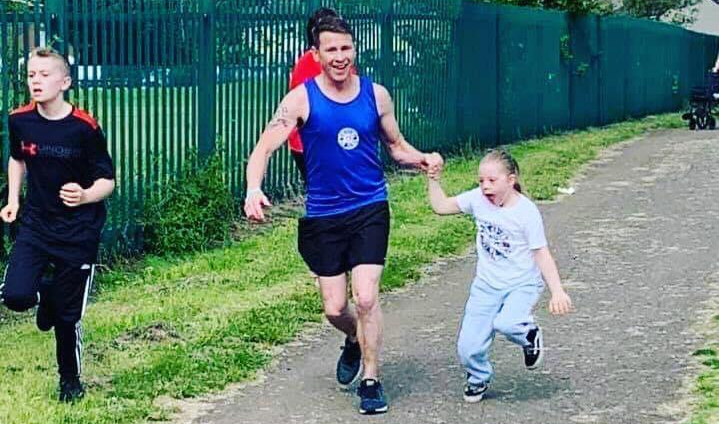 That helped make up an overall total of 379km (236 miles) that also saw 10 boxers weigh in with a further 129km (80 miles).
Next up in the overall standings were newcomers Sweat Box, of Bristol, whose 12 participants posted an excellent 280km (174 miles).
That was made up of two boxers running 104km (64 miles) and 12 coaches and non-boxers putting in 176km (110 miles).
Leading the way for them were Aaron Smith (72.5km), Lucia G (56.4km) and Dylan Wall (37km).
Market Drayton have performed strongly throughout the mini-challenges that have been on the go since January and this week was no different, with 10 participants clocking 259km (161 miles).
Paul Quartermaine (pictured right) made it more than 200km over the past two weeks by adding 74.6km, while John Haley (40.9km) and Andrew Sadler (38.6km) also put in strong showings.
Dee Cowey and Rebecca Jackson, meanwhile, have been mainstays from the outset of the mini-challenges, setting a number of personal bests.
Boxers-wise, seven boxers logged 183 km (114 miles) and coaches and non-boxers added 76km (47 miles).
Gosport made great strides in their second attempt at the team challenge, upping their distance to 218km (136 miles) from eight runners, having posted 164km the previous week.
Their split saw 175km (109 miles) compiled by six boxers and 43km (27 miles) in the coaches and non-boxers section.
Mya Ash, once again, shone for the South Coast club, posting 71.3km, and she was well supported by Katie Smith (30.9km) and Roly Chambers (29.2km).
Holmes Chapel again topped the 200km mark for their overall total with 205km (127 miles) totalled by 14 participants.
10 boxers ran 136km (84 miles) while their four coaches and non-boxers added a further 70km (43 miles).
James Dowd (29.8km), Kerry Chalk (27.4km) and Matt Reel (24.7) put in the most distance.
Jewellery Quarter's weekly effort was almost a single-handed effort from coach Jamie Cahill (pictured left), who contributed 166.3km of his club's 191km.
Incredibly, that included a single run of 102.2km that helped him and two co-runners completed a 12-hour change of covering 250km between them… well done, Jamie!
Four JQ boxers added a further 25km (15 miles) between them.
Many of the all-boxer team from Bishop Auckland were asked to take some form of rest during the week's challenge by their coaches, but the 10 who took part nevertheless covered 107km (67 miles).
Leading the way for the North East club were Lewis Smith (22.6km), Danny Grainger (18.3km) and Harvey Jacques (16.2km).
Five participants from Crawley, meanwhile, notched 64km (40km) – four boxers running 47km (29 miles) and one coach and non-boxer boosting the total by another 17km.
Their leading lights were Scott Livingstone (17.9km), Simon Bayliss (16.7km) and Sulman Mirza (15km).
End of this year's challenge…
With the hope that clubs are able to train outside from 29th March (in two weeks' time), followed by gyms re-opening from 12th April – both subject to confirmation and provided the government roadmap continues as planned – this will be the final week of the challenge.
The England Boxing Clubs that have been set up, however, will remain in place for the foreseeable future so boxers can continue to log their training miles and compare their efforts with others in their category.
England Boxing would like to thank all those who have taken part – both individuals and clubs.
Amanda Coulson, England Boxing's Development Coach, said: "Whether it be the 1k sprint or accumulation of team miles, the take-up and interest in the Strava Challenge since it was launched at the start of January has been terrific.
"The 10 weeks have flown by and hopefully it has given people the chance to focus on something positive to help their physical and mental health in the tough weeks of lockdown in the early part of 2021.
"If things regarding Covid continue to get better, then hopefully we will start to see boxing return in the not-too-distant future – and it's safe to say that a fair few number of not just boxers, but coaches, officials, volunteers and parents as well, will come back with a decent level of base fitness as a result of entering the challenge."