Schools Championships 2022: girls' preview (Under 54kg)
May 12, 2022 | by Matt Halfpenny
Every tournament throws up boxers who are trying to make a name for themselves, but that is perhaps more the case at Schools level than any other.
The simple fact that it is the youngest category which features a National Championships means, inevitably, the number of raw and relatively unproven competitors is bigger than in those age groups that are more senior.
It makes the outcome of this weekend's England Boxing National Schools Championships 2022 all the more intriguing and difficult to predict – and ensures all those who come along to spectate are in for some fantastic entertainment.
That's none more so than in the Female Class B Under 54kg, where none of the girls taking part can be said to boast huge experience, but all are champing at the bit to put their name up in lights as a champion.
Representing the Tyne, Tees and Wear region will be Seaham's Lana Lynn, who has the distinction of being the first girl from her club to contest a scoring bout.
The club's Head Coach, Tracey McAllister, hopes she will be the first of many female success stories to come from the club.
"Lana's been training with us for about 18 months now and she has been absolutely fantastic during that time. She has been getting better all the time, having had four bouts overall," she said.
"Her stamina, aggression, the way she comes forward and the way she controls herself in the ring have all come on so much.
"I don't think she quite realises just what a big deal it is competing at the nationals, but in a way that's a good thing to just go in and enjoy it. Whatever happens, we are very proud of her as the first girl from the club to compete.
"We now have quite a few who have come through from the beginners' classes we started and are looking to get carded, so hopefully Lana will be far from the last and can act as an inspiration to others."
Facing Lynn at the semi-final stages will be Riddings' Maicey Brown, who has two skills bouts and six competitive bouts to her name.
Both boxer and coach Dale Wilson hope she can acquit herself well in the quest to win a pair of coveted golden gloves, having made steady progress over the course of the last 12 months.
He said: "She's very good at listening and carrying out instructions, usually within 30 seconds of her coming out of the corner, and picks things up really well.
"She's quite a reserved character, but I can tell she is excited about competing in this tournament because of the way she is putting her head down in her training.
"Maicey is technically very good and quite aggressive, but can also be a good counter puncher as well, so she's very much a boxer who someone will have to go out and beat, rather than her sitting back.
"If she won it would mean a lot to her because it will be 90 per cent down to her with just a small 10 per cent of our help, and it would mean a lot to the club as well after we recently moved and took on a new name (it was formerly Scunthorpe Centurions)."
In the other semi-final, Legions' Ruby-May Allan (pictured top) is out to follow in the footsteps of other national girls champions to have been produced by the York-based club.
Rosanna Bycroft won the Class A Under 51kg title last September and is out to triumph again at Class B in the same weight category this weekend, while Paris Smith is another former winner at Schools level, going on to be crowned a European gold medalist in 2019 after victory at Class A Under 63kg.
"They that steel sharpens steel, and we're lucky that we have a good crop of girls in our gym, which has helped Ruby prepare," said coach Ashley Martin.
"You can go looking all over the country for good sparring, but there's nothing better than having someone who you can spar well with in your own gym and Ruby is lucky to have that in Rosanna. We also have older girls and those who come in from the club at York Uni as well.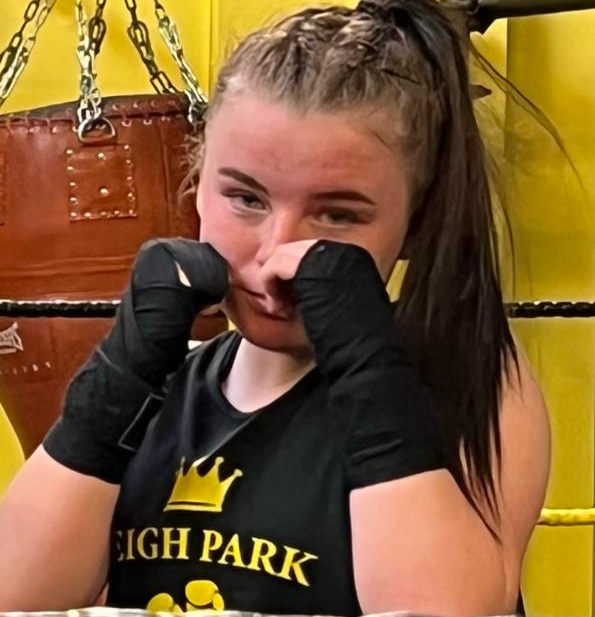 "She has been with us for three years and progressed thorough from our kids' academy class and had skills bouts either side of lockdown before having her first proper bout recently.
"How she did in that bout dictated whether we put her in for this or not, but she did really well and this is a good opportunity to step her up. What she lacks in terms of experience we think she makes up for with the quality of sparring she has had."
Completing the semi-final line-up is Chloe Thomas, who will be wearing the colours of Southern Counties Club Leigh Park, who are based in Havant.
She will be one of three boxers from the club travelling north, with Daisy Rickard competing at Cadets Under 30kg and Ray Thomas at Cadets Under 50kg.
Head Coach Billy Bessey said: "Right from the very first fitness class she joined it was obvious that she had real potential and she wanted to get involved in the contact side of it… it excites her.
"She is not fully there yet as a boxer, but that will come over the next couple or three years and she has a big heart and gives it everything.
"She loves getting in the ring to spar. Whether it's with boys or older girls, she is not afraid to push herself. It's a big opportunity and she is looking forward to it.
"Having the three boxers there when it's the three-ring set-up and with the crowds is good. They will have team-mates in the same boat and hopefully they can achieve something that will help more young boxers come through our doors."
More on the Schools 2022
Click here for spectator info. Click here for the Schools Championships home page. Follow across social media via #EBNSC2022