Youths Female preview: The Under 57kg contenders
February 28, 2020 | by Matt Halfpenny
Having been won by former European Junior champion Elise Glynn for the past two years, it's intriguing to see who will succeed her as a winner in the Female Under 57kg weight class at the England Boxing National Youth Championships.
The England international used her vast experience to good effect to reign supreme in triumphing first in 2018 and then at the Spiceball Leisure Centre, Banbury last year.
But with the Hook and Jab boxer no longer eligible for this age group, it opens up a big opportunity for someone in 2020 – and there are four boxers who go in Saturday's semi-finals determined to grasp it.
Salisbury ABC's Shassen Dutton knows just what it takes to win the national belt, even if it remains a dream rather than reality for the moment, after losing to Glynn in last year's final.
The Merseyside and Cheshire boxer, from Liverpool, believes she has what it takes to go all the way this time – despite an injury setback before Christmas that forced her to miss key competitions.
"I was out for two-and-a-half months with ankle ligament damage, so I have been playing catch-up since then, but I feel I'm in a good place now and my preparations have gone well," said Dutton.
"It was really frustrating to get the injury when I did because it was just before I was due to do the NABGCs and also the England Boxing Women's Winter Box Cup, where I would have been defending a title I won the year before.
"But I'm back now and hungry and hopefully this time I can win the Championships, having just missed out last year.
"I learned a lot boxing Elise in what was a split decision and took a lot from running her close when it was my first time competing at that level.
"Now I have learned how to keep calm and stay relaxed and focused, so hopefully I can be at my best when I step into the ring."
Liverpool-based Dutton, who is studying A levels in Business, PE and Health and Social Care, got into boxing having trained as a kickboxer from the age of four.
She cites Caroline Dubois, recently selected to represent Team GB in March's Olympic qualifiers at the Copper Box Arena in London, as one of her biggest inspirations.
She added: "I'm following in the family's footsteps as my mum was a kickboxer, but I've probably taken it on more than anyone else has.
"There's nothing that beats that winning feeling when your arm is held aloft and you win an event, so that drives me on.
"It's amazing what Caroline Dubois has achieved for one so young and to get on the squad with a chance to go to the Olympics is an incredible effort."
In the opposite corner to Dutton on Saturday will be Emily Monks of Leigh ABC. She is another to have switched sports, having previously competed in judo.
The Wigan and North West region boxer comes into this competition with plenty of recent bouts under her belt, having taken part in the This Girl Can Box tournament last weekend and an event in Poland before that.
"I'm got a lot to thank my coaches for because when I first started I was hopeless!" she said. "But now I have improved a lot and I have trained really hard for this.
"I've had some good tournament preparation and I think that is the best type of preparation you can have to keep you sharp.
"Working as an IT technician, it can be hard to fit everything in, and you only have 10 minutes to get changed to go out training,  but I would recommend it to anyone and to win this Youths title would be a dream come true.
"It's great to see the popularity of women and girls boxing improving all the time and Terri Harper winning a World title last weekend can only help with that."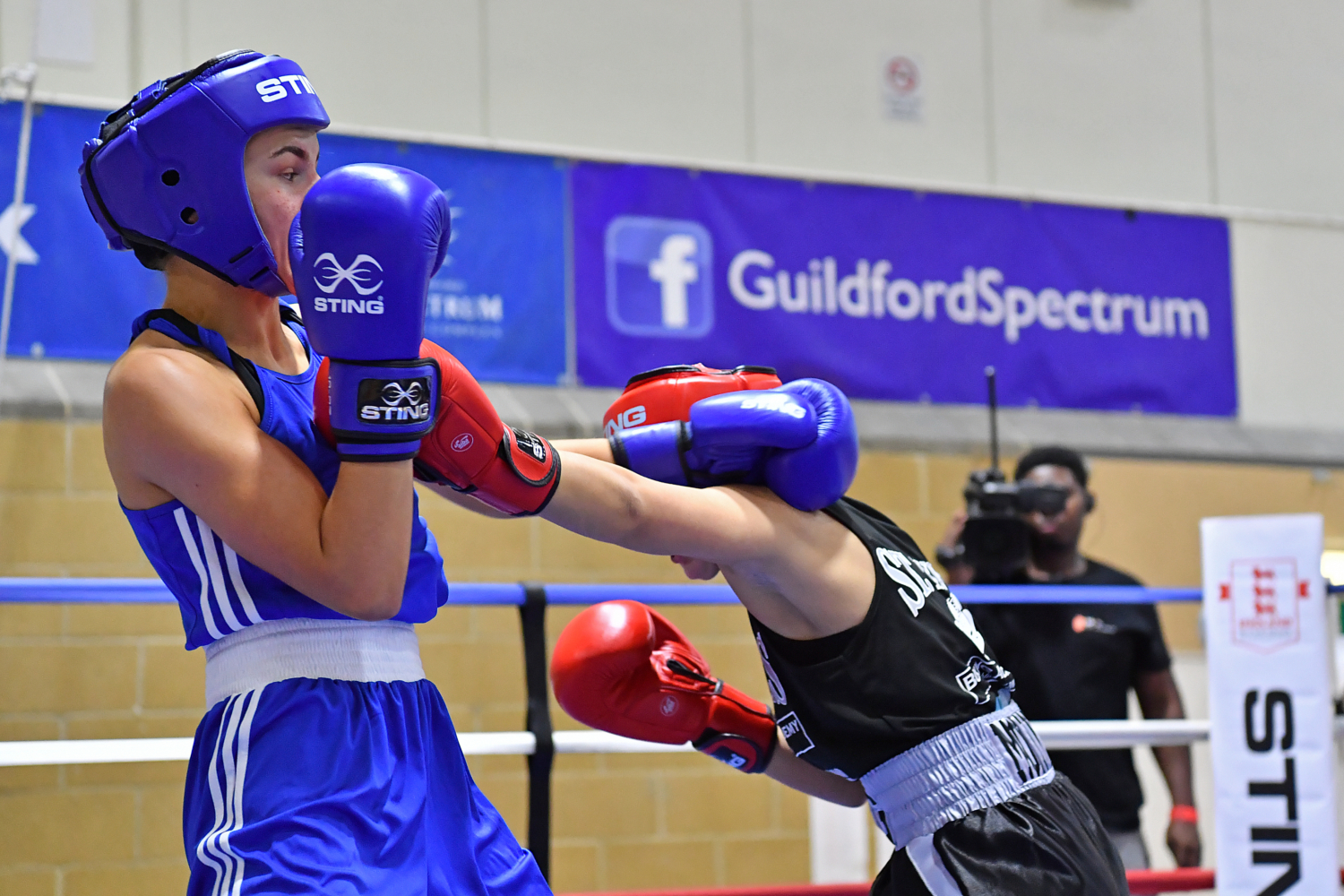 In the other semi-final, Eastern Counties' Megan Morris is hoping she can follow in the footsteps of another St Ives boxer, Shona Whitwell, who has made it onto to the GB squad.
She beat Monks in the NABGCs finals before Christmas and also enjoyed a successful trip to the Golden Girl tournament in Sweden in January.
"I've drawn a lot of confidence from those wins I've had, so it's a good time to be competing again," said Morris. "I'm making sure I'm nice and fit to go with my strength, which is one of my best attributes.
"I used to be a gymnast until I was 14 and got an injury, but I needed to do something and that's when I first started to train at the gym.
"It's been great to see Shona get onto GB and shows what can be achieved – it's what I'd love to do one day. To box for England would be brilliant.
"I've only had about a year competing, but it's been going well and I've made good progress. This will show me how for I have come."
Completing the semi-final line-up is Willenhall and Midlands' Leah Green, who is competing at a National Championships for the first time.
She was encouraged to go along and try boxing by a friend and has never looked back, stepping up to compete after first learning her skills in the gym.
Green said: "I have only had six bouts so far, but I am really looking forward to this, and I'm confident I can hold my own.
"When you are preparing for event it makes your training a lot more exciting and gives you something to work towards.
"I'm studying Sport at college and that certainly comes in handy with the boxing and I'm hoping I will stay in sport one way or the other.
"It was four years ago when I first started and I'm still going, while the friend who introduced me isn't doing it anymore. To win at my first attempt would be amazing, but it's going to be good experience whatever happens."
*****
Boxing at the England Boxing National Youth Championships 2020 starts at 1pm on Saturday and 12noon on Sunday.
This is being boxed behind closed doors at Birtley ABC, but you can click here to view streaming details for both events.
To keep up to date, go to the Youth Championships home page here and follow the action on social media using the hashtag #EBNYC20.