GB pick 10 England talent pathway graduates for London Olympic qualifiers
February 6, 2020 | by Matt Halfpenny
A total of 10 out of the 13 boxers picked to represent Great Britain in March Olympic qualifiers to be held in London have come through the England Boxing Talent Pathway.
The GB squad released named eight men and five women who are bidding to win a place at Tokyo 2020 this summer.
They will have the opportunity to qualify for the 2020 Olympic Games when they compete at the Boxing Road to Tokyo Olympic Qualifying event in London at the Copper Box Arena on the Queen Elizabeth Olympic Park, from 14th to 24th March 2020.
More than 350 boxers from over 40 countries will compete for 77 places at Tokyo 2020.
Tickets for the event are on sale now at see.tickets/boxingroadtotokyo  with prices starting at £5 (£2.50 concessions) for many of the sessions at the biggest Olympic boxing event to take place in England since the 2012 Olympic Games.
The men are an experienced group in which seven out of eight have won at least one medal at a major (European or world) championship.
The group includes three boxers that won medals at the 2019 world championships in Russia, Birtley welterweight Pat McCormack, Everton Red Triangle featherweight, Peter McGrail and light-heavyweight, Ben Whittaker.
The trio are joined by four boxers that won silver at the 2017 European championships in Ukraine: flyweight, Galal Yafai, light-welterweight, Luke McCormack, heavyweight, Cheavon Clarke, and super-heavyweight, Frazer Clarke.
Wales' 2018 Commonwealth Games gold medallist, Sammy Lee, completes the men's line-up, having moved down a weight from light-heavyweight (81kg), to claim the middleweight (75kg) spot.
The five women include the recently crowned world champion, Lauren Price, at middleweight.  She is joined by fellow world championship medallist, Karriss Artingstall at featherweight and 2019 European championship bronze medallist, Rosie Eccles at welterweight.
Two recent additions to the GB Boxing squad complete the line-up with Caroline Dubois selected at lightweight and Charley Davison (below) getting the nod at flyweight.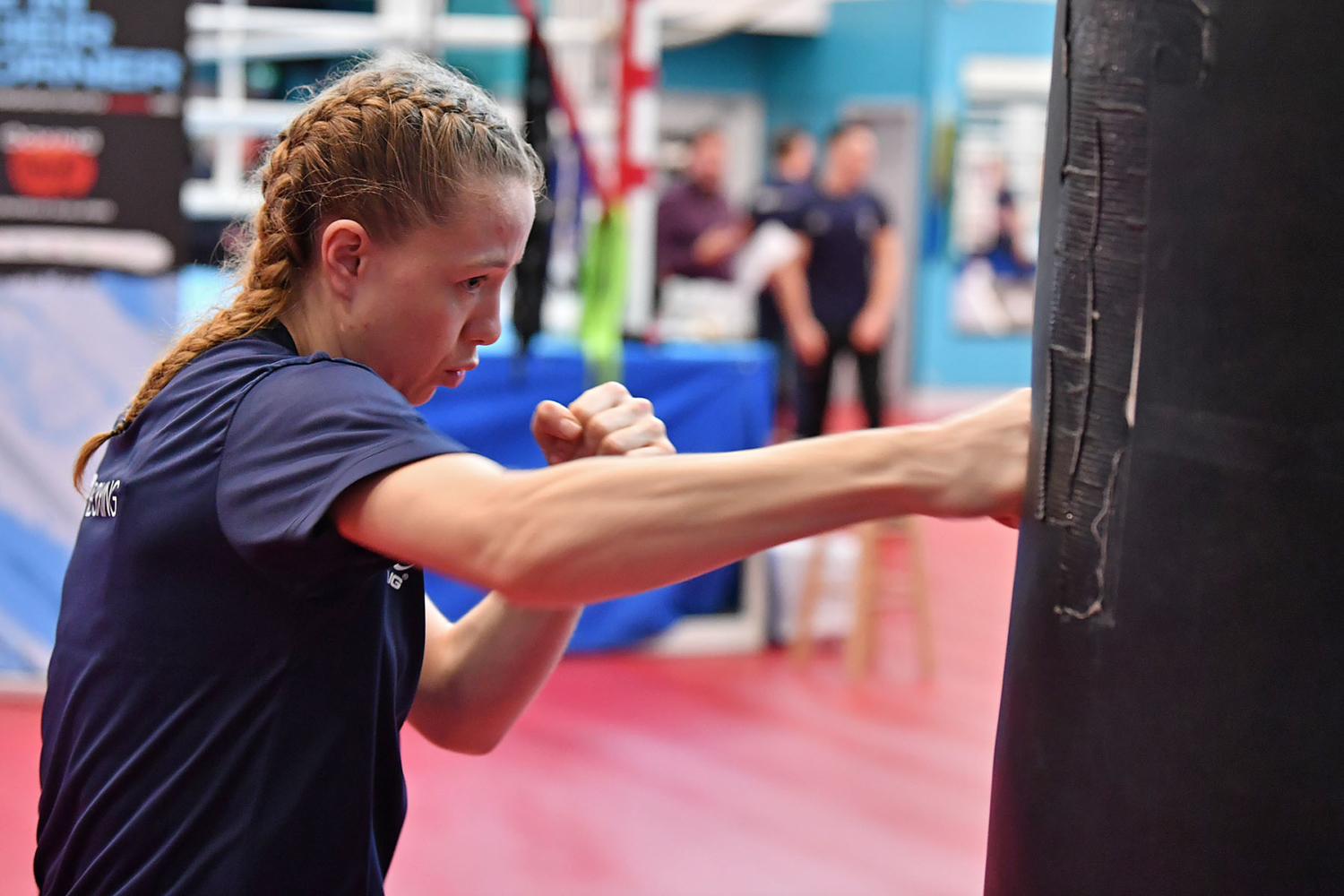 19-year-old Dubois has never boxed as a senior yet has an outstanding pedigree as a youth and is undefeated in the boxing ring.  She is the BBC's Young Sports Personality of the Year and in 2018 she won gold at the European Junior Championships, World Youth Championships and the Youth Olympic Games.
Charley Davison officially joined the GB Boxing squad in January 2020 after impressing at a series of assessments in the latter part of 2019.  The 26 year-old is a mum of three and only returned to the ring in the last 18 months after a six-year break from competitive boxing.
Frazer Clarke, 28, is the most experienced member of the team and has been part of the GB Boxing squad for more than a decade.  He competes in the super-heavyweight category, which Team GB has had great success in at recent Olympics, with gold for Anthony Joshua in 2012 and silver for Joe Joyce in Rio.
Clarke said: "I have waited 10 years for this opportunity.  Great Britain has a great tradition in my weight class and it's my time now to carry it on and maintain that.  Having the event in London will make it more special as my family and friends will be there.  We have a strong team and I am hopeful that we can do really well and see a lot of our men and women guarantee themselves a place at Tokyo 2020."
GB Boxing's Performance Director, Rob McCracken said:  "The team has a good combination of experience and natural talent.  The men are a capable and battle-hardened group that have gained a lot of experience on the international circuit over the course of this Olympic cycle and know what is required to be successful at the top level.
"The women's squad has made good progress in the last 18 months and in Lauren Price we have an established world class boxer, whilst Karriss and Rosie have both shown they can win medals at major tournaments.  Caroline and Charley have not been in the squad long but they possess a lot of talent and have done enough to the impress the coaches and earn this opportunity to qualify for Toyko.
"The men and women had an excellent year in 2019, winning 16 medals at four majors so they are coming into the qualifier on the back of a good run of form.  Having the event in London is a great opportunity for the boxers and hopefully having the crowd on their side will inspire them to produce their best."
Full GB squad
Boxer
Weight Class
Country
Club (Hometown)
Women
Charley Davison
Flyweight (51kg)
England
Attleborough ABC (Lowestoft)
Karriss Artingstall
Featherweight  (57kg)
England
Army (Macclesfield)
Caroline Dubois
Lightweight (60kg)
England
Repton ABC (London)
Rosie Eccles
Welterweight (69kg)
Wales
Pontypool Boxing Club (Cardiff)
Lauren Price
Middleweight (75kg)
Wales
Pontypool Boxing Club (Caerphilly)
Men
Galal Yafai
Flyweight (52kg)
England
Birmingham Police ABC (Solihull)
Peter McGrail
Featherweight (57kg)
England
Everton Red Triangle (Liverpool)
Luke McCormack
Light-welterweight (63kg)
England
Birtley ABC (Washington)
Pat McCormack
Welterweight (69kg)
England
Birtley ABC (Washington)
Sammy Lee
Middleweight (75kg)
Wales
Premier ABC (Neath)
Ben Whittaker
Light-heavyweight (81kg)
England
Firewalker Olympic Boxing Club (Wednesbury)
Cheavon Clarke
Heavyweight (91kg)
England
Gravesham ABC (Gravesend)
Frazer Clarke
Super-heavyweight (91kg+)
England
South Derbyshire BA (Burton)
Profiles of the boxers can be viewed here – https://www.gbboxing.org.uk/gb-boxing-squad/podium-squad/.
Boxing Road to Tokyo in London is an IOC event which is supported by funding from the National Lottery and The Mayor of London and will be delivered in association with a range of partners including UK Sport, GB Boxing, the British Olympic Association (BOA) and the Queen Elizabeth Olympic Park.
Further information about the event is available at www.boxingroadtotokyolondon.org.
Pics by Andy Chubb