Schools Championships 2022: boys' preview (Under 50kg)
May 13, 2022 | by Matt Halfpenny
On most weekends, it's the renowned Fine Lady Statue – made famous by the 'Ride A Cock Horse' nursery rhyme – that attracts the majority of visitors to Banbury.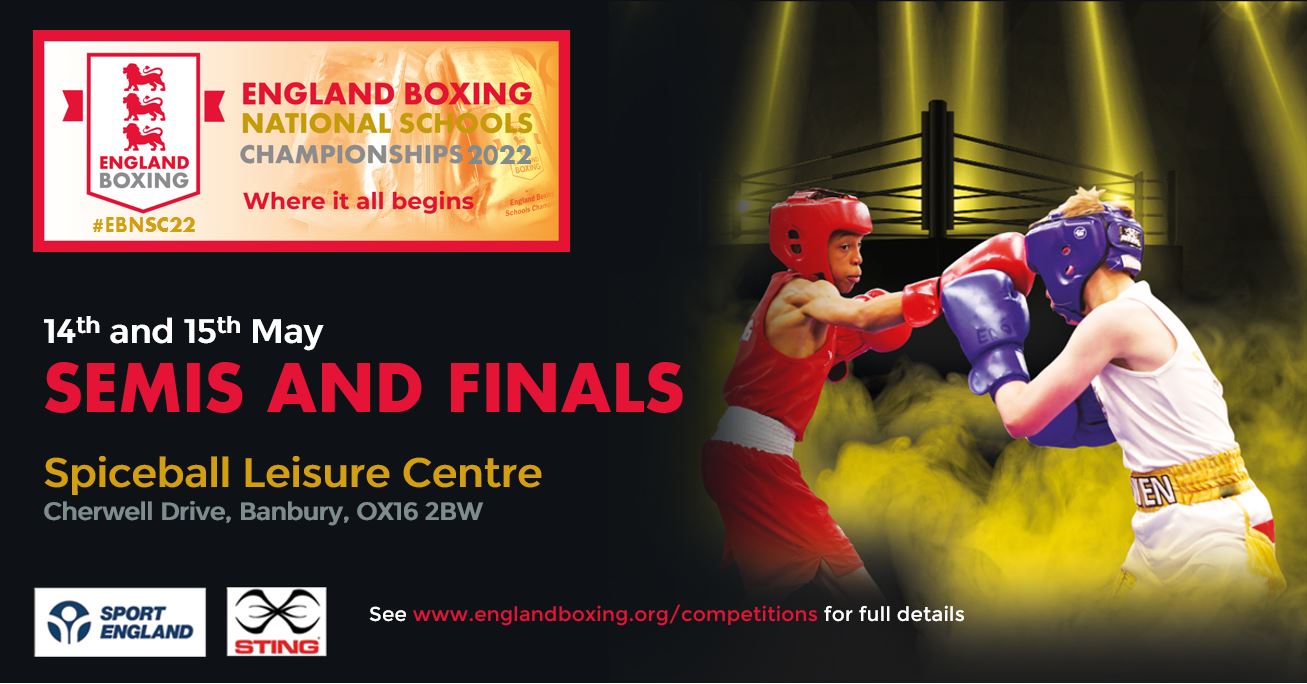 But not this weekend.
This Saturday and Sunday, for hundreds of participants, coaches friends, family and officials, it's all about the England Boxing National Championships 2022 semi-finals and finals that are taking place at the town's Spiceball Leisure Centre.
And it really does promise to be a terrific spectacle, with girls and boys bouts to be contested across three classifications of Cadets, Class A and Class B and in weight divisions ranging from Under 28kg to Under 80kg.
All will hope to leave on Sunday with either golden gloves or a golden medal around their neck, having earned the right to call themselves a national champion. The three rings in situ will be bristling with precocious young talent.
Among the eagerly-awaited contests is the battle to be named Class B winner at Under 50kg, where all four semi-finalists will have high hopes of success.
In the first semi-final, Paddy McDonagh is determined to go one better after missing out in the final of the Schools 2021 last September, losing on a split decision to St Paul's Charles Leason at Under 48kg.
In doing so, he would emulate cousin Joseph, who won a title at the England Boxing National Junior Championships 2022 in March, beating Frankie Thompson in the Cadet Under 63kg final, held at the Guildford Spectrum.
One of three brothers at the London club, with cousins also training there, he wants to one day emulate successful White Hart Lane senior boxers, Cameron McKay and Mitchell Asare, who both reached the England Boxing National Amateur Championships 2022 finals last month.
"Paddy's been with us for about three years now and we have seen a remarkable progression in him," said Head Coach Chris Hall. "He only won two or three of his first 20 bouts and, after the Riviera Box Cup last year, we said we had to change some things if he wanted to be successful.
"He has worked really hard to change his style around and it has really paid off, only losing in the final of the Schools last year on a close split and he's come back strong again this year, winning three bouts in his London region, two of them by stoppages.
"His biggest strengths are his accuracy and punch picking and he's also started to add some power now – as his stoppages have shown. His younger brothers are also starting to come through and they have the potential to get quite a dynasty of champions going at the club.
"Paddy's also been talking to Cameron (McKay) and asking him how many London title belts he's won. When he said 'four', Paddy told him he was going to go out and win more! He's a lovely lad with it as well, and an absolute credit to the club."
Facing McDonagh is another accomplished performer in Trey King, who was triumphant at the last Schools tournament at Class A Under 44.5kg, where he beat West Ham's Benny Tokeley on a split decision.
Like for that journey north to Newcastle, he will travel with two other Mikey's boxers who also made finals in the North East in the shape of Bailey Wilding and John Hodgkins, with the three having formed good friendships after coming through the Kidderminster club's ranks together from a young age.
Head Coach at the Midlands region gym, Michael Mikolajczyk, says it is King's dedication to his craft that marks him out as a potential star of the future.
He added: "Trey's had 15 bouts and won 14 of them and what makes him good, apart form his natural ability is that he works so, so hard, sometimes six hours a day.
"You go to the gym in the morning and he is there ready to go and then he comes back in the evening as well. If you asked him to train 12 hours a day he would do it. If anything, you have to rein him in.
"He's a great character in the gym who gets on well with everyone and if he doesn't get something straight away, he will go away and work in it until he does get it right.
"He's had a regional semi and final and a national quarter-final this time to earn his place, which he has enjoyed, and the three Mikey's lads going to Banbury will be cheering each other on and hoping to make it three out of three this time, having had two wins from three last September."
On the other side of the draw, Hayden Young can call on father Kelvin, who had a 28-bout professional career as a light-heavyweight, as one of those to coach him.
The Lydney teenager has already accounted for Camberley's Martin Delaney in a tight national quarter-final, where his ability to take on the advice of his corner reaped dividends.
And if he could go all the way and win the title, the Western Counties club are hoping it could spark a run of success at the club not seen for well over a decade.
"Hayden's been with us around two-and-a-half to three years now and he's come on well with the help of his dad," said coach Chris Godwin.
"In his quarter-final, the bout could have gone either way, and the coaches in the corner had to ask him how much he wanted it before the start of the third round, telling him that he had to go out there and put on a show.
"He took that on board and went out and did it. He's good at getting in and out, but he can also pressure as well. All in all, he's a good, strong boy. Boxing at this kind of event, with the three rings and the crowd ,will be really good for his development.
"If he could win it would be a big thing for him in his career, but it would also be great for us. Around 2004 to 2005 we had a few good boys in the gym with a junior Olympian and a couple of Schools Champions, but we've not had anything like that since, so a success in this tournament would really act as an inspiration for all the other kids in what is a relatively small gym."
Standing in the way of Young in the battle for a final spot is Rizwan Gujjar of Darlington's PS Boxing.
The Tyne, Tees and Wear region boxer has notched victories in both his national pre-quarter-final and quarter-final bouts and is someone who is 'in love with the sport'.
Head Coach Peter Shepperson is quietly confident that the big occasion will not get to him after experiencing a big show in Sunderland recently.
He said: "Rizwan has not yet been with us for a year, having trained in Middlesbrough previously, but we have been really impressed with what we have seen.
"Even if he isn't sparring himself, he sits there watching other boxers to see if there is anything he can pick up or learn. He watches boxing videos at home… boxing is all he thinks and talks about.
"It's great for him to have Hannah Robinson (England Boxing National Amateur Championships 2022 title winner) in the gym. For the ones, like Rizwan, who are really dedicated, it shows what can be achieved if you work hard for it.
"He is very elusive and has fast hands, which are two big strengths. He initially used to get sucked into wanting to go and have a fight, but now he appreciates it's about scoring and hitting, while not getting hit.
"The fact he recently competed on a pro-style show with the lights and the ringwalk should help him with this tournament. Everyone gets nervous, but I believe he can deal with it and will be ready to go."
More on the Schools 2022
Click here for spectator info. Click here for the Schools Championships home page. Follow across social media via #EBNSC2022