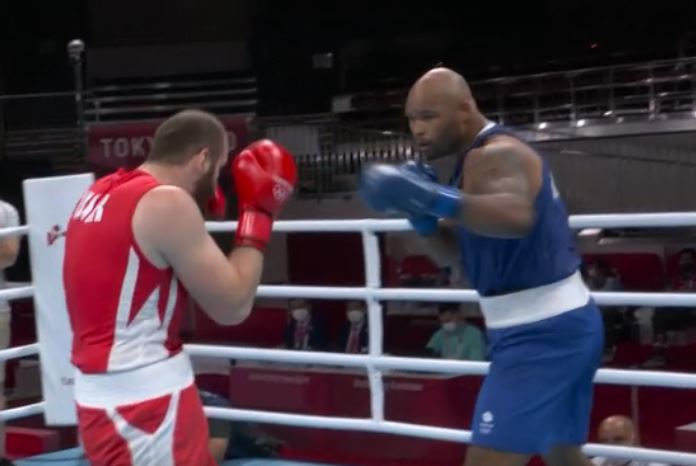 Olympics day six: First bout for GB's Clarke is worth the wait, but Davison bows out
July 29, 2021 | by Matt Halfpenny
GB Boxing's Frazer Clarke claimed a quarter-final berth in the super heavyweight category on day six at the Tokyo 2020 Olympics – but Charley Davision bowed out at the last 16 stage.
Burton's Clarke's progression came courtesy of a confident display in a 4-1 points triumph over Ukraine's Tsotne Rogava.
The GB team captain had been made to wait for his first Olympic bout and was the last of the 11-strong British squad to get underway at Tokyo.
And though he was a little slow out of the blocks, he quickly got into his stride to secure the opening round 4-1.
Rogava upped his work rate in the second round, but it was Clarke who continued to land the cleaner shots, meaning the judges scored it exactly the same way as the first.
Protecting a healthy advantage going into the third round, the Burton boxer used all his experience and ring craft to ensure he saw out the remainder of the bout with few problems.
In fact, he did more than that, winning the final round unanimously and the overall contest in the process.
Next up for the 29-year old is a bout with Mourad Aliev, the Frenchman who beat him in the final at the European Qualifying tournament.
Davison, meanwhile, was always facing a difficult task as she took on Chinese number two seed Yuang Chang.
The Attleborough boxer's bid for victory was made all the tougher as she dropped the opening round unanimously.
The second round was a closer affair, but Chang was nevertheless adjudged to have taken it on four of the five judges' scorecards.
To her credit, mum-of-three Davison – who came back from a seven year absence from the sport to claim a comeback England Boxing National Amateur Championships title in 2019 – never gave up and was rewarded by getting the nod 3-2 in the final round, but it was not enough to prevent her opponent clinching a unanimous win.
"I didn't perform to the best of my abilities and the nerves got the better of me," said a disappointed Davision. "But I'd like to thank all the support I've had from back home… they've done me proud."
Tomorrow (Friday), three Great Britain boxers are in action, with both males competing for the semi-final place that would guarantee them a medal.
Repton lightweight Caroline Dubois (Repton) takes on the USA's Rashida Ellis at 11.30am (3.30am UK time), Birtley welterweight Pat McCormack faces off against Bobo-Usmon Baturov of Uzbekistan UZB at 12.30pm (4.30am UK time) and Firewalker light heavyweight Ben Whittaker at 1.20pm (5.20am UK time).