NACs 2023: Birtley, Rotunda, Armed Forces and London Region enjoy Finals Day to remember
April 24, 2023 | by Matt Halfpenny
Northern powerhouse clubs Birtley and Rotunda had an England Boxing National Amateur Championships 2023 Finals Day to remember as each claimed two coveted national title belts during an action packed two sessions of high-quality boxing.
The climax of English boxing's most prestigious Elite-level Championships – which dates back to 1881 and boasts Tyson Fury, Nicola Adams, Anthony Joshua, Natasha Jonas as past winners – did the history of the competition proud with 24 bouts that were as entertaining as they were hard-fought.
Leading the way for Birtley was Cameron Vuong, who pipped fellow emerging talent Frank Wood (Ropes and Glory) by a 3-2 margin at Under 60kg, much to the delight of many in the Vertu Motors Arena crowd who had made the short trip across the River Tyne.
The Tyne, Tees and Wear gym had further cause to celebrate when GB Boxing's number one seed Jack Dryden triumphed 4-1 over the determined Edward Hardy at Under 57kg.
Rotunda's two boxers were also well backed, with southpaw Callum Makin – who put out GB seed Dan Toward in the semi-finals in Rotherham – producing a composed display to beat Ropes and Glory's Mason Payne 4-1.
Fellow Liverpudlian and club-mate Stephen Clarke then triumphed by the same scoreline against highly fancied Jimmy Sains of Repton, who lost in the Under 74kg for the second year running, having knocked out his previous two opponents en route to the final.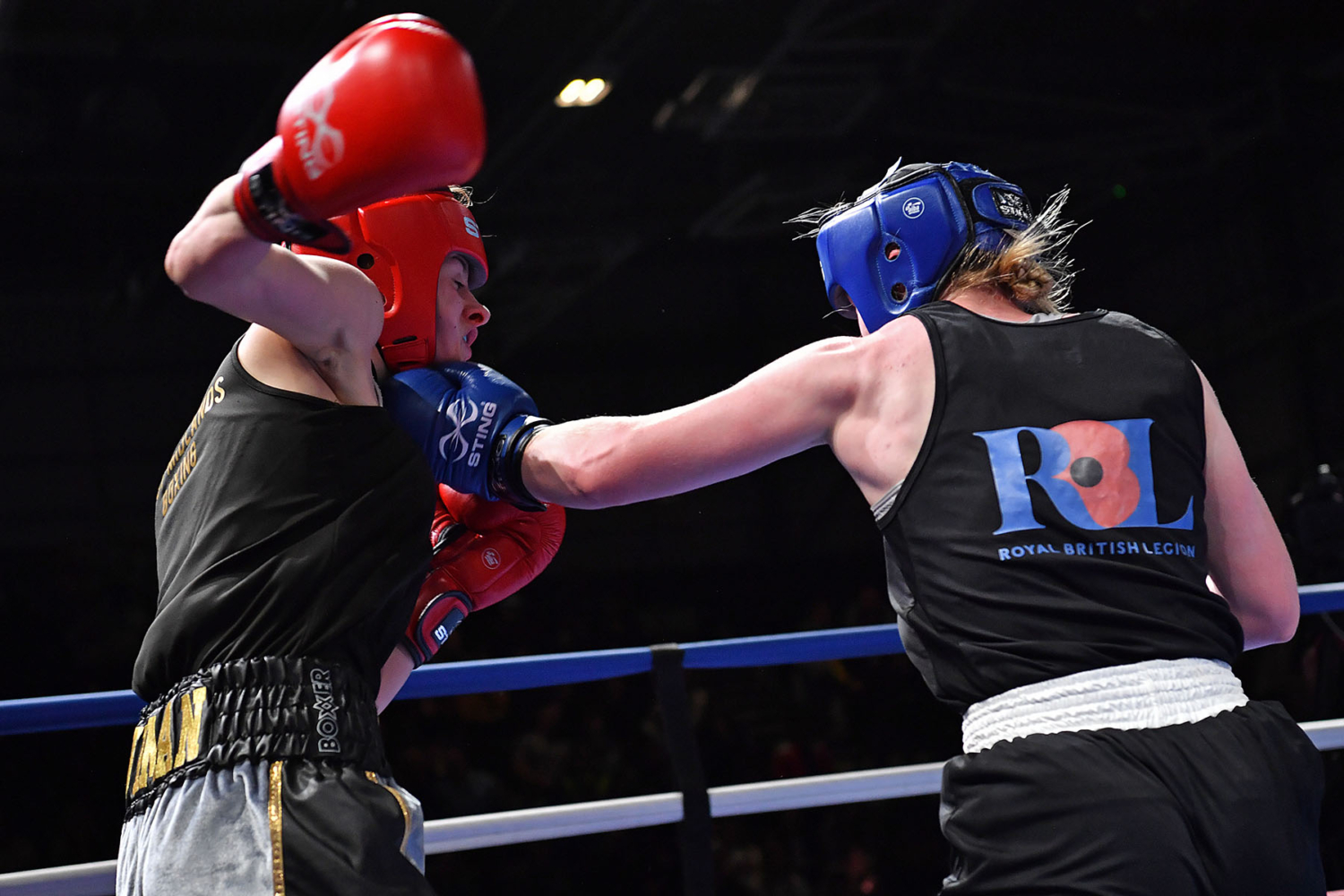 It also proved to be a memorable day for the Armed Forces with Terri Stuart (Under 63kg) and Jerri-Lee Palmer (Under 75kg) victorious for the Army and Sophie Colebourn – in her ninth crack at these Championships – winning for the Royal Navy (Under 66kg).
There was a notable success, too, for the Police Boxing Association as the Met Police's Seul Bee Lee won for a second consecutive year, this time at the higher weight of Under 54kg, having claimed the Under 52kg crown last year.
London proved to be the most successful region or association, winning seven titles in total at a range of weights.
Each victory was from different clubs spread across the capital, with boxers from London Community Boxing, Limehouse, Afewee, Repton, Five Star, Miguel's and Powerday Hooks all successful.
Tyne, Tees and Wear had four successes, Merseyside and Cheshire, Midlands and Armed Forces three each, and Southern Counties, East Midlands, Home Counties and the Police Boxing Association one each.
In all, 21 clubs or organisations boast a winner, with 11 female divisions and 13 male divisions contested across weights ranging from Under 48kg to over 92kg.
"The venue looked amazing, the boxing didn't disappoint, and the live BBC coverage provided a fantastic opportunity for our boxers, coaches and officials to show what their capable of," said England Boxing's Competitions and Events Manager, Ashley Cooke.
"After some hard-fought rounds, it was great to see our 24 national champions take home their belts – and follow in the footsteps of some very illustrious predecessors.
As ever, we'd like to thank all the volunteers and officials who have given up their time since the start of the month to help smoothly deliver the national stages of the event."
Winner of the Micky May Award as Best Boxer of the Tournament was Birtley's Vuong, who boxed his way through the full set of national stages, starting with the pre quarter-finals in Barnsley.
"It feels unbelievable, surreal and I just can't believe it," he said. "It's been a long time in coming and I've fallen at the final hurdle a couple of times, but I'm finally national champion and it feels good to finally do it.
"The gym (at Birtley) is flying. All thanks to the coaches and the boxers there. It's a massive achievement for me. I've been training two or three times a day and it feels great to get my rewards.
"To achieve it in my home city of Newcastle, with the great support, I have had is a dream come true."
Interviews with all the winners can be viewed on the England Boxing YouTube channel by clicking here.
Click here to view a full set of results.
Find out more about the NACs 2023 by clicking here.