Men's World Championships 2021, day four – Orie clinches stoppage but Farrell edged out
October 28, 2021 | by Matt Halfpenny
England's Delicious Orie produced a third round stoppage victory in his super-heavyweight (over 92kg) contest with Mexico's Luis Gomez Meneses on day four of the AIBA Men's World Championships 2021.
The tall and rangy West Midlander boxed intelligently throughout, at first keeping his opponent at range with a stiff and accurate jab before capitalising with more powerful punching to finish the bout in the latter stages.
Jewellery Quarter boxer Orie rarely allowed the stocky Gomez Meneses into range early on and also landed with some slick combinations to win the first round unanimously.
He was even more impressive and dominant in the second where he registered some crunching right hands on the back of more excellent jab work to take it 10-8 on all five judges' scorecards.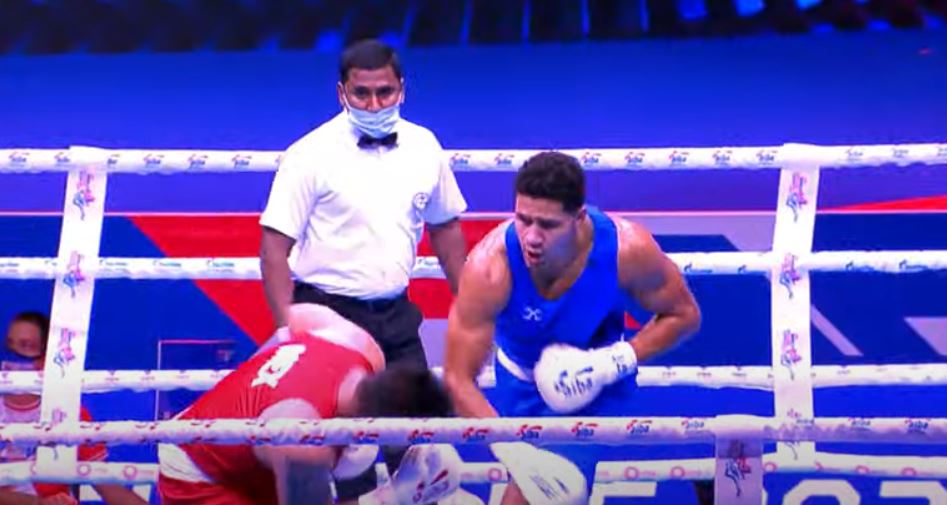 Early in the third, Orie forced a first standing eight count and, with the Mexican looking increasingly beleaguered, two more standing counts saw the referee wave off the contest.
Orie's reward for his success on debut at the worlds is a bout with Lazizbek Mullojonov of Uzbekistan on Sunday afternoon.
However, it was not such a successful outing for England team-mate Niall Farrell at featherweight (Under 57kg) as he was narrowly edged out after a close contest with Frenchman.
In a bout that could have gone either way the 2nd City boxer lost a 3-2 split after giving his all.
Tomorrow, two England boxers are in action, with Harris Akbar (light-middleweight) facing Yurii Zakharieiev of the Ukraine and Lewis Williams (heavyweight, Under 92kg) taking on Indrit Laci, both in the preliminary stages.