Islington Boxing Club awarded Best Team at Golden Girls Box Cup in Sweden
June 7, 2022 | by Harry Judd
Islington Boxing Club claim 'Team of the tournament' and win five gold medals in knockout performance at the Golden Girls Box Cup in Sweden last weekend.
Eight boxers' represented Islington Boxing Club in The Golden Girl in Borås, Sweden, the biggest female boxing competition in Europe.
This year was the 13th edition of the annual major female tournament, founded 2009, and includes Elite, Youth, Junior and Diploma boxers.
April McNamara, Ailsa Mullins, Beth Tyler, Kesanna Bryan all winning gold, and reigning champion "The Golden Girl", Jem Campbell (former EB NACs Champion) retained her Golden Girl Elite Box Cup belt for the consecutive time.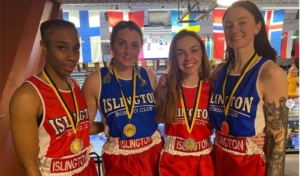 Islington boxer and former EB Development Champion, Laura Weis, a newly London region Grade C judge, was also awarded Best Judge of the tournament.
Former Islington Boxing Club boxer, turned judge, Amy Pu said: ""It was fantastic to see the success Islington boxing club achieved in the European's biggest female box cup, with not only just their boxers being in the spotlight but also their judge receiving recognition."
She added: "Many congratulations to Team IBC as well as all other England Boxing clubs and boxers taking part in the tournament!"