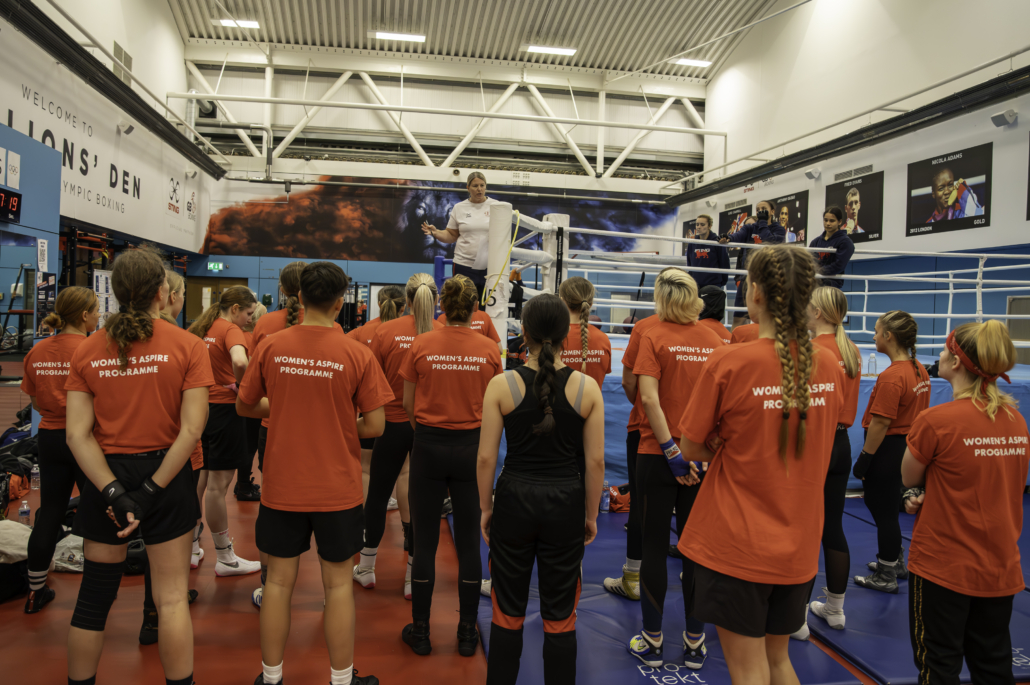 Women's Aspire 2023: Youth and Elite reflect on new tools
November 7, 2023 | by Chris Boyd
The Youth and Elite attendees of the Women's Aspire Programme 2023 enjoyed their third and final session on Sunday 5th November, at the English Institute of Sport in Sheffield.
Led by Team England's Lead National Coach, Amanda Coulson, the camp aimed to re-enforce the teachings of the previous two sessions and provide the boxers with key takeaways as they leave the programme behind in 2023.
The day included practices which aimed to maximise the performance gains available. The group were able to do this by working closely in a 1-2-1 space during pad work and sparring, whilst some boxers were offered the opportunity to spar with the England Performance Senior Women's team, who are preparing for a competition in three weeks' time.
Outside of the ring, the group took part in video analysis sessions showing how to tactically prepare to take on an opponent.
They did this by analysing the strengths and weaknesses in their performance, before deploying their theories into shadowboxing to help drive home the use of analysis and how to do it,
Speaking about the final session of the year for the Youth and Elite boxers, Coulson said: "Overall it was a great way to wish these budding boxers farewell.
"The group leave with new tools to further their development, as well as a few new friends along the way too."
Images from the session, taken by England Boxing photographer Clive Wood, are available to all England Boxing-affiliated members.
To view and download these images, sign into The Vault and click on 'Knowledge Base' on the left-hand side, followed by 'Locker'.
Here, click on 'England Boxing Women's Aspire 2023 Fourth Camp – images', then 'England Boxing Women's Aspire 2023 Fourth Camp – images', note the password in the description section and click on the blue 'Go to link tab'.
Now you should be able to enter the relevant password and download images.