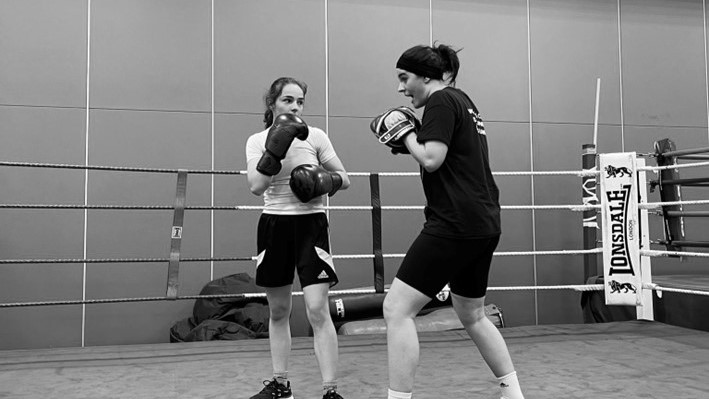 Women's Coach Development Programme Spotlight: Chantell Walker
October 28, 2023 | by Chris Boyd
Walkden ABC's Chantell Walker has developed immensely over her first full year as a boxing coach, yet she hopes the Women's Coach Development Programme will push her further to realise her full potential.
---
How did you first get involved in boxing?
I started boxing when I was 11 years old and it's always been a big part of my life. I come from a boxing family in Sheffield and my brother boxed as an amateur before turning professional. When I started boxing I was the only girl in the gym and it was intimidating at first, but I had my first bout in 2005 at 13 years old and I went on to have 20 bouts by the time I stopped boxing at 18.
I then chose a different path and went to university, but I always felt I'd go back into the sport. Then, in 2021, a new boxing gym opened nearby so I enquired about classes as I wanted to get fit. I told the gym about my background in boxing and before long I was asked to be one of the coaches. I now coach at the gym three times a week and I absolutely love it.
How pleased are you to be involved in a programme that is actively bidding to push women's and girls' boxing forward?
I'm so grateful to be on the course and to be around other female coaches. I have learnt so much already in such a short time and it's great to share advice, and our experiences and support one another.
As I said before when I was boxing, there were very few female coaches and boxers. I had to travel to the other end of the country to get bouts. Female boxing back then was such a taboo and we did face a lot of sexism and misogyny. Times are changing and women's boxing is now huge compared to what it was and I feel so proud of the young girls that I train who are becoming the next generation of female athletes.
This course is giving me the tools and experience to be the best coach I can be for the boxers at my gym. I couldn't be more grateful to England Boxing for this opportunity.
What do you hope to get out of the WCDP that can improve you as a coach?
There are many things but a big one for me is confidence. I am the only female coach at my gym and all the coaches at Walkden are really supportive but I sometimes get imposter syndrome and doubt myself and my ability. The course is really helping me with this as it pushes you completely out of your comfort zone, coaching many different boxers with different styles.
In terms of my coaching, I want to strengthen in all areas because I believe you never stop learning and progressing. It's great to be able to watch other coaches work and see the great things they do, things that I can then take into my coaching.
I also wanted to improve working with southpaws, whether that be tactically or coaching them. I have really been working on this over the past couple of months and I'm hoping to become a southpaw expert by the end of the course!
How much will attending the WCDP help you in your club environment?
The course has helped me in this area so much already. When I first started the WCDP programme, I was coaching the development class where boxers are training to get ready to have a skills bout or their first official bout. Now I'm coaching the carded class and I have been leading sessions independently.
This was something I was nervous to do but I knew I needed to take that next step as a coach. The programme has given me that push and made me realise my potential.
I've only been coaching since 2021 but over the past four months, I have grown and learnt so much. I also had a baby 11 months ago so I think what I've achieved in boxing in the first year of being a new mum is pretty incredible. I'm so thankful to Laura (Sargeant), all the mentors and coaches on the course and all the coaches at Walkden ABC who have supported me this year.
Who are your biggest boxing inspirations?
There are so many but I would say Katie Taylor is one of my biggest inspirations. What she has done for women's boxing is unbelievable. And Chantelle Cameron who recently beat Katie. The courage she has is extraordinary.
My biggest inspiration is my late friend Carly Wealleans. We boxed each other three times in the amateurs and became great friends. She had the heart of a lion and was a true warrior but most of all she's one of the kindest people I've ever met. I owe so much to her.