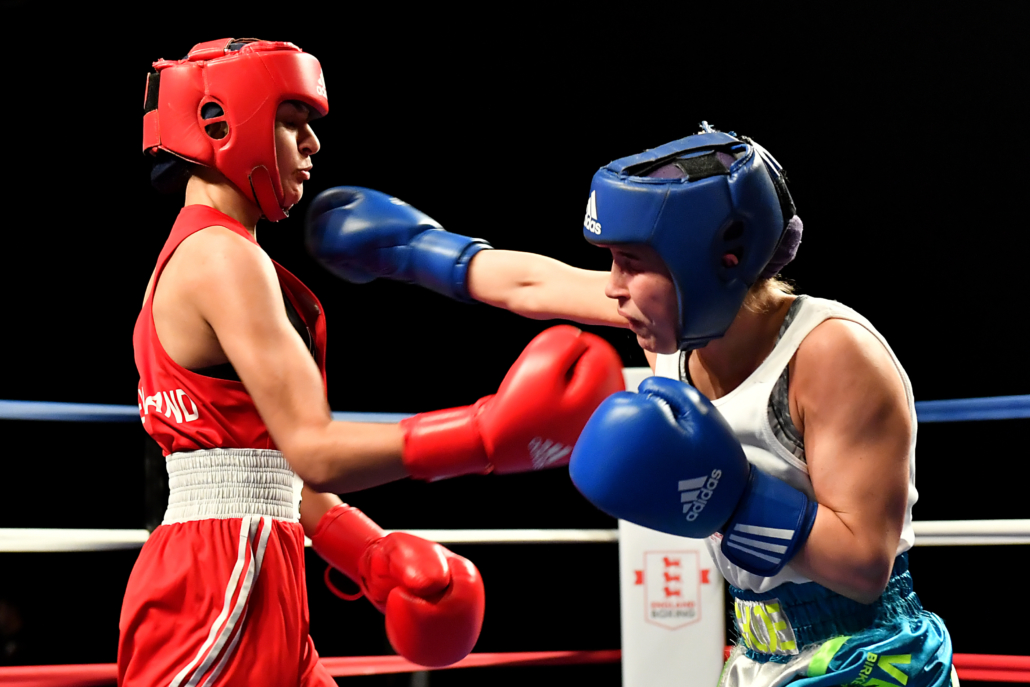 England Boxing Women's Winter Box Cup: Kaur out to protect unbeaten record on home soil
December 3, 2018 | by Matt Halfpenny
Telford teenager Simran Kaur has got one heck of a reason to win her weight division at England Boxing's Women's Winter Box Cup – she's never lost a bout on home soil!
The 17-year-old boxer from the Kings Heath Boxing Club in Northampton started out four years ago having first sparred with pads in the back garden.
She is now ranked as one of the top five boxers in the world at Youth level, having qualified for the World Championships by winning a silver medal at European level for a second time – and is determined to put on a show at an event she hopes will increase the reach of women's boxing.
The country's eagerly-awaited first all-female competition takes place this weekend (8th and 9th December) with more than 180 boxers of all ages and abilities coming together to compete across a wide range of weight categories in Manchester.
"I'm really looking forward to it because it's unique to be boxing alongside other girls and women rather than along with the men and boys," said Simran a four-time national champion, including this year at Youth level in the 51kg category.
"I think it's a great idea to try to get more females involved in boxing and I think holding events like this is definitely going to help. I think it will inspire more girls and women to come forward and give it a go.
"I've got the British Championships two days before (where she will box Chloe Watson), which is important, but this is one I really want to win as well because I want to stay unbeaten when boxing in England."
Simran first took up boxing as a means of losing weight and staying active, having tried her hand at other sports but not taken to them.
She first enlisted the help of elder brother Harry Dhillon, who still coaches her now, to show her the basics.
But it was only when she lined up in the ring that there was a swift realisation that she was also a prodigious talent.
Harry said: "I remember she tried swimming and other things but only liked running and after that she started doing pads in the garden with me. It was that which got her getting gout of the house on a regular basis and eventually into really good shape.
"When first stepped into the ring, it was quickly apparent she was good – she was stopping everyone in those early bouts.
"Now she's moved up to a high level of boxing she is training two or three times a day and is buzzing about the England Boxing Women's Winter Box Cup because it's a massive event for growth on the women's side of the sport.
"She loves boxing in England, but it can be rare at the level she is at, so it's a rare but welcome opportunity. Events like this are only going to make it better and make more bouts for women and girls, which is great to see."
Simran travels an hour and-a-half to travel to Kings Heath to perfect her technical skills, in addition to her training in Shropshire.
She feels it is well worth the trip and hopes it will ensure she is in tip-top condition when she walks into the George H Carnal Centre in Urmston.
"I'm very thankful to Arthur Daley and James Conway at Kings Health who I started working with a year-and-a-half ago as they have really helped me, and I've seen a lot of improvement," she said.
"Hopefully I can produce my best at this event because it promises to be a great weekend."
The England Boxing Women's Winter Box Cup has been introduced by the sport's national governing body in a bid to give women and girls more opportunity to box competitively, while also serving to inspire others to give boxing a go.
You can click to see a full list of boxers and their weights here and check out the full list of rules and regulations for the competition.
Coaches are asked to check that all information listed on their boxer is correct and should email lynsey.lockey@englandboxing.org is the case of any discrepancies.
You can go along to support the boxers on both days of competition, with doors for spectators open from 10am.
Admission is £15 for adults and £5 for concessions (under-5s are free).
Event weigh-in
Event weigh-in, registration and draw will take place from 6pm to 9pm on Friday 7th December.
England Boxing Women's Winter Box Cup timetable (for both Saturday and Sunday)
8am – access available to the venue for boxers.
8am to 10am – all boxers to collect accreditations and complete medicals.
10am – doors to main hall open for spectators.
11am – session one commences.
2pm to 2.30pm – break in boxing.
2.30pm – session two commences.