Youth Championships 2021 preview: The Male Under 56kg Youth contenders
November 24, 2021 | by Matt Halfpenny
The Male Under 56kg category has always been a hotbed of talent at the England Boxing National Youth Championships… and this year looks to be no different.
Looking to follow in the footsteps of Finley James (West Ham) in 2020, Abdul Khan (Bury) in 2019, Adan Mohamed (Repton) in 2017, Charles Frankham (The Ring) in 2017, Ben Marksby (Darlington) in 2016, Bradley Strand (Kirkby) in 2015 and Isaac Milburn (Birtley) in 2014 are six contenders, who will all fancy their chances of lifting aloft a national title belt.
Regrettably, Birtley prospect Jack Dryden will not be one of them after he was recently hit by a car in an accident.
The Tyne, Tees and Wear region teenager – who was part of the England squad set to fly out compete in the Youth European Championships 2021 until the Three Lions had to pull out when Montenegro went onto the government's Covid-19 red list – is, thankfully, now on the road to recovery, but it has ruled out his participation in Banbury this weekend.
Dryden was scheduled to take on Lucky Gloves' Hassan Ishaq in the first of the quarter-finals, a boxer who won an England Boxing National Junior Development Championship title in 2019.
He is one of several capable boxers emerging from the Home Counties club eager to challenge on the national stage.
"Hassan actually got into the boxing before me and then I went along to coach afterwards," said dad Tariq. "A friend of mine (and fellow coach), Eddie Richardson, suggested we send him there – and he took to it like a fish to water.
"He used to play football, but he quickly gave that up to concentrate on the boxing and I think he has benefited from not shying away from bouts, and also sparring good boxers, as you learn by going up against the best.
"We haven't got a massive group of boxers, but the club is very active in the community where we are based in Slough, and the young lads we do have coming through are doing well, so we have a good little system going.
"Hassan has boxed at the MTK and Torbay Box Cups, so he's used to the three-day set-up and the crowds. He's going there with a positive attitude and we will see what happens."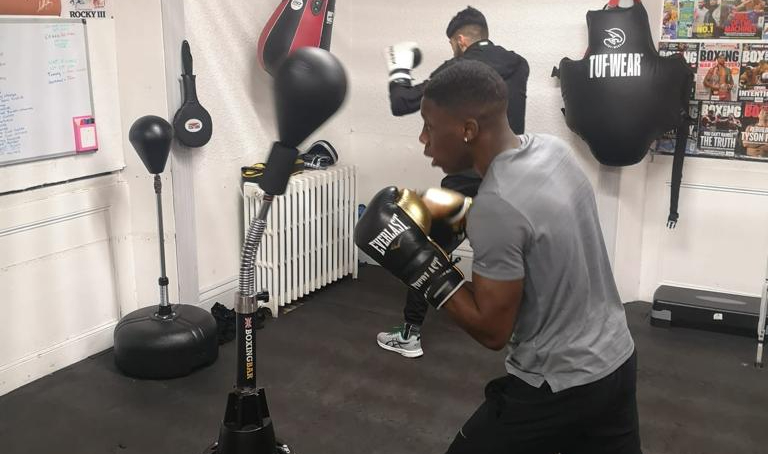 Representing Yorkshire in this category will be Armani Francis from Rourkey's, based in Bradford.
Head Coach Kevin Rourke believes his charge will acquit himself well in Oxfordshire and says he will relish the occasion.
He said: "He's been with me for here for about two years now, and I also coaches him at one of his previous clubs, Platinum. He's a come-forward boxer and a strong kid.
"It can be a daunting prospect going to the nationals for the first time, as he is, but it's great that there are two other lads (who are boxing in other categories) going to the same event with him.
"Having said that, he is a confident lad and I can't see the occasion getting to him. It's a massive challenge, but one he is looking forward to."
Lining up against Francis will be a boxer from the other end of the country in the shape of Arena's Conna Gardner.
The Western Counties boxer is the brother of Macey, who clinched a national title at Junior level in Hereford last month.
"You would think there would be a bit of a sibling rivalry between brother and sister, but actually they are very supportive of each other," said coach Les Simmons.
"Macey has Type 1 diabetes, which can be really hard to manage, but Conna helps where he can and is pretty protective of his younger sister.
"As a boxer, he's quite unorthodox and has got good movement. Although his record is not as good as some, he has boxed some good lads and learned from it."
Pulling on the vest of North West Region club Leigh will be Ethyn Weaver who, as coach Adrian Fleming points out, has always been 'there or thereabouts' in national competitions.
"Although he hasn't ever won one, he's been knocking on the door and maybe this could be his year", he said.
"He has certainly been working hard enough since the gym reopened after the Covid-19 lockdowns. Even during that time, when we ran online sessions twice a week, he was one who was nearly always taking part, plus he kept doing his road running too.
"He's also shown his commitment by making a three-hour round trip to training, catching public transport, from where he lives in Stockport.
"Ethyn is in a quality section with some high-quality boxers, but he would love to win it and that would set him up really well for his future boxing career."
His opponent will be West Ham and London's Frankie Wood, a boxer with proven pedigree, having won the national title at Junior Cadet level in 2019.
He has chosen to box a 'year up' in a bid to push his claims for international honours.
Coach Jason Bull said: "Frankie is probably the most naturally talented boxer I have coached in my 20 years at West Ham. He's not necessarily the strongest, but in terms of ability, he is right up there.
"He comes into this having won at the Barum Box Cup last weekend and is someone who listens and takes in everything he is taught in training.
"He's a hard worker who doesn't miss sessions and I don't know how he hasn't boxed for England yet, but he is determined to put himself in the frame because he wants to go all the way and get on the GB squad."
Windmill's Ahron Ali (picture courtesy of James Bannister) is the Midlands boxer in the draw, and he says he 'can't wait to get into the ring'.
He has been preparing with extra training sessions in a bid to improve his chances of success this weekend, having boxed for the club for around three years.
"I've always been into sports and kept healthy from a young age," he said. "It was my dad who introduced me to boxing and I love everything about it.
"I have been looking forward to these Championships for a while now and I think I have a really good chance of becoming national champion. I mix up my skills and adapt to my surroundings.
"My favourite thing about boxing is the competition aspect, and nothing feels better than performing in front of a crowd."
Facing him in the final quarter-final would have been Aiden Parker, of Guildford City, but he has unfortunately been forced to pull out after testing positive for Covid-19.
Prior to his withdrawal, the Southern Counties boxer had booked his place by securing victories over Jadon Pryor of Golden Ring and Connor O'Sullivan of Armour Plated.
*****
Boxing at the England Boxing National Youth Championships 2021 starts at 1pm on Friday, 1pm on Saturday and 12noon on Sunday.
Click here to view streaming details.
To keep up to date, go to the Youth Championships home page here and follow the action on social media using the hashtag #EBNYC21.