Countdown to Tokyo: mum Davison relishing biggest stage after return to the top
July 21, 2021 | by Matt Halfpenny
In the fifth of a series of Tokyo 2020 Olympic Games boxing previews, mum-of-three Charley Davison tells England Boxing how she has successfully juggled her time in the ring with bringing up a young family.
xxxxx
When Charley Davison stepped into the ring to face Nina Hughes on England Boxing National Amateur Championships Finals Day in 2019, she knew it was now or never.
Having spent seven years out of the amateur game to have her three children, the Attleborough ABC boxer knew that if she wanted to get back to boxing at the very top level, it was a title she simply had to win.
Encountering plenty of success as a teenager, winning national amateur titles at Schools, Juniors and Youth levels, before going on claim a European Youth gold and World Youth silver, there was never any doubting Davison's class.
But just as the career of the Lowestoft southpaw seemed to be taking off, she had to put ambitions of higher honours on the back burner to start a family.
Read: 10 great England Boxing National Junior champions.
Read: England's Davison leads charge against the Germans.
For a while it crossed Davison's mind that she may never box competitively again, given her devotion as a mum, until she was eventually coaxed back into action by her old coaches John Cremin and Frank Bacon, who had moved with her to Attleborough from her first club Triple A, where Anthony Ogogo also learned to box.
And it was that successful return to training and competition that brought her to a crossroads at Manchester Central. Win and bigger things beckoned; lose and it would be time to hang up the gloves as a serious boxer for good.
"I did think at times before I got back into it that things might have passed me by in terms of my boxing," admits Davision. "When I'd only had one child I thought maybe, but after having three… I thought it would just be too hard.
"But when I went to down to the gym to have a bit of fun and lose a bit of weight, my coaches kept saying 'you can come back you know, you can definitely do it'.
"I took some convincing at first because there were childcare issues, but I'm glad I did because none of this, including the Olympics, would have happened.
"The 2019 Nationals were ones I had to win. If I hadn't I don't think I would have stuck around for another year with all the training I would have needed to put in to try again. It would have been a long process, so that might have been the end.
"At the same, I didn't expect things to happen as quickly as they have. After the Nationals I was selected for the GB programme (in December 2019) and in the March I was competing in the Olympic qualifiers in London. Everything has happened so quickly."
Davison won her first bout in those initial European Olympic Qualifiers, before the tournament was suspended due to the onset of the Coronavirus Pandemic, against Ireland's Carly McNaul, having moved down from featherweight (Under 54kg) to the Olympic weight of flyweight (Under 51kg).
She had to wait the best part of 15 months to complete her Olympic Qualification when the event was continued in Paris in June, but remained determined and focused to do just that.
The 27-year-old secured a unanimous victory over Polish third seed Sandra Drabik to seal her place in Japan and then went on to beat Italy's Giordana Sorrentino at the competition's semi-final stage.
Although she was edged out on a split decision by Turkey's number one seed Buse Naz Cakiroglu in the final, her progression to the final two will help her seeding for when the action gets underway in Tokyo.
Davison adds: "I felt nervous going into the qualifiers in London as my first event, but I was more confident about things going into Paris because my training and sparring had gone really well and I'd had that bit more time to prepare.
"I knew what I was capable of if I performed well, and having seven years out has given me the desire to succeed and want to do well. I was fresh and I had that bug for it again ,and I was just excited to get into it more than anything.
"To get through and qualify was a fantastic feeling… to know that the sacrifices you have made to get to that point have been worth it."
Although overseas spectators are banned from Tokyo 2020 because of rising Covid-19 infection levels in Japan, Davison is expecting to have her own support team back home.
Time away from her three children, sons Arnell, 9, and Amir, 5, and daughter Amani, 7, has been an inevitable by-product of training hard for the world's biggest sporting spectacle, but they will be given special dispensation to stay up into the wee small hours to watch bid mummy for Olympic glory… if they can stay awake that is!
"It's always been a balancing act between training and being a mum, but the children understand that I have a job to do and why I am doing it," says Davison.
"I have usually be training with the GB squad from Monday to Thursday and then been able to spend lots of time with them at weekends, plus when I am away we read books and talk on video calls and speak on the phone.
"It will be quite a few hours in front in Japan, so it will be overnight at home, which means the youngest ones might struggle to watch me in the prelims.
"But if I get to the later rounds and medal stages then it might be easier for them to watch and cheer me on, which will be great."
Another family member who will be beaming with pride is dad Mark Taylor, who took it upon himself to train his daughter in the boxing basics from the age of eight.
Initially told it was boys-only at her local gym, he took it upon himself to teach a young Davison the sweet science until she was, eventually, able to join a club.
She said: "I'm very thankful to my dad and my coaches because between them have helped me get where I am in the sport now, getting the support from the GB Boxing team.
"My dad never boxed, but we used to watch the pro fights on TV when I was younger and he was really into it.
"We used to do hours on getting the footwork right and other technical bits, which really helped with me being a southpaw.
"John and Frank carried it on and helped me through to England level and have always been there to support me.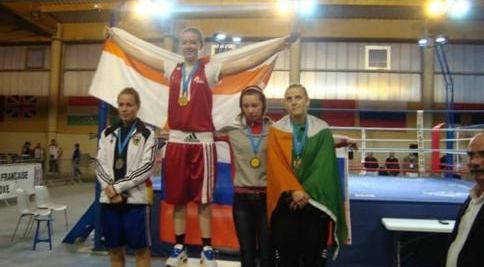 "I don't remember who my first bout was against and where, but I stopped the girl I was against and I remember just how proud they were, John, Frank and my dad, just as they are now.
"That winning feeling you get is like an addiction and you just want more and more of it, which motivates you on the days when you don't feel like it."
When Davison first made her England debut, it was the likes of Nicola Adams, Natasha Jonas, Savannah Marshall and Sandy Ryan who were on the GB programme to inspire her.
Now she hopes to be able to do the same when she appears on the world stage for the first time.
"As I started to get into boxing, there were not many other girls doing it and I struggled to find opponents, but as the years have gone by and I've advanced through England and GB, it's been fantastic to see that change for the better," said Davison.
"I was able to look at the women on the programme at that time and aspire to be like them, and hopefully people can look at what I have done and aspire to become an Olympian too."