Brandenburg Cup 2022: excellent first day for England's Youth squad
September 28, 2022 | by Chris Boyd
Team England produced an excellent display on the first day of the 27th Brandenburg Cup 2022 as their boxers secured six victories from seven bouts.
Team England's campaign hit the ground running in the fifth bout of the morning session, as Jennings Gym's Levi Barnes secured a unanimous decision victory over Hungary's Milan Petriman.
The under 67kg boxer looked assured from the first bell and controlled all three rounds to leave the judges in little doubt.
Next up for the Three Lions was Damar Thomas, this time in the under 92kg category.
The Powerday Hooks boxer proved to be too much for another Hungarian opponent, Jozsef Balogh, as Thomas also took a unanimous decision verdict, to provide momentum heading into the afternoon session.
Ebony Jones was first up for the female group, as she competed against Germany's Jessica Vollmann – a boxer she had lost to at the EUBC European Youth Championships in Sofia, Bulgaria earlier this year.
The Scunthorpe boxer produced a far superior performance to the one she displayed against Vollmann in April but ultimately succumbed to a 3-2 split decision from the judges. Jones was superb throughout her under 50kg bout, impressing the England coaches.
Lauren Mackie was quick to get Team England back to winning ways and she did so in an emphatic fashion. The under 52kg boxer beat her Polish counterpart, Oliwia Formela, by an RSC in just the first round. The Burton Park boxer barraged her opponent and forced the referee to call an early halt to the contest.
The People's Gym boxer, Emily Whitworth, was England's final representation in the afternoon session. Whitworth boxed impressively to secure a unanimous decision over German boxer Chisovalantou Koutsochristou in their under 57kg bout.
Day one's evening session saw a return to male boxing for Team England.
Under 54kg boxer, Owen Ketley was first up following the break and continued the day's excellent form, defeating Yvo Dumpelfeld of Germany by a unanimous decision.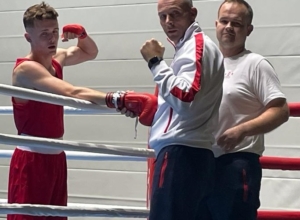 Frankie Wood rounded off an excellent opening day for Team England in Brandenberg, as he completed a quick double over German opposition, defeating Jan Richmeier by unanimous decision.
Day two bouts
Morning session (11am start, 10am UK time)
Bout 4: Under 63.5kg – Osama Mohammed vs Owen Paquette (Canada).
Bout 8: Under 67kg – Lucas Bauer (Denmark) vs Levi Barnes.
Afternoon session (3pm start, 2pm UK time)
Bout 2: Under 50kg – Sofie Rosshaug (Denmark) vs Ebony Jones.
Evening session (7pm start, 6pm UK time)
Bout 2: Under 60kg – Nelson Birchall vs Retias Wheaton (Canada).
Bout 3: Under 60kg – Nick Zulawinski (Sweden) vs Louie Ward.
Bout 5: Under 71kg – Jimmy Dean Wood vs Levente Gemes (Hungary).