Countdown to Tokyo: Artingstall's journey from teenage tearaway to army gunner and Olympic boxer
July 12, 2021 | by Matt Halfpenny
In the first of a series of Tokyo 2020 Olympic Games boxing previews, GB featherweight Karriss Artingstall tells England Boxing how boxing has changed her for the better, how she handled the pressure to win her box-off qualifier and how it feels to be a role model for other women and girls taking up the sport.
xxxxx
Anyone doubting the transformative powers that boxing can possess needs only to read about Karriss Artingstall's inspiring journey to change their minds.
The soon-to-be-Olympian was, by her own admission, a bit of a tearaway teenager, frequently getting into trouble and lacking a real focus in her life.
But stepping into a boxing gym for the first time changed all that, so much so that she has the notable honour of becoming the first female boxer from the UK Armed Forces to qualify for an Olympic Games.
Now the 26-year-old, who serves as a gunner for the British Army's Royal Artillery, is determined to take her chance on the big stage at Tokyo 2020.
Seven reach finals as Artingstall books Olympics spot
Artingstall hopes for Worlds bid after silver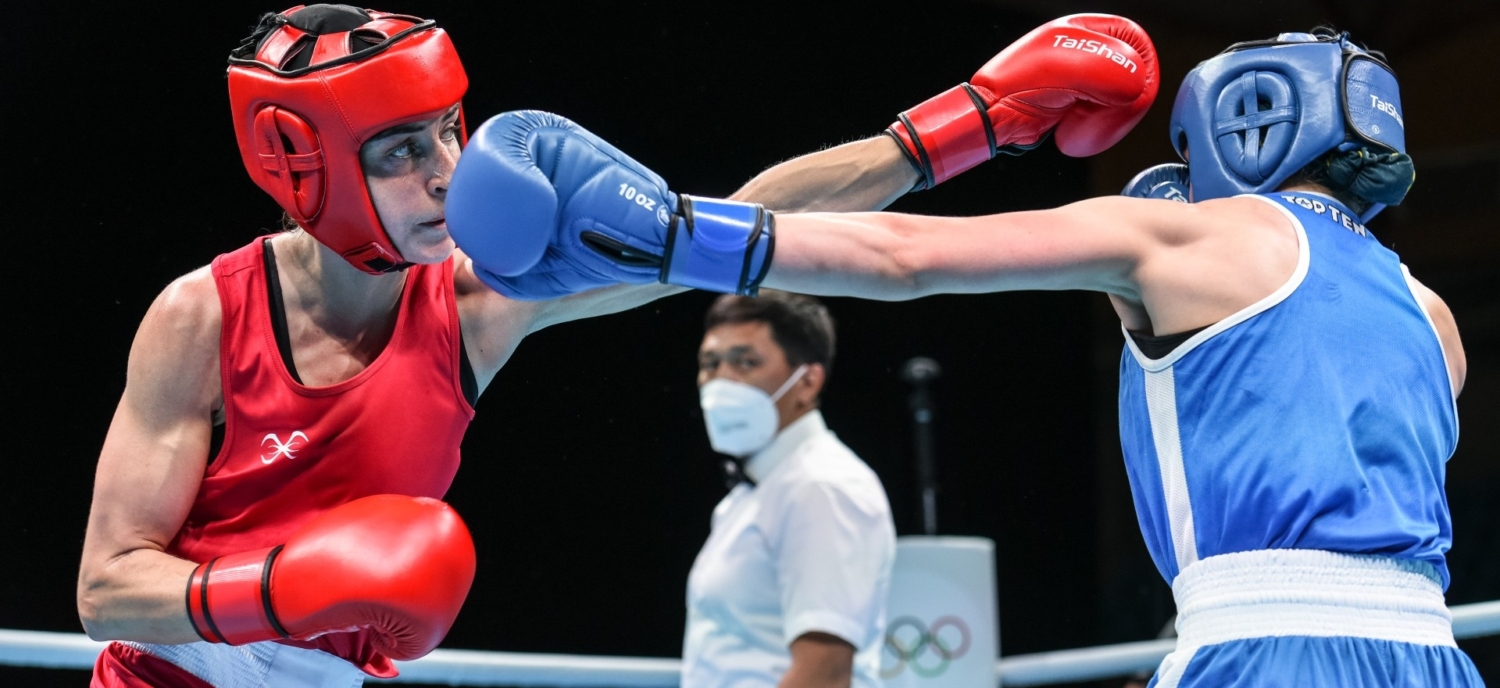 "Boxing has definitely changed and transformed my life," admits Artingstall. "Before it, when I was at school, I was a bit of a class clown and was kicked out of my mainstream schools because I kept getting into trouble.
"But then when I went to a non-mainstream school and we went down to our local boxing club as part of our PE lessons, that's when things began to change.
"The coaches at the club (Macclesfield Boys ABC) saw potential in me and wanted me to come back and take part in clubs sessions, so I went down on Mondays, Wednesdays and Fridays and they told me to stick at it, which I did.
"Kevin Bradbury was my first coach and he was like a father figure to me – I was a little tearaway and he put me on the right path, so I'll always be grateful to him.
"I enjoyed going to sessions, which he made enjoyable, and he has believed in me and stuck by me from day one.
"I won my first nine bouts, so when I lost my 10th I wasn't used to it and I was heartbroken for a while! My first bout was in Wales and I was so nervous in the changing rooms and the coaches had to tell me to pull myself together.
"I think it was when I won the Elite title that I thought that this could really be something, rather than me taking bouts here and there around the country… that I was capable of competing at the top level.
"Then when I got onto the GB Programme, I thought they must see something in me, which has led me to where I am now. To get to the Olympics is special and I just can't wait to get started."
Of all GB's 11 boxers to qualify for Tokyo, featherweight (Under 57kg) Artingstall's was arguably the most nerve-wracking.
While her team-mates clinch their places by virtue of winning their quarter-final bouts, Artingstall lost to Bulgarian number three seed Stanimira Petrova and had to go through to a do or die box-off against Sweden's Stephanie Thour.
Thankfully, it was an opportunity she seized with a composed performance that saw her clinch a unanimous victory and a much-craved place as an Olympian.
Artingstall says: "I don't know why, but with the first chance I had to qualify I felt in a worse place than when there was more pressure on in the box-off.
"Somehow, when I knew I had to do it, that this was it, I was more chilled and calm.
"For the first one, I don't think it helped that the day before, my rest day, five of the team qualified and maybe the situation overwhelmed me, and I perhaps wasn't as well mentally prepared as I could have been.
"In the box off, I felt far more relaxed and ready for it. I don't really understand why, but having come through that whole experience, I think I will be stronger for it.
"It's made me realise that you have to be 100 per cent ready for it mentally, as well as physically."
While it was at her hometown club that Artingstall first cut her teeth, it was in the Army Boxing Team that she honed her skills further.
It led to an England Boxing National Elite Championships win in 2018 when she beat Crystal Barker of Hook and Jab on Finals Day at York Hall, London, with GB recognition following soon after.
In the autumn of 2019, her stock rose even further as she claimed a silver medal at the European Championships in Madrid and, a month later, a bronze at the World Championships in Russia.
Given the key role the forces has played in her meteoric rise, Artingstall is understandably proud of her army career and is quick to pay tribute to the way it has fast-tracked her development.
"The army have been absolutely brilliant about letting me go away for training, but I'm still part of it and can go back to it after the boxing," she explains.
"As a gunner, my job is to look after and clean the equipment, check it's all working properly, and then load the gun shelves when we are out on exercises. I have been out on a few exercises, but not been on a tour.
"From a boxing point of view, Alan Brown has coached me as the gunner boxing coach and then Jason Brown, James Allen and Ben Stewart when I've been in the army gold squad, so I'm extremely thankful to them and all they have done.
"They have made it so I don't have to worry about anything and can focus on my training and the Olympics, so hopefully I can make them proud."
The GB squad going to Tokyo has four women among its 11 athletes, the biggest female representation since women's Olympic boxing was established at London 2012.
Artingstall is delighted to be a part of that number and hopes that it will help inspire the next generation of women and girls to put on boxing gloves.
She says: "I hope I'm a positive role model… for people to aspire to be part of the GB set-up, travel the world and compete, as I am doing.
"I would like to think that there are lots of young girls who will be watching us thinking 'if they can do it, why can't we?'
"Women's boxing, amateur and pros, is growing all the time, which is excellent to see, with more female boxing on TV now.
"I don't think people realise necessarily how big it has already become, which I get to see when I travel to different countries and see the popularity everywhere, but it's exciting to see where things will be in a few more years."
Having worked so hard to reach Tokyo, Artingstall is now determined to soak up the whole experience, not just the boxing tournament itself.
But that's not to say that she is not focused on the job in hand – far from it.
"It's going to be fantastic to see Japan, it's culture and people and also be part of the opening and closing ceremonies… all that the Olympics is about," says Artingstall.
"But I'm also going there to get a place on the podium. That is the aim. I'm going to go into every bout like it's a final. I don't want to come home thinking I could have done more, so I will give it everything."