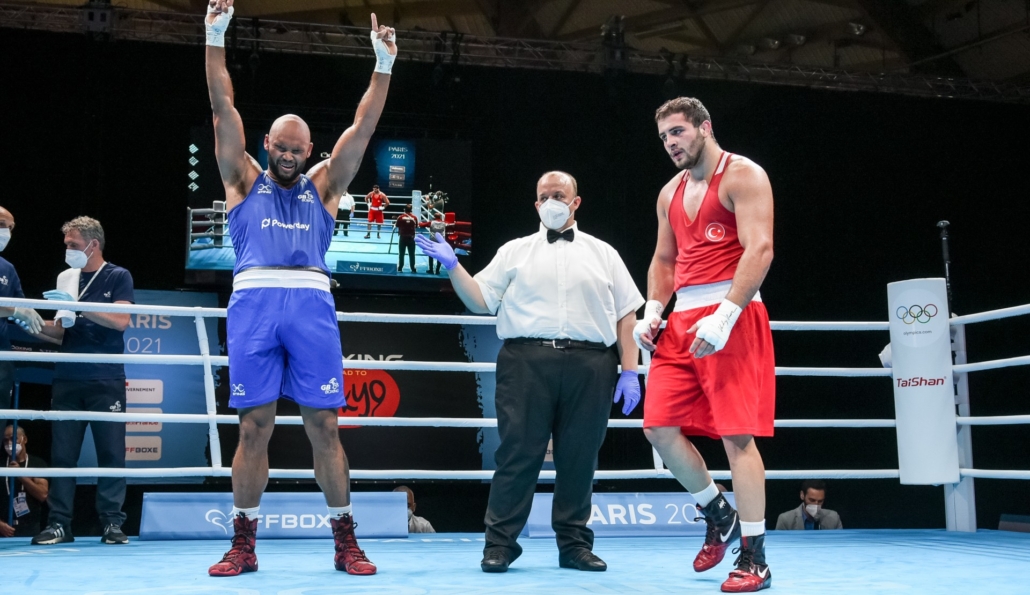 Olympic Qualifiers, day three: Clarkes and McCormack book Tokyo spots
June 6, 2021 | by Matt Halfpenny
Three more Great Britain boxers have clinched their places at the Tokyo Olympics after another successful day at the European Olympic Qualifiers in Paris.
Pat McCormack won his quarter-final in the afternoon session before the two Clarkes – Cheavon and Frazer – followed suit in the evening session to make it 10 Great Britain boxers guaranteed a berth at this summer's delayed Games.
Tyne, Tees and Wear's McCormack, a product of the Birtley club, put in another high-class performance against Georgia's Eskerkhan Madiev in the welterweight (Under 69kg) division.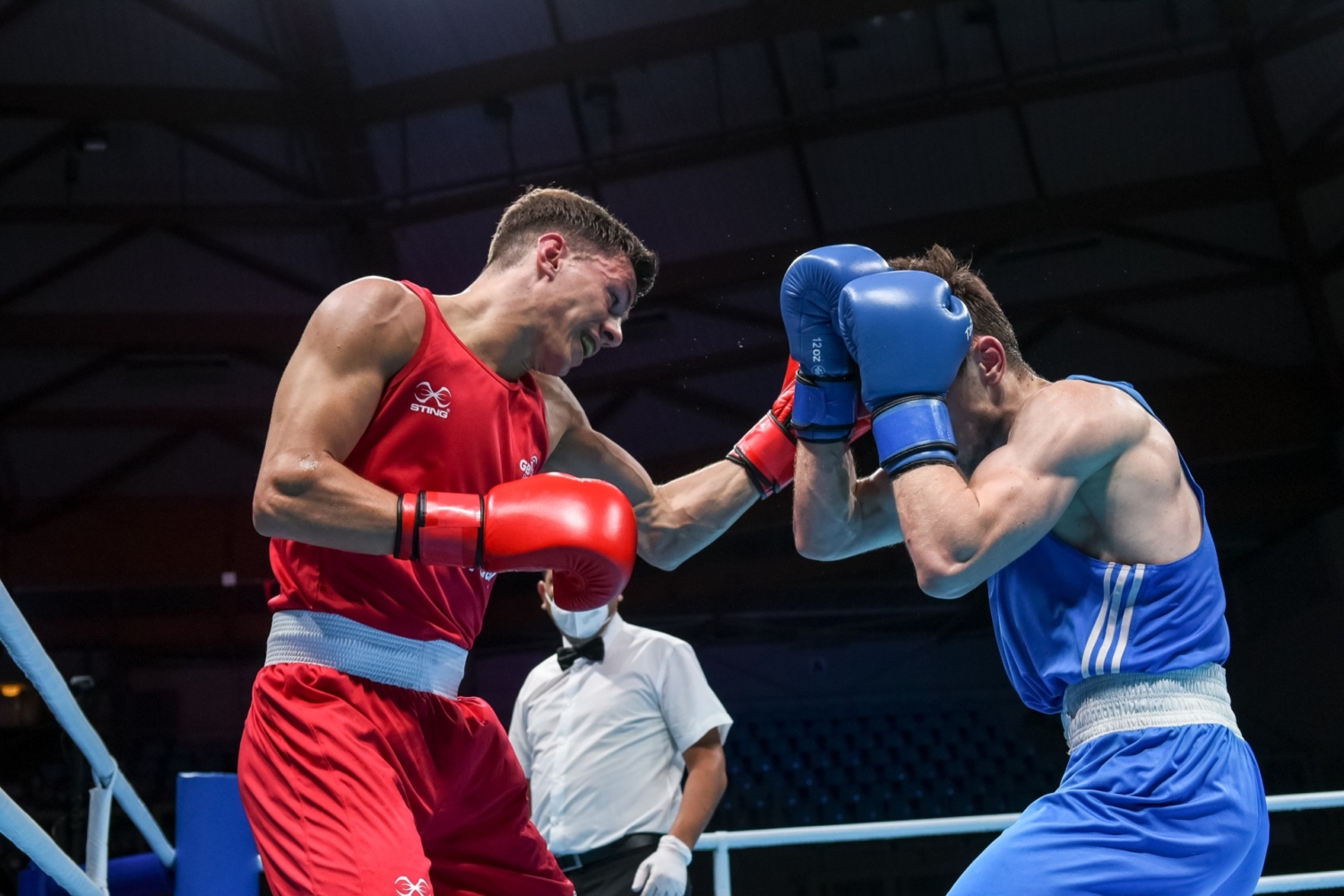 The number one seed (pictured above, left) showed his versatility by boxing off both back and front foot on his way to a unanimous success that sees him join twin brother Luke in qualifying for Tokyo.
The bout of Cheavon Clarke, of Gravesham, at heavyweight (Under 91kg) was a much closer affair against Greece's Vagkan Nanitzanian, with box boxers enjoying their moments.
But it was the Brit (pictured below, left), who finished strongly, who prevailed on a 3-2 spilt,  and celebrated with a salute to those supporters in the crowd – severely diminished in number because of Covid-19 – who were able to attend.
The last bout of the day in Ring B saw Frazer Clarke (pictured top) realise a lifetime ambition of becoming an Olympian after more than a decade of involvement with the GB squad.
The super-heavyweight (Over 91kg) 29-year-old from Burton faced a much younger man in Turkey's Berat Acar and took some good shots from his opponent.
But he landed plenty of quality shots of his own and it was no surprise when he earned a unanimous decision from the ringside judges.
Clarke, not surprisingly, cut an emotional figure at the announcement, throwing his hands in the air before sinking to his knees as the scale of his achievement sunk in.
He said: "I've never done things the easy way… and today the nerves really got to me… but I am now an Olympian, I don't know what else to say."
GB's first bout of the day had seen the Army's Karriss Artingstall bid for her place on the plane to Tokyo as she took on number three seed Stanimira Petrova in the featherweight (Under 57kg) class.
She went down to a 4-1 spilt decision defeat to the Bulgarian number three seed, but it is not the end of the road for the Englishwoman, who can still qualify by beating Stephanie Thour of Sweden in a box-off tomorrow.
Two other GB boxers who had already booked their Olympic spots were also in action.
Peter McGrail, who clinched his spot in London before the European Qualifiers were suspended after day three, was in action against Hungary's Roland Galos.
A high-quality and very close bout between the two featherweight (Under 57kg) boxers ensued that had the purists purring.
But it was the Eastern European boxer who was given the nod on a 3-2 split, which meant the Everton Red Triangle boxer will take no further part in the tournament and can boost his seeding no further.
However, there was better news for Luke McCormack, who celebrated brother Pat's success by booking his tournament semi-final spot with a unanimous points victory over Enrico Lacruz of the Netherlands.
Tomorrow's starts at 1pm and can be viewed live on BBC Sport by clicking here  and the Olympic Channel by clicking here.