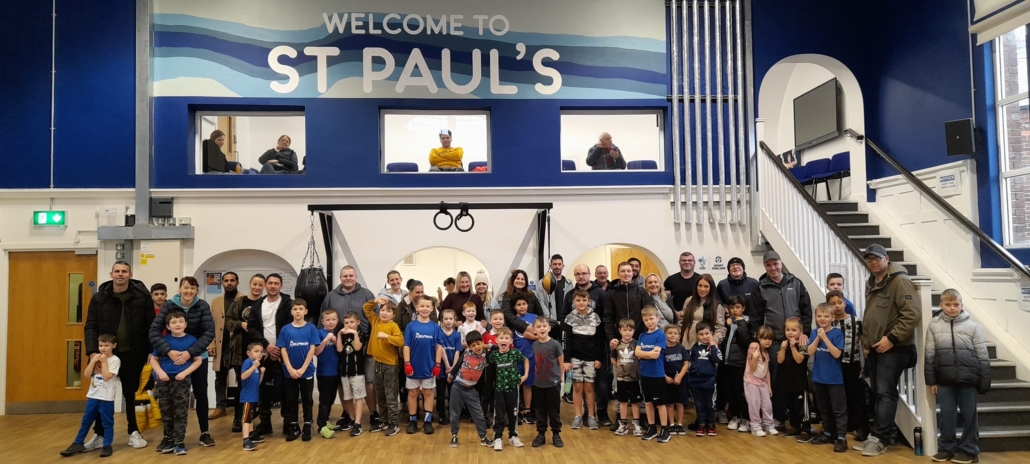 Club case study: St Paul's Boxing Academy has been changing lives since 1948
November 11, 2022 | by Matt Halfpenny
St Paul's Boxing Academy, based in Hull, has thrived on changing the lives of people in and out of boxing over many years.
Founded in 1948, the gym has produced many regional and national champions, including Olympic Gold Medallist Luke Campbell (pictured below), who started his successful career at the club.
As well as producing champions in the boxing ring, the club also strives to create champions in life, giving the members a place to be happy, healthy and develop together as part of a team.
Refurbishment works
In 2019, the club became a Charitable Incorporated Organisation (CIO) and was transformed through a complete refurbishment of the gym, which was overdue due to a leaking roof, crumbling false ceiling and outdated and inadequate changing facilities.
The refurbishment has helped the members' training, as the conditions are much better with a secure roof, secure floor and much-improved toilet and shower areas, not to mention the fully-refurbished gym from the help of St Pauls partnerships with various companies.
The work has helped see an increase in membership numbers, with over 500 people now training at the gym.
Offering support
In one of the most deprived areas of England, the club is there to support families, children and adults who may be struggling.
The academy aims to improve self-confidence, self-esteem, team work and respect for others whilst improving individual health, wellbeing and fitness.
The club has changed many lives, from getting young people out from off the streets and into the boxing gym to giving them something to focus on and strive to become better mentally and physically.
Recreational classes as well as competition
The club has had lots of success with the competitive side of the boxing club, creating various champions over the years, however it also runs many recreational boxing classes.
They have sessions for four to eight-year-olds, teaching them the very basics of boxing whilst having lots of fun, and members all the way to 60 and over.
Mixed Strength and Conditioning sessions are run twice a week, for people who do not want to box competitively, as well as the very popular female-only fitness sessions (pictured above), which also run twice a week.
The club is accepting of everybody and run sessions to meet all needs with a variety of different membership options available. It gives a wide range of people the opportunity to get fit using some box fit themes.
'I love the sense of community'
Charlie Spencer, a female boxer at the club, said: "I love the the sense of community that St Pauls Boxing Academy brings and the fact that everyone is supporting one another whether that's in training or when competing.
"It makes makes me more dedicated in improving myself as I see others around me pushing themselves to do the same."
Male Youth boxer Shane Smith added: "I have been at St Paul's for 10 years, and it is like my family. Everyone helps and supports each other all the time.
"The club and coaches have helped to build my confidence over the years and are helping me to achieve my goals of eventually wanting to turn professional after my amateur career."
And Madi Gittins (pictured above), who is now the England Boxing Yorkshire apprentice, having represented England at the Youth European Championships 2022 while with St Paul's said: "I have been at the club for over 10 years it has really helped build my confidence.
"It has given me something to focus on to become better, as that's what I see everyone else around me doing. Everyone pushes each other in the gym which also is really helpful."
Find out more about St Paul's
For more on the club, go to its website, Twitter, Facebook or Instagram pages.