Club Case Study: Trident Boxing is awash with diverse classes and transformed members
December 15, 2022 | by Chris Boyd
One of England Boxing's newly affiliated clubs Trident Boxing, in Morley, Leeds, is making a huge splash in its community due to its diverse range of classes and the ability to instil confidence in all.
Trident was affiliated as recently as July 2022 and was founded by Chris Walsh, director of the club.
"I love boxing and at first I just used it to help with my fitness as I was focusing more on rugby. But my love for the sport grew and grew."
That love has grown into developing a club which has exploded in popularity in the local area, and in turn, has allowed Walsh and the staff at Trident to make a difference in children's lives.
"I wanted to help the kids in Leeds and make sure they are trained properly, including appropriate weight control and to only be put in for fights if they are ready. I also realise that not everybody wants to be a competitive boxer and I want to provide an opportunity for every individual to get something out of the sport.
"I was also really keen to set up the club so that I could take boxing into schools. Some kids are not designed to be sat at a desk for eight hours a day, so I wanted to provide them with something to be successful at and somewhere to go after school.
"We are currently working with four schools and engaging with around 80 children and teenagers in the week, both males and females. We hope to keep expanding on this".
The headteacher at one of those schools has emphasised the impact of that relationship.
"We are now in our third year of working with the staff at Trident Gym and this year we ringfenced part of our budget so that we could hit the ground running from the outset rather than experience a delay. The impact year after year has been significant, as Trident provides an outstanding team of staff who have high expectations and foster excellent relationships with the students.
"We serve some of the most disengaged students within Leeds, who are referred to alternative provisions; the engagement with the boxing and personal training opportunities provided by Trident staff is just superb. There is a mutual level of respect and attendance on days with boxing is far better than on any other day in the week.
"We have also established a girl's group which covers all years and sees students travelling to the gym each week as part of their curriculum. This has allowed the girls to flourish and build their confidence outside of our school setting".
The club is currently being supported by sponsors R.H Binks & Sons Butchers and Muscle King, while it has also received funding support from the Mayor's Fund and West Yorkshire Police Crime Reduction unit.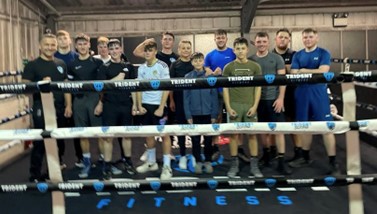 That support allowed Trident Boxing to diversify its timetable and deliver a wide range of classes. One of those classes, the mum's and babies' class, became a huge hit in the community and was sold out every week. Once the funding ended the class was so popular that they continued to deliver it as part of their normal timetable.
It currently runs free of charge with Walsh appreciating the difficulties of early parenthood.
"New mums struggle financially as they are on maternity leave, so we are currently offering the sessions for free.
"Times are hard when women have just had a baby and they struggle to find time to exercise. This class allows them to bring their babies with them and therefore they can exercise, and socialise with other mums whilst their babies can play and interact with other babies."
One of the mums said, "I tried the class taken today by Katie and loved every minute of it. Katie was great with me and my baby, especially when she decided she wanted to be heard in class.
"I would definitely recommend this to any mummy's wanting to get back into shape, it is amazing".
Another mum, who had attended the class, also sang the praises of Trident's Katie Tuffin.
"It was honestly amazing and Katie, who led the circuits session, tailored everything to all abilities. There's also a space for babies to play and for us all to have a coffee after. My 9-month-old even decided that was the time to start crawling".
Trident Boxing continues to show that they're committed to helping all after recently starting a boxing class for people who suffer from Parkinson's Disease. The class has been a two-way street in terms of learning, according to Walsh.
"The Parkinson's session has been great. I have learnt so much already and we are wanting to develop it and get more and more members involved".
With the club enjoying ongoing success, Trident continues to make big plans for the future.
The club has recently received funding to start delivering a weekly boxing class for individuals living with ADHD and Autism, whilst they are also looking to increase their number of classes by adding around 10 more to next year's timetable, including two more boxercise classes and a women's self-defence class.
One gym member reiterated the welcoming environment at the club.
"I cannot thank Trident enough. We are a middle-aged couple and feared walking into a gym but the first time we came we were made to feel relaxed and at ease. It was a joyful moment and I'm glad we attended together. Nobody batted an eyelid at us in the gym and when I walked out, I felt like a totally different person."
It's a feeling shared by many at Trident, a club which helps everyone regardless of their circumstances.