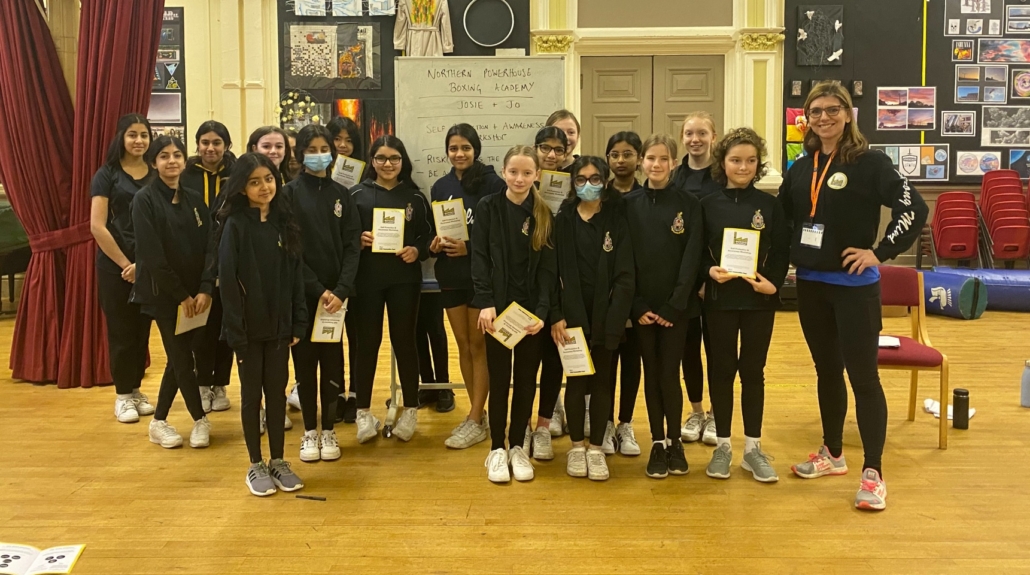 Case study: Northern Powerhouse's community projects creating a safe space for all
February 22, 2022 | by Matt Halfpenny
Northern Powerhouse Boxing Academy are the UK's first women-led boxing club. Their priority is to provide women and girls with opportunities to be involved in boxing in a safe and supportive environment, free from gender stereotyping and expectations.
Over the last year, they have used boxing to engage in projects outside of the typical scope of a club environment. With funding from West Yorkshire Safer Communities, they are delivering self-protection workshops to young women and girls in the community. This programme was specifically designed and tailored by the club.
By the end of May, the club, situated between Todmorden and Hebden Bridge, will have delivered 20 workshops to over 400 people for free – including in their club, in schools and to the local Girl Guides.
Each three-hour workshop looks at risk awareness and teaches practical self-protection techniques. One of the attendees, 12-year-old Iris, said after attending the workshop at Crossley Heath Grammar School: "I wouldn't really have previously thought about the situations described in the workshop – around trusting people, asking for help and how easily people can invade your personal space.
"The tips on how to look more confident and make yourself less vulnerable were really great, it's definitely made me think differently."
Club Support Officer Alex Vass praised Northern Powerhouse, saying: "What the club have managed to develop and create is really empowering to young women and girls. It provides them with the knowledge, tools, and confidence to feel safe."
After this success, they are planning to trial the course to young men later in the year.
Coming out of lockdown, the club was approached by members of the local trans community and started to better understand the issues surrounding accessibility to sport.
With funding received from Sport England, Northern Powerhouse now run a weekly trans/non-binary session.
Some members travel over an hour to attend a session where non-binary and trans people feel welcome to take part in exercise.
"I currently make a four-hour round trip to come to these trans accessible boxing sessions… that alone should be a testament to how important and needed community, sports and wellbeing activities are for this demographic," said one attendee.
"Coming to these boxing sessions has given me more confidence accessing group exercise. Many full contact sports gyms are incredibly inaccessible and potentially unsafe to go to as a transgender person.
"Most social activities for LGBTQIA+ people are centred around alcohol, as someone in recovery from alcohol and substance abuse. Being part of a community of like-minded people, who engage in a physical, social activity, is incredibly important for my mental wellbeing."
In addition to all the regular boxing and fitness sessions, the club are also launching a series of Wellbeing Workshops aimed at women focused on health-related matters that are important to their members, believing that women are their own health heroines and the ultimate advocates for their health.
Part-funded by Sport England's This Girl Can campaign, the workshops aim to support women to stay active by addressing common issues which may reduce participation or stop women from exercising.
"Although we only opened in 2018, so much has changed for the club over the course of the pandemic," says the club's Josie McNamara. "We've had to be really flexible and cater to changing needs in order to keep our doors open."
"Through understanding what our members and the local community need, we've come up with lots of new initiatives which we hope will help keep people healthier, both mentally and physically.
"With so much extra pressure being put on the NHS, we've seen people want to take more responsibility for their own health and we hope that our young club will not only produce some great boxers but also have a positive impact on the wider local community."
If you would like to find out more about the club, or donate to their future projects, you can find them at www.northernpowerhouseboxing.org.uk or on social media platforms @NorthernPowerhouseBoxing