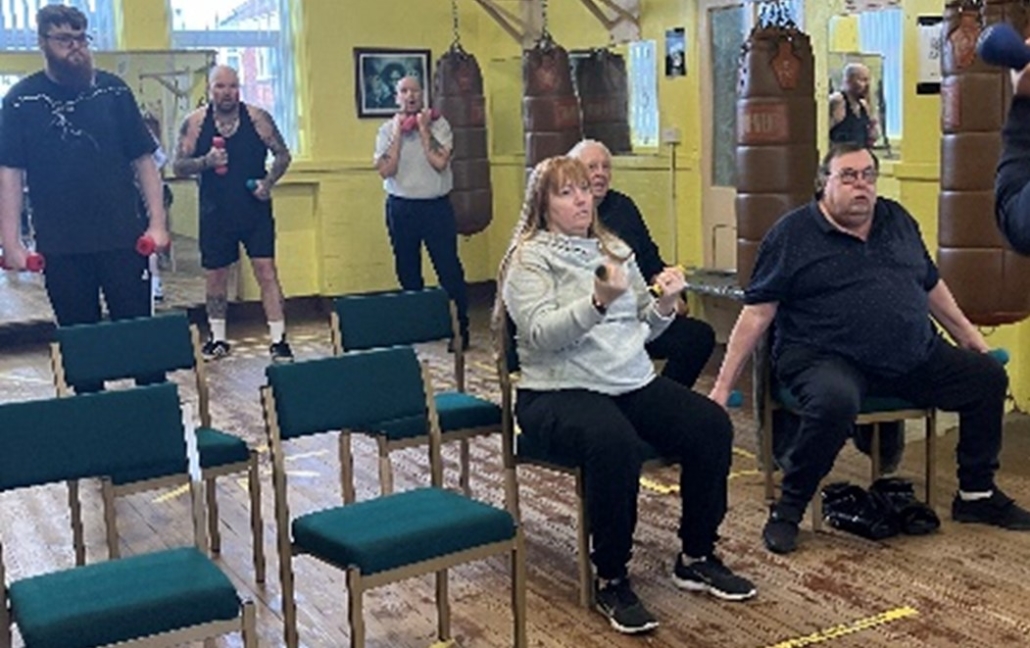 Club case study: Empire School of Boxing
January 31, 2023 | by Matt Halfpenny
Empire School of Boxing is based in Blyth and has enjoyed great success on a competitive level, with most recently Savannah Stubley winning an England Boxing National Amateur Championships title and a Commonwealth Bronze Medal at Birmingham 2022.
But while the Tyne, Tees and Wear club is excelling in the ring, members are also doing some amazing things in their local community too.
A prime example is the series of free-of-charge community boxing sessions in partnerships they are running in tandem with the company Box Well, which enable all walks of life to join in.
This has been made possible with support from Blyth County Council who have been able to fund each session, so the participants don't have to.
The clubs runs community sessions throughout the week for people to come along and join in, with some of the members taking part living with mental health issues, disability, learning disabilities and addictions.
Empire has set up this session to provide attendees with a place where they belong and where they hopefully feel like part of the family.
Another aim is to give people the opportunity to change their lives for the better, whether that is with weight loss or better mental health and to even improve their confidence
One participant in the community session who has autism, Jay, has told us that he really enjoys coming to the classes as they have improved his confidence immensely and he has also enjoyed creating new friends ever week.
Empire also offers a mobility session, where participants that take part in the session include stroke and cancer patients, people that struggle with anxiety, depression and some people with MS.
The participants have spoken about their struggles and said that coming to the boxing classes in the morning sets their day up to go much better, as it gives them focus.
Within this class, David from Box Well and club owner and coach Les Welsh set out chairs and light weights for the members to use.
They can sit or stand to do the exercises, which is completely down to each individuals own energy level and how comfortable they are.
Kenny, who has suffered with a brain tumour and struggled to walk, communicate, stand, and write, alongside his diabetes is one participant who has benefited from attending.
He has been able to build up the strength to be able to walk, talk and now boxes with the help of those running the sessions. In addition, he has now been taken off the diabetes list.
Another to attend, George, weighed 27 stones when he first started the mobility classes, but has since lose an amazing 12 stones, and now weighs 14 stones 3lb.
George also had kidney and bladder cancer when he first arrived and was told that he would not be able to have the surgery due to how weak he become.
But with the help off Les and David, he built up his strength and was able to qualify for his surgery, is now cancer free and is still enjoying every minute off his boxing classes.
Many members say that if it wasn't for Empire, there is a good chance that they would not be here today. They know that if they ever need help, they have a home at the gym, any time of the day or night.
Les regularly receives messages and phone calls from participants that struggle with their behaviour asking if they are able to come to the gym to get out their frustration, believing they are otherwise going to cause anti-social behaviour or have anxiety problems. It's why the club operates on an open-door policy best for all participants.
"The work that Empire and Box Well are doing in partnership is fantastic," said England Boxing's Club Support Officer for Tyne, Tees and Wear, Ross Wilkinson. "They have really provided for the community of Blyth and when being in the gym you can feel the togetherness they have as a team."
Find out more about Empire School of Boxing via its Facebook page by clicking here or its Instagram page by clicking here.