Youth Worlds 2022: day seven round-up
November 21, 2022 | by Chris Boyd
Three Team England boxers guaranteed themselves a Youth World Championships 2022 medal on an up and and down day for the fivers boxers in action on day seven in La Nucia, Spain.
Jayne Bardauskas was the first Three Lions boxer in quarter-finals action, as she came up against a difficult opponent in Kamonchanok Chupradit of Thailand.
The Almond's boxer was on the front foot from the first bell, as she moved onto her under 54kg opponent and landed a number of combinations.
As expected, Chupradit imposed herself onto the bout also, as the two boxers traded massive blows with neither yielding to the other.
That theme continued throughout the second and third rounds, as both Bardauskas and Chupradit took turns working the inside and landing upright shots.
Bardauskas battled throughout and was equal to her Thai opponent, however she ultimately bowed out of the competition, suffering a 3-2 split decision defeat, as the scores read 29-28, 29-28, 29-28, 27-30, 28-29.
Levi Barnes was on next for Team England, this time in Ring A, as he came up against Cuban under 67kg boxer Jorge Forcades with the hope of securing a Youth World Championships medal.
The first round saw both Barnes and Forcades come out of their corners tentatively, constantly jostling for position and looking for angles. Barnes was the more hard-working of the two, throwing the jab more often and connecting with backhands and this was reflected in the judge's score.
Barnes' unique style lured in the Cuban boxer in the second round and the Jennings Gym boxers took full advantage as he worked the body and got the nod from the judges.
Despite Forcades needing a huge round to save himself from defeat, it wasn't until the final minute that he drew Barnes into multiple exchanges.
Barnes was up for the challenge, though, slipping a number of shots and landing his own large rights as he marched on to an impressive unanimous decision, securing himself at least a bronze medal from this Championships.

Amber Moss-Birch soon followed as the Three Lions' second guaranteed medal winner as she overwhelmed Hungary's Nora Komjathi in their Under 81kg contest.
The Golden Ring boxer found her range from the very start, immediately landing telling blows with both hands that increased with ferocity as the contest continued, culminating in a standing count in the final seconds of the opening round, meaning a 10-8 round across the board.
Moss-Birch took control again at the start of the second round and never let go and it looked the referee might be forced to intervene at any moment before a sharp right-left combo that snapped the head back of her opponent forced a stoppage midway through.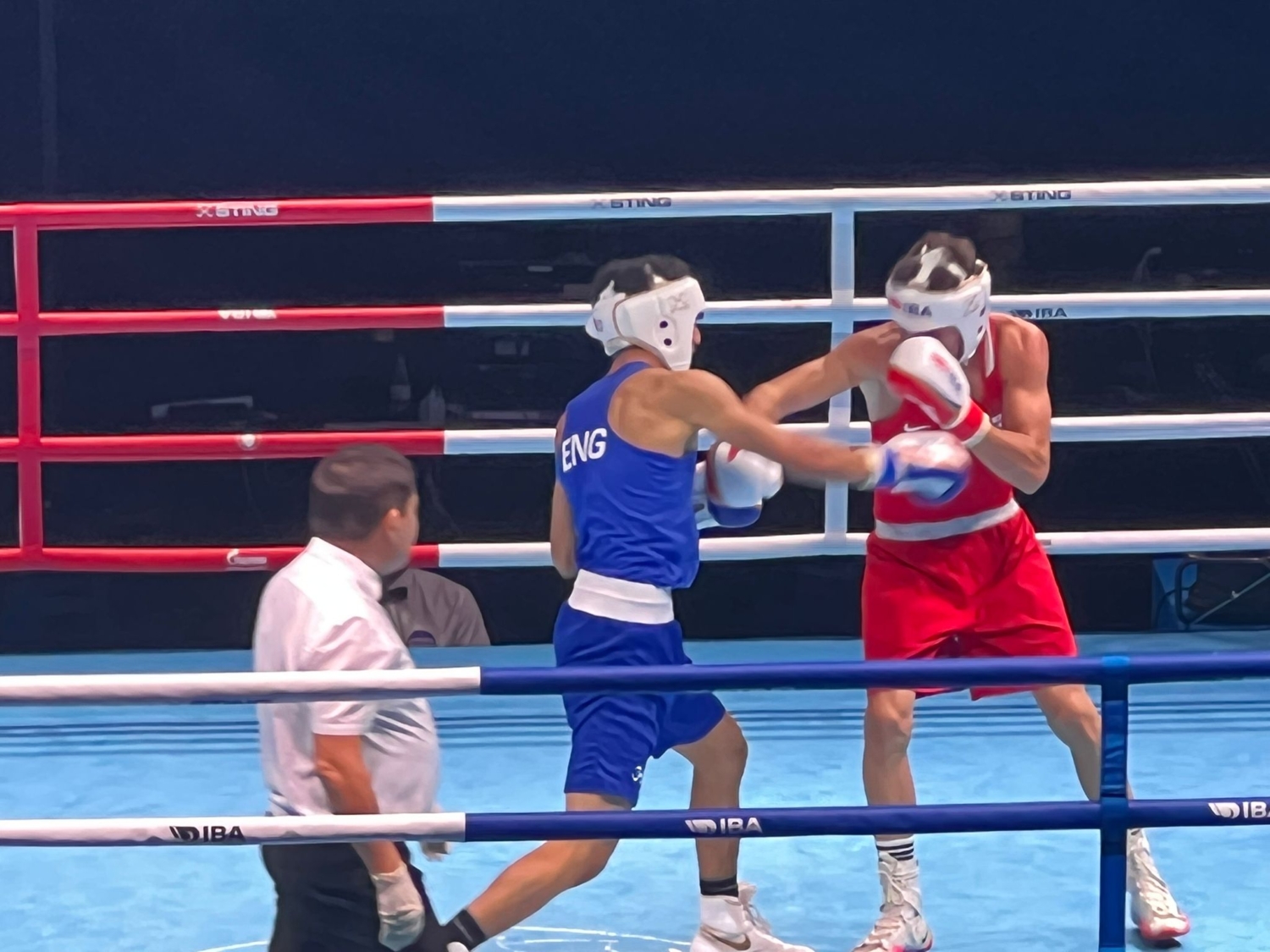 But it was not to be for Osama Mohamed as be bid to follow up his European bronze medal with another here as he fell at the last eight stage, beaten by Demur Kajaia of Georgia.
In a technical bout between orthodox and southpaw, it was the latter who came out on top as he frequently just beat the England boxer to the punch in the first round to take it unanimously.
Mohamed appeared to have more success in the second round, particularly with his jab, but the Georgian manage to land enough telling shots to again win it on all five judges' scorecards.
Needing a huge round, Lion ABC boxer Mohamed had to throw caution to the wind in the last, leaving him vulnerable to the counter, but he gave as good as he got, pulling back a round on two of the judges scorecards at least.
He bowed out knowing that it took a good performance to beat him.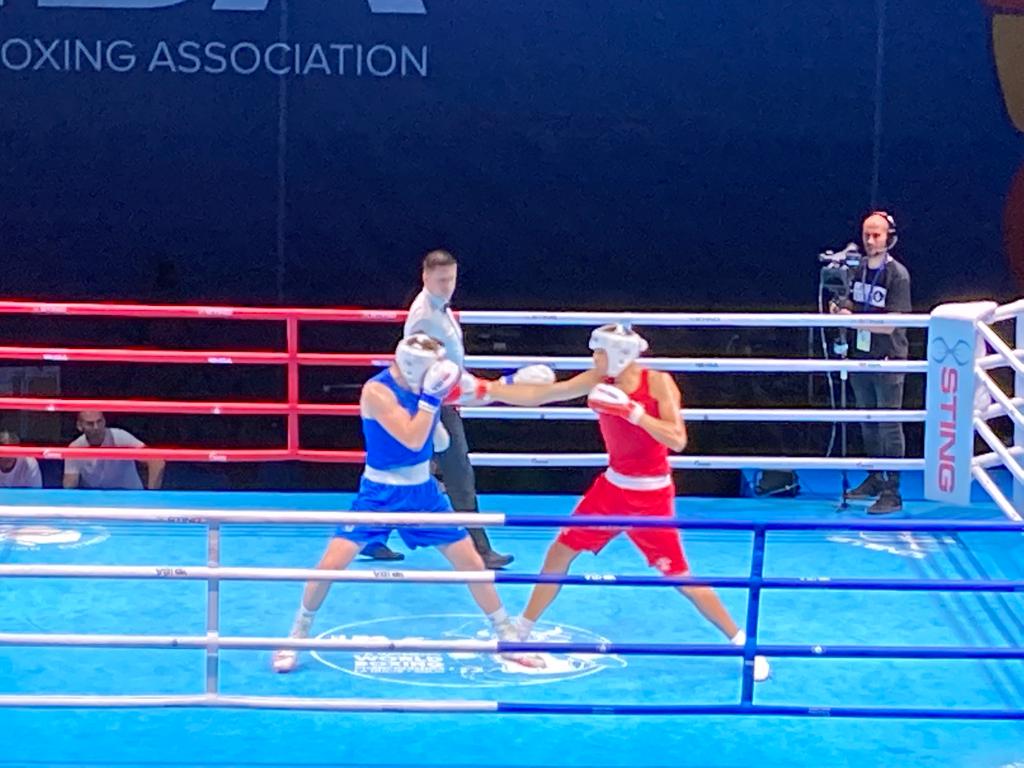 England's final boxer of the day was Damar Thomas, who had won his opening bout of the championship against India on a 3-2 split.
This time the Under 92kg boxer faced Scotland's Kian Govan (Scotland) and he enjoyed an excellent start, using his jab well in the opening round to claim it unanimously.
The Powerday Hooks southpaw really stepped it up in the second round, connecting with some slick one-twos and flurries that caught his opponent unawares.
It enabled him to extend his lead across the board, with three of the judges scoring it 10-8 in his favour.
Thomas knew that provided he did nothing silly in the final round then the bout would be his and he largely boxed at distance and stayed out of trouble to prevail 30-27, 30-27, 30-26, 30-27, 30-25.
England have five more boxers looking to make it through to the medal stages tomorrow.
Day eight England bouts
Session 1 (2pm start, 1pm UK time)
Ring A, bout 1: Under 50kg – Sara Cirkovic (Serbia) v Ebony Jones.
Ring A, bout 4: Under 52kg – Lauren Mackie v Dragana Jovanovic (Serbia).
Ring A, bout 12: Over 92kg – Enriko Itauma v Younes Ouchaou (Germany).
Ring B, bout 5: Under 57kg – Rebecca Leech (Ireland) v Emily Whitworth.
Ring B, bout 8: Under 60kg – Ivan Ahapov (Ukraine) v Nelson Birchall.