Tribute: boxer and international referee Ken Dry
January 31, 2022 | by Matt Halfpenny
England Boxing is saddened to learn of the death of boxer and international referee, Ken Dry, at the age of 87.
Dry was one of the finest featherweight post-war boxers to grace the amateur scene, with just 14 defeats in 218 bouts, and after a glittering career in the ring, he went on to become a renowned international referee.
It is ironic that Dry came to the sport almost by accident.  As a bored 11-year-old from Hessle Road, and a pupil at Westbourne Street Boys' School, he joined Hull Boys' Club in 1945.
He was in good company, joining at the same time as Johnnie Whitely who became an international rugby league player, and Tommy Sutton who went onto play for Hull FC.
Ken joined the junior boxing team and remembers how his mother used to complain about his vest being covered in blood – until he reassured her that it wasn't his!
He soon showed promise in the ring, winning the local schoolboy championships in 1948 and then a string of NABC titles.
In 1950, Ken went down to London's Wembley Arena to fight in the Junior Amateur Boxing Association's Championship of Great Britain.
The bout which he won was fought in front of thousands of spectators, one of the early sporting events to be broadcast live on BBC television.
Not many people had televisions then, but when Ken, who had recently started working for Kingston-upon-Hull Telephone Corporation, went into work the next day, his boss had watched it, and commented on his 'smashing performance'.
Although he never won a Senior ABA Championship, he reached the final twice, in 1956 and 1957.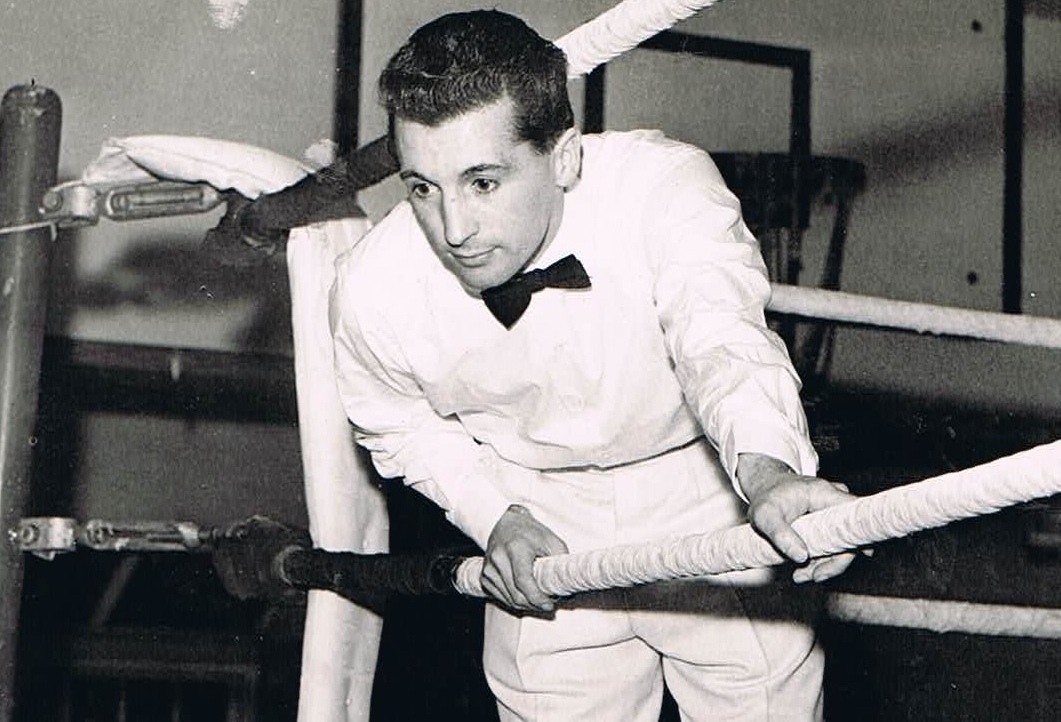 Still in his early 20s, Ken turned to refereeing and quickly earned a reputation for being 'tough but fair'.  He was first asked to join the European Panel of Referees, and then, in 1977, he joined the World Panel, which consisted of just 12 referees.
He travelled the world, refereeing throughout Europe and beyond.  In 1990 he went to New Zealand for the Commonwealth Games, and the following year, he went to Peru for the World Championships.
One of the highlights of Ken's career was when he met heavyweight boxer, Muhammad Ali, who allegedly said to him, 'By God, you're a strict referee, you are!  I don't think we'll have you!'
Ken's motto in life was always, 'Play the Game', words which were painted on a wall at Hull Boys' Club which opened in 1902, and eventually closed its doors in 2015.
There is no doubt that during that time, it would have helped thousands of lads and men to do just that.
Ken died peacefully at 11.45 pm on Friday 14th January.  He is survived by his wife, Lesley, and two sons, Jeremy and Timothy, and five grandsons.
Our thanks go to Jeremy Dry for providing the tribute.