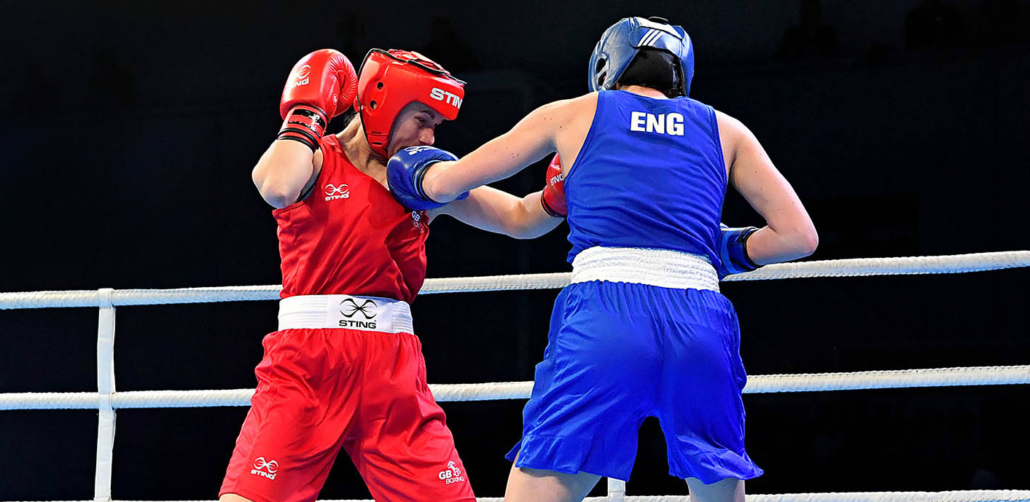 Pearce stars for England at GB Champs
December 5, 2019 | by Matt Halfpenny
Jade Pearce produced the stand-out performance of the GB Championships by an England boxer to record an upset victory against GB's Raven Chapman.
The North East prospect – a beaten semi-finalist at the England Boxing National Amateur Championships in April where she lost to eventual winner Amy Andrew – clearly had a point to prove at the English Institute of Sport in Sheffield.
With the bit between her teeth, the Wellington ABC boxer never let her Arena opponent settle in their Female Under 57kg bout and was delighted to claim a 3-2 split win in an entertaining contest where both boxers had their moments.
"Once I got through the first round into the second I felt like the bout start to go to plan. It's often the case that the first round is a bit of a slow one for me where I'm looking to find my feet," said the 23-year-old.
"But one of my best qualities is that I'm able to keep the intensity going throughout my bouts – and I managed to do that.
"This is the first time that our paths have crossed and I was looking forward to it. I'm really pleased to have won because it will hopefully put me in the minds of the GB selectors."
England's other winner on the night was Joe Tyers, who won an all-Three Lions match-up against KBW's Subhaan Ahmed at 61kg in the first male bout of the evening.
It was the North East boxer who prevailed on all five judges scorecards, winning with a degree of comfort after forging ahead in the early part of his contest and never relinquishing that advantage, despite a late comeback from the Yorkshireman in the final round.
Darlington's Tyers said: "I was very happy with the way that I boxed and I felt strong by the end of it and it means a lot to get the win on a big stage like this.
"I was quite confident because I had beaten him twice before, but they were both hard bouts, so I knew it would not be easy.
"I felt I boxed well and I enjoyed performing in front of the cameras, which obviously helps to get your name out there."
The evening had begun with a Female 51kg clash between GB's Chloe Watson, the Birkenhead Venture boxer, and Wales' Helen Jones.
It was the former who proved to be the busier boxing, rocking her opponent on a couple of occasions too, to pick up a 4-1 split verdict.
It was mission accomplished for Hannah Robinson in her quest for revenge as she beat England's Kirsty Hill in a Female 60kg contest.
The Cleethorpes boxer had caused an upset at the England Boxing National Amateur Championships the last time the two met, winning a close-run bout.
This time however, it was Birtley's Robinson who got the nod with a 3-2 split success, much to her obvious relief and delight.
The final bout before the interval brought another victory for the Home Nations against their GB counterparts as Wales' Jake Dodd demonstrated his power.
He got the better of GB's Will Cawley, from Oldham, in a Male 53kg about after catching the eye with some fierce uppercuts to secure a  3-2 split decision, despite being docked a point in the second round.
After the interval, Scotland's only representative of the night, Tyler Jolly, took on England and Pinewood's Hassan Azim at 69kg.
What was a cagey affair at times saw the boxer from the north of the border ultimately adjudged to have produced the cleaner work and win out on a 3-2 split.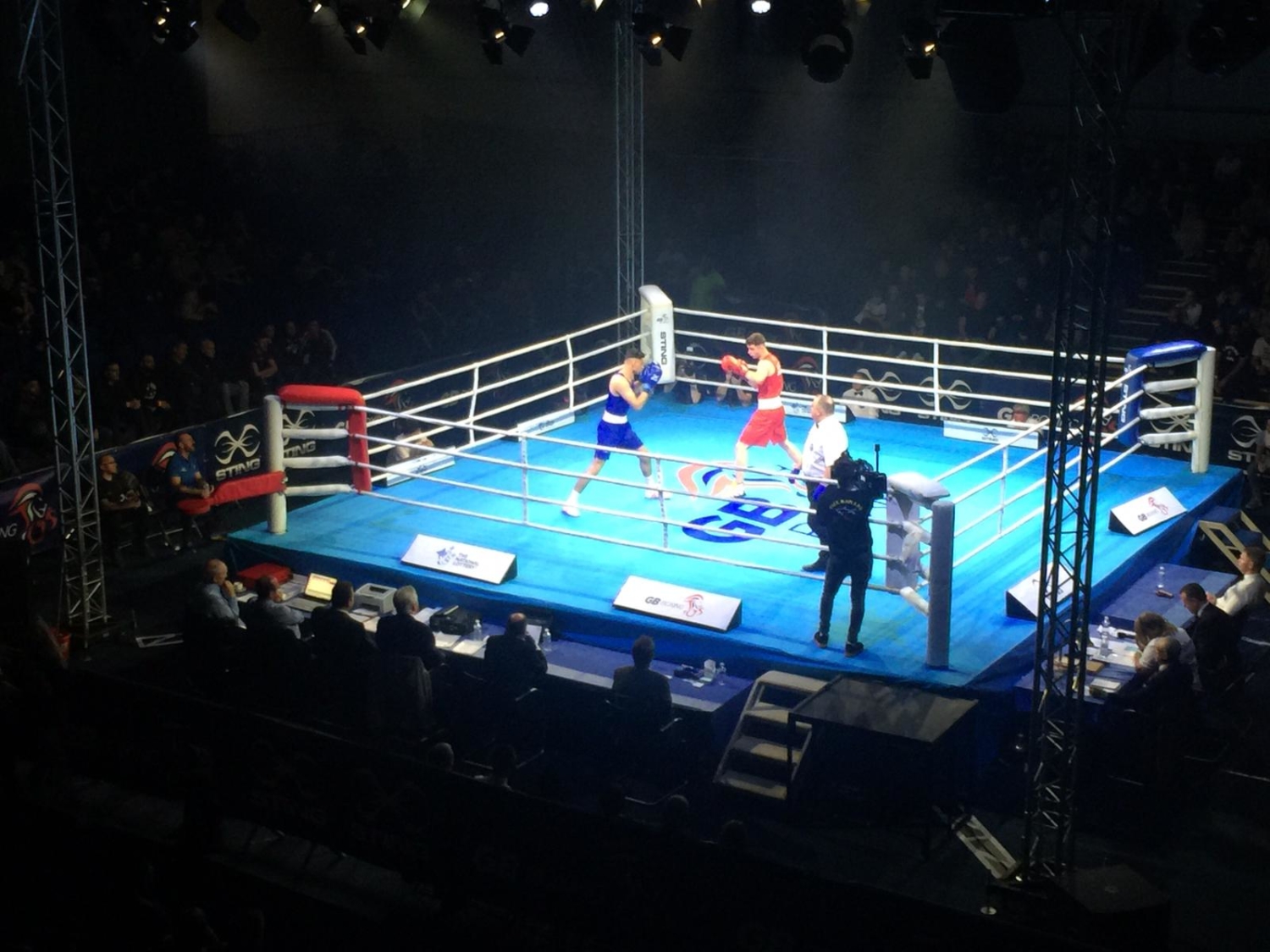 At 75kg, Ramtin Musah, elevated onto the GB programme after reaching the National Amateur Championships finals in April, was too strong for England's Jimmy Tyers.
The Beartown boxer clinched a unanimous 5-0 decision over his East Durham opponent with a mix of slick footwork and well-timed punches.
Two highly-regarded boxers met at 81kg where GB's Conner Tudsbury faced England's Aaron Bowen, this year's England Boxing National Amateur Champion and unbeaten during 2019.
After a highly-charged and bruising encounter, it was the Moss Side Fire boxer who lived up to his favourite tag to earn a unanimous 5-0 points decision against the Midlander from the Christ the King club, helped by forcing a standing count in the third round.
A 91kg contest that paired Wales' Sam Leyson and England's Thomas Pogson replaced the scheduled match-up between England's Jem Campbell and GB's Omarah Taylor at 69kg, with the latter unable to box.
The taller Welshman always had the upper hand against the man from the Imps club in Lincoln, which lead to a 4-1 success and a second triumph of the night for his country.
In the night's final bout at 91kg+, Courtney Bennett and Gideon Antwi looked to be bringing the Championships to a fitting close.
Disappointingly, though, the bout came to an early conclusion in the second round after an accidental clash of heads saw Hoddesdon's Antwi sustain a bad cut, which forced the referee to bring a halt to the contest.
Scores were taken from the point the stoppage came and resulted in a 3-0 split decision win for Churchills boxer Bennett.
(Main pic courtesy of Andy Chubb)
GB Championships results
51kg – Chloe Watson (GB) beat Helen Jones (WAL) by a 4-1 split decision.
57kg – Jade Pearce (ENG) beat Raven Chapman (GB) by a 3-2 split decision.
61kg – Joe Tyers (ENG) beat Subhaan Ahmed (ENG) by a 5-0 unanimous decision.
60kg – Hannah Robinson (GB) beat Kirsty Hill (ENG) by a 3-2 split decision.
52kg – Jake Dodd (WAL) beat Will Cawley (GB) by a 3-2 split decision.
69kg – Tyler Jolly (SCO) beat Hassan Azim (ENG) by a 3-2 split decision.
75kg – Ramtin Musah (GB) beat Jimmy Tyers (ENG) by a unanimous 5-0 decision.
81kg – Connor Tudsbury (GB) beat Aaron Bowen (ENG) by a unanimous 5-0 decision.
91kg – Sam Leyson (WAL) beat Thomas Pogson (ENG) by a split 4-1 decision.
91+kg – Courtney Bennett (GB) beat Gideon Antwi (ENG) by a split 3-0 decision.