Youth Worlds 2022: four Team England boxers through to final on day nine
November 23, 2022 | by Chris Boyd
Team England will have four boxers in Friday and Saturday's Youth World Championships 2022 Finals after a tough round of semi-finals.
The Three Lions had seven boxers in La Nucia, Spain, who were bidding for places in the gold medal bouts before the boxing began.
Disappointingly, one of those, Emily Whitworth, was not able to make it into the ring for her Under 57kg contest after she was pulled out of her bout with the USA's Guadalupe Perez because she was suffering from illness, with the decision taken by her coaches after consulting medical staff.
That did not dampen the spirits of her teammates, however, with two female and two male boxers able to win through to contest the ultimate bout in Youth amateur boxing.
Up first for Team England was Lauren Mackie in her Under 52kg bout against Japan's Miyu Suzuki.
Mackie has been in great form throughout this tournament and made a strong start to this bout as well. The Burton Park boxer used her superior speed to land shots while moving in and out of striking range freely.
The second round was scrappy, with Mackie nullified by Suzuki who kept holding onto her as the Japanese boxer looked to impose herself on the bout.
At the times Mackie was free of the shackles in rounds two and three, her excellent footwork allowed her to put together combinations and be constantly on the front foot, as she cruised to a unanimous decision and a place in the final.
Amber Moss-Birch soon followed for Team England, as she came up against Ireland's Dearbhla Tinnelly in an Under 81kg contest.
Moss-Birch started on the front foot, finding her range with piercing jabs and backhands to put herself in control of the bout.
The second round was similar, with an early onslaught from the Golden Ring boxer forcing her Irish opponent, who was struggling to make any leeway in the contest, into a standing eight count.
More draining jabs saw Tinnelly unable to build any momentum in the final round, as Moss-Birch earned herself a unanimous decision victory.
The bouts were now coming thick and fast for Team England, as Under 60kg boxer Nelson Birchall came up against Erik Israyelan of Armenia.
Birchall was made to work hard from the first bell, as Isravelan worked him with multiple shots to the body and head. The Jennings Gym boxer managed to slip a number of shots, including huge swings, but the Armenian took the round.
Similarly to the first round, there were multiple pauses as the referee provided warnings to both boxers, but mostly to Isravelan.
The aggressive style he was deploying in the bout found him holding and pushing Birchall throughout. On occasion, the two boxers engaged in explosive but brief exchanges and the round was awarded to the Armenian.
A huge round was needed from Birchall, but this was quickly made difficult as he received a low blow from Isravelan and was clearly in discomfort.
A standing eight count for the Team England boxer ended hopes of a comeback victory, as Birchall's excellent tournament run came to an end.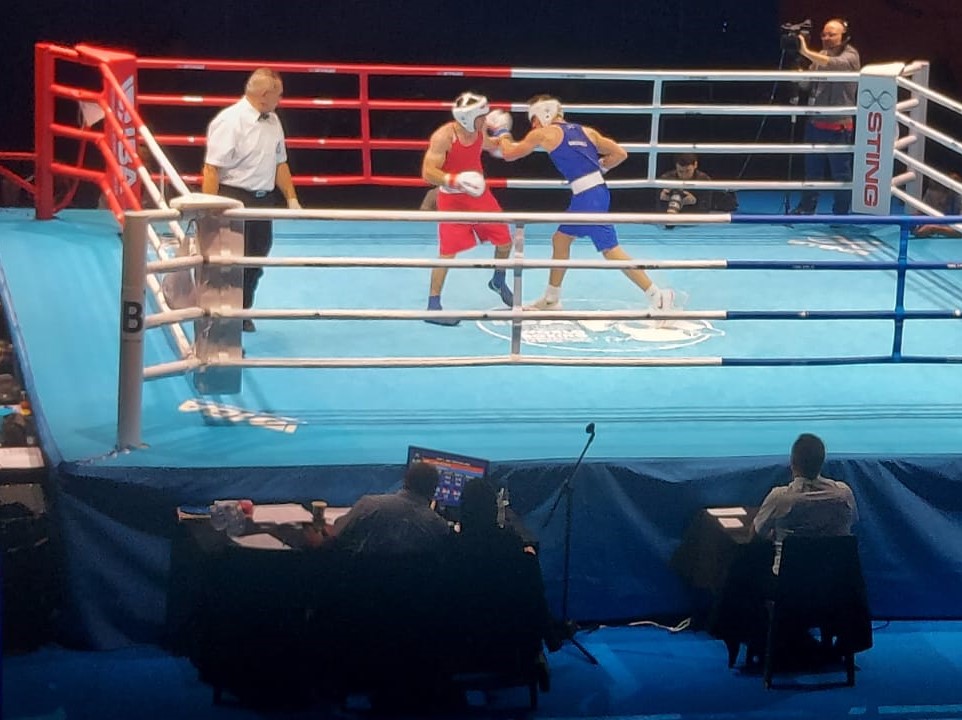 Levi Barnes was next up as he competed against Javokhir Ummataliev of Uzbekistan in an Under 67kg bout.
Barnes came up against an equally as awkward opponent in Ummataliev. Both boxers spent the first round adjusting their stances and were encouraged twice by the referee to engage and when they found the space they did so, with both landing shots at times.
The Jennings gym boxer continued with his patient approach in the second round but was ultimately more open in his approach. Barnes stepped in on occasion and worked the body but conceded the round to his opponent despite this.
The final round was a tough one. The Uzbekistan boxer was ahead on the scorecards and used this to his advantage, aiming to engage as little as possible and keep the round as close as possible. Barnes forced a trade of blows on occasion but bowed out of the tournament to a 4-1 split-decision loss.
Team England's final boxer in the afternoon session was Enriko Itauma who faced Stylianos Roulias of Greece in an Over 92kg bout.
With less than a minute of the bout on the clock, a huge left hand by Itauma forced a standing eight count from the referee and the Westree boxer never looked back from there.
Itauma was evidently allowing his opponent to come onto him and be on the offensive, with the Team England boxer using this tactic to slip the shots and land some of his own as he took the first round unanimously.
The second was almost a copy of the first, as Itauma allowed the Greek to march him to ropes before boxing his way out of trouble. A second standing eight count soon followed, but Roulias was able to make it to the final round.
Itauma oozed class in the final three minutes. The Southern Counties man was far too quick for his opponent and swerved shots throughout while landing his own when he chose to do so.
He earned his place in final by securing a unanimous decision 30-25, 30-25, 30-26, 30-24, 30-27.
Just one England boxer was in action in the evening session and it saw Damar Thomas paired with Romania's Florin Ionita (Romania).
It was a rare occasion when the Powerday Hooks boxers was facing a taller opponent than himself, but he pressed well and landed jabs and combinations to take the first round unanimously.
Thomas continued to be on the front foot in the second and, despite getting caught by the odd flurry from his opponent was always well in control by landing a greater number and quality of punches.
Well ahead on the scorecards going into the final round, the London boxer knew he just needed to keep things at length and clean, which he managed to do on the whole using his neat and tidy footwork, eventually prevailing 30-27, 30-27, 29-28, 30-27, 30-27.
There is no boxing tomorrow on tomorrow's day 10 as it is a rest day before the final.
Day 11 and day 12's finals bouts involving England boxers are detailed below.
Day 11 England bouts
(6pm start, 5pm UK time)
Bout 5: Under 52kg – Lauren Mackie v Satyajit Ghorpade (India).
Day 12 England bouts
Bout 10: Under 81kg – Amber Moss-Birch v Oltinoy Sotimboeva (Uzbekistan).
Bout 11: Under 92kg – Adrian Fresneda (Cuba) v Damar Thomas.
Bout 13: Over 92kg – Enriko Itauma v Oleksandr Zelenskyi (Ukraine).