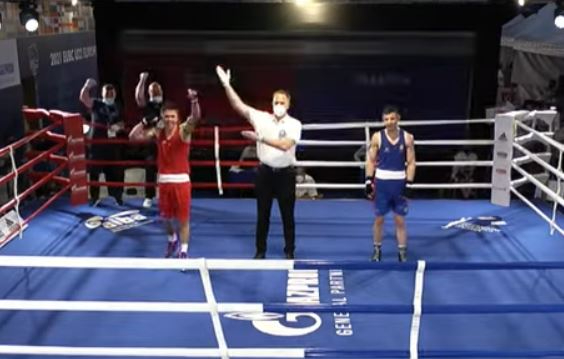 Musah, Tyers and Tudsbury progress on mixed day for England
June 19, 2021 | by Matt Halfpenny
A hat-trick of victory ensured England enjoyed the perfect evening session at the European Under 22 Championships 2021 in Roseto, Italy.
Ramtin Musah and Joe Tyers earned their second successes of the tournament, while Conner Tudsbury got his campaign off to a flying start.
Those wins helped make up for a disappointing afternoon session when both England boxers in action, Hamza Mehmood and Shona Whitwell were eliminated at the first hurdle.
In a forerunner to the Euro 2020 clash between England and Scotland at Wembley, Musah took of Sam Hickey from north of the border at middleweight (under 75kg).
It proved to be a comfortable triumph for the Beartown man who secured a unanimous 5-0 decision after being in control throughout, with all but on judge calling all three rounds in his favour.
Tyers secured what was arguably the win of the tournament so far for England as he defeated Moldovan number two seed Alexandru Parashiv in a light-welterweight contest.
The Darlington boxer triumphed 3-2 after an absorbing and very close run bout, prompting a punch of the air in delight from the winner when the result was announced.
Moss Side Fire's Conner Tudsbury boxed at light-heavyweight (Under 81kg) and he quickly outclassed Peter Baranyi of Hungary.
Some of the judges had already put the Mancunian two points ahead after the first round and the contest was abandoned in the second when his opponent's corner threw in the towel with their boxer having taken some heavy shots.
Earlier, in the afternoon session, Mehmood had taken on Ireland's Sean Mari at flyweight (Under 52kg) in a last 16 contest, where he went down to a 4-1 split decision defeat.
St Ives, Whitwell, meanwhile, was beaten 3-2 by Luca Hmori of Hungary at light-welterweight Under 64kg, despite winning 30-27 on the two judges' scorecard that did rule in her favour.
Today's (Saturday's) action sees two England boxers get their campaigns underway, with Dale Youth's John O'Meara taking on Alen Rahimic of Bosnia and Herzegovina at bantamweight (Under 56kg) and Bradford Police's number one seed Harris Akbar taking on Bulgaria's Vensan Kirkorov at welterweight (Under 69kg).
The third England boxer to feature is Tudsbury, who is likely to face much stiffer opposition than his first contest as he takes on number four seed Aliaksei Alfiorau of Belarus at light-heavyweight (Under 81kg).
You can follow the action here: https://www.youtube.com/c/AIBABoxingOfficial