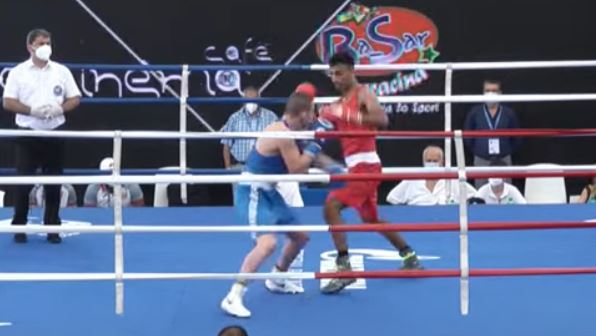 England's Akbar justifies number one seeding to make semis
June 20, 2021 | by Matt Halfpenny
Harris Akbar got his EUBC European Under 22 Championships 2021 campaign off to a victorious start to lift an England squad that otherwise suffered a disappointing third day in Roseto, Italy.
The Bradford Police boxer went into the tournament as number one seed took on Vensan Kirkorov at Welterweight (Under 69kg) looking to justify his number one seeding.
He did just that, winning the opening round 4-1 and the second round 5-0, before four of the five judges adjudged him to be a 30-27 points overall winner as he took a semi-final spot.
Elsewhere, Dale Youth's John O'Meara, competing at bantamweight (Under 56kg), was beaten 4-1 by Alen Rahimic of Bosnia and Herzegovina.
The Eastern European's first round work was favoured by the judges, but the Englishman took the second round on three of the judge's scorecards to leave the bout in the balance.
But Rahimic finished strongly to claim the third and final round across the board and advance to the last four.
Conner Tudsbury was left hugely frustrated in his light-heavyweight (Under 81kg) clash with Belarus' Aliaksei Alfiorau.
The Moss Side Fire Man went down to a 3-2 split decision following a clash of heads in round one that forced the bout to be abandoned after just 22 seconds following a cut to his opponent.
You can watch day four's action here: https://www.youtube.com/c/AIBABoxingOfficial