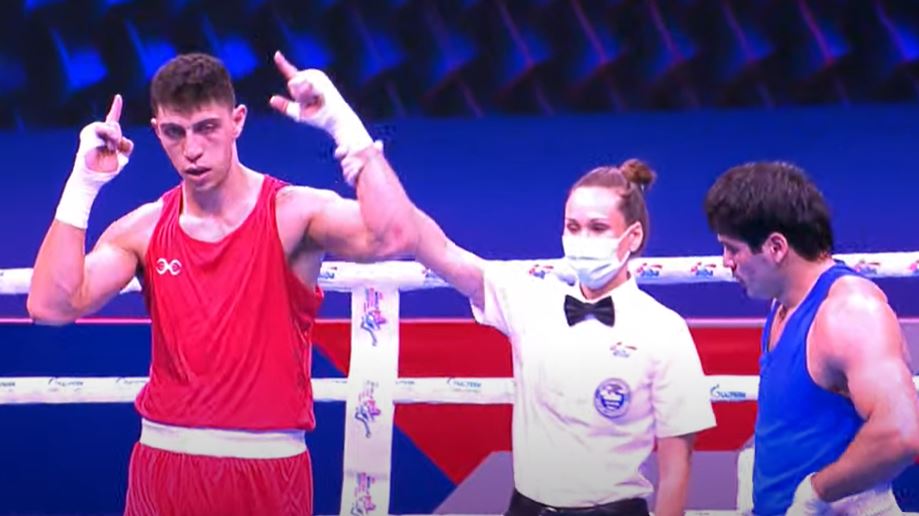 Eight England boxers among 14 named by GB Boxing to compete at Men's Europeans
May 18, 2022 | by Matt Halfpenny
Eight England Boxers have been named by GB Boxing in the 14-strong squad to compete at the EUBC European Boxing Championships in Yerevan, Armenia, which get underway this weekend (22nd to 30th May 2022).
The English contingent is made-up of 2017 European silver medallist, Niall Farrell, newcomer Joe Tyers and six boxers that competed at the 2021 world championships in Belgrade, Serbia in the shape of Kiaran MacDonald, Harris Akbar, Lewis Richardson, George Crotty, Lewis Williams (pictured) and Delicious Orie.
Competing for Wales are Ioan and Garan Croft, the brothers who both recently won silver medals at the U22 European Championships in Croatia in March along with Jake Dodd and light-heavyweight, Taylor Bevan.
All four of the Welsh boxers will be competing in their first senior major international tournament.
Scotland are represented by 2021 world championship bronze medallist, Reese Lynch and Sam Hickey, who won a bronze medal at the recent U22 European Championships.
Flyweight MacDonald and featherweight Farrell have both been in the GB Boxing squad for six years and travelled to the Tokyo Olympic Games, where they were sparring partners for the boxers representing Team GB.
The pair also competed at the 2021 world championships in Belgrade but faced very difficult draws, so did not make it beyond the preliminary rounds, but are hopeful of making a real impression at this tournament.
"I've been on the squad for a few years now and to finally get the chance to go to the worlds and then not be able to perform at my best was disappointing," said MacDonald, 25. "I am over that now though and have been in good form recently.
"The last time I boxed (in April 2022) I won a tournament where I had four fights and beat two Kazakhs so that has given me a lot of confidence that I am going to take into the Europeans."
For Farrell, the European championships is a reminder of the highpoint of his career so far which came at the 2017 event in Kharkiv, Ukraine where he won a silver medal at flyweight.
Persistent injury problems and the impact of the pandemic has halted the Birmingham man's progress since, but the 24-year-old feels he is returning to his best form, after topping the podium on his last outing at the Gee Bee tournament in Finland in April 2022.
He said: "I am feeling the best I have felt physically and mentally for a long time.  We have just come off a multi-nation training camp where I got a lot of rounds in against some good boxers, so I think the preparation has been good and I am just looking to get out there and getting started.
"In tournaments you need to get a fight under your belt to get your rhythm but once I am up-and-running I am confident I can take on anyone.  I know there will be some good boxers in the draw but you just have to take each fight as it comes and beat what is in front of you."
The full line-up selected by GB Boxing is:
| | | | |
| --- | --- | --- | --- |
| Boxer | Weight Class | Country | Club (Hometown) |
| Kiaran MacDonald | Flyweight – 51kg | England | Sunderland ABC (Sunderland) |
| Jake Dodd | Flyweight – 51kg | Wales | Deva ABC (Wrexham) |
| Niall Farrell | Featherweight– 57kg | England | Kingstanding 2nd City (Birmingham) |
| Joe Tyers | Light-welterweight – 63.5kg | England | Billingham Boxing Academy (Trimdon) |
| Reese Lynch | Light-welterweight – 63.5kg | Scotland | Rob Roye ABC (Fauldhouse) |
| Ioan Croft | Welterweight – 67kg | England | Cardigan ABC (Crymch) |
| Garan Croft | Light-middleweight – 71kg | Wales | Cardigan ABC, (Crymch) |
| Harris Akbar | Light-middleweight – 71kg | Wales | Bradford Police & College (Bradford) |
| Sam Hickey | Middleweight – 75kg | Scotland | Lochee ABC (Dundee) |
| Lewis Richardson | Middleweight – 75kg | England | Chadwell St Mary (Colchester) |
| Taylor Bevan | Light-heavyweight – 80kg | Wales | Roose Boxing Club (Eastleigh) |
| George Crotty | Light-heavyweight – 80kg | England | Royal Navy (Royston, Hertfordshire) |
| Lewis Williams | Heavyweight – 92kg | England | Cleary's Gym (Leamington Spa) |
| Delicious Orie | Super-heavyweight – 92kg + | England | Jewellery Quarter, Birmingham (Wolverhampton) |