How the Kickstart Programme has helped Wath Upon Dearne ABC – and employee Hollie
October 16, 2021 | by Matt Halfpenny
The development of the Kickstart Programme, thanks to a partnership between the Police Clubs of Great Britain and the Department of Work and Pensions, has enabled a host of sports clubs to employ registered members at no cost. Wath Upon Dearne ABC are one such club which has taken advantage – and here's their journey so far.
xxxxx
When an email from England Boxing's Yorkshire Club Support Officer, Alicia Winbolt, popped into Darren Coward's inbox telling him about the Police Community Clubs Kickstart Programme, he thought it was too good an opportunity not to pursue it.
As he put it: "The benefits of the programme were endless, and we could not see a downside to offering someone a role in the club."
The initial attraction was getting someone in to work 25 hours per week for six months, without having to pay them.
After a simple phone call with Barry Jones, the Secretary of the Police Community Clubs, the role was advertised in Job Centres local to Wath, and applications started to come in within a week.
"We did not have to worry about paying the employee through our bank account, and then claiming it back off the government later as the Police Club's managed this," explained Darren.
"They do all the paperwork, financial transactions, paid for Safeguarding and Boxing Leaders qualifications, and we just interviewed and selected candidates.
"As with many boxing clubs, we were offering not only boxing sessions, but fitness sessions to help the club cover the overheads of rent, bills, and insurance costs.
"In total we run 25 classes per week, plus an additional 10 to 15 school sessions per week too, so getting someone in, who could assist and then eventually lead sessions, was an opportunity we couldn't say no to."
Of those who applied, it was Hollie who was eventually offered the position with Wath.
She said: "I initially heard about the Kickstart Scheme through my work coach at the Job Centre. Due to my desire to change my career path and my lack of qualifications in health and fitness, it seemed like a perfect opportunity to develop a career in the fitness industry.
"I have hugely benefited from taking part in the Kickstart Scheme. In the six months I have worked for Wath ABC, I have gained more confidence with working with clients daily, pushing myself out of my comfort zone.
"Along with the life skills, I have also gained several qualifications which were funded by other schemes found by the club. I am now a fully-qualified gym instructor with awards to also instruct circuit training and kettlebell classes.
"As I have always enjoyed going to the gym, I couldn't have asked for a more perfect opportunity, as I always wanted to pursue a career in the fitness industry, but didn't know where to start or ever had the finances to pay for the courses myself."
"Wath ABC has been amazing throughout the scheme. Darren my boss has a wide range of knowledge and experience within fitness and nutrition, so he was there to help with any questions or struggles I may have been facing.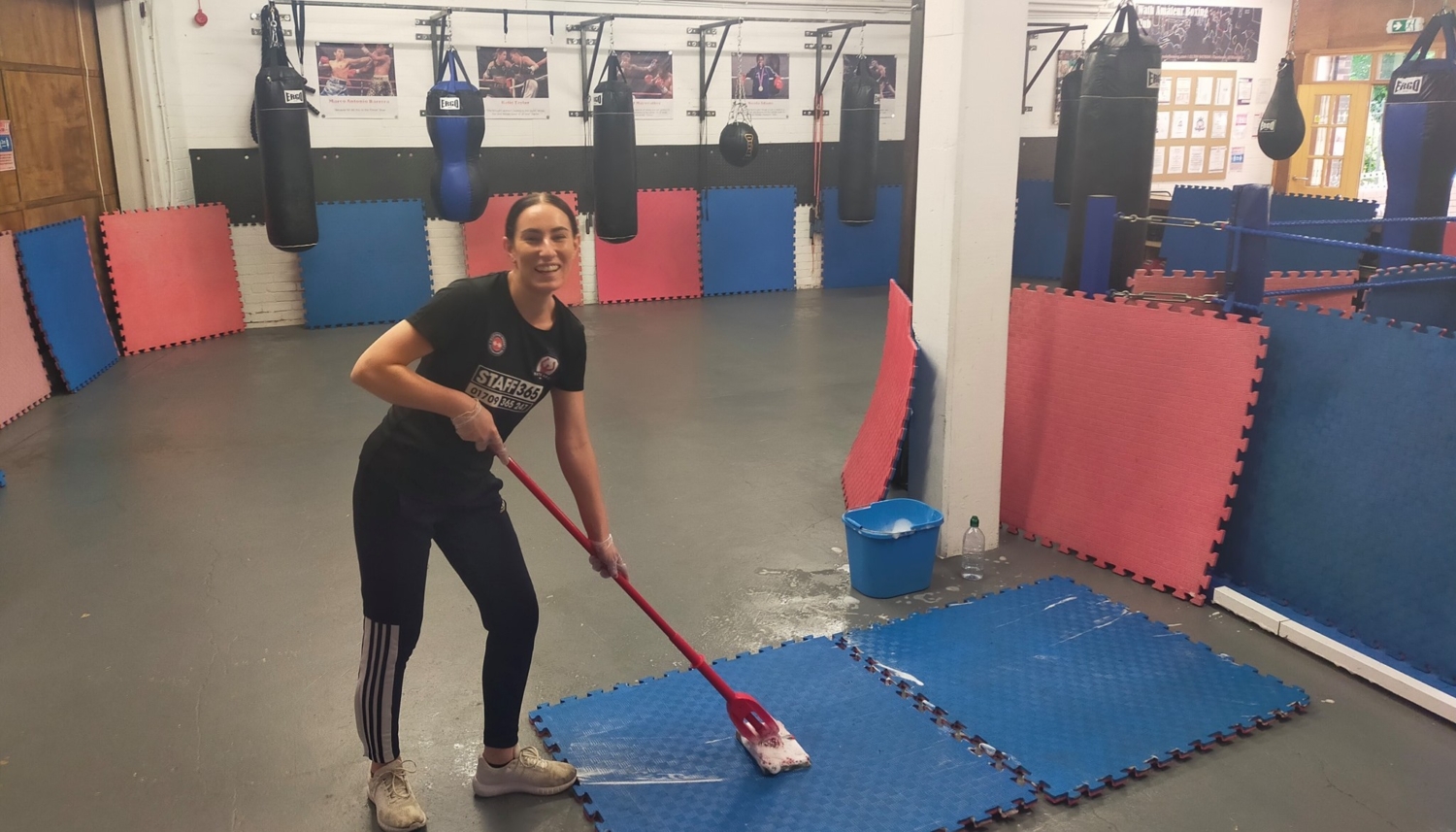 "He has also helped me with learning all about the anatomy and physiology of the body, quizzing me here and there making sure I am learning along the way with print outs to keep at home to revise from.
"Darren also puts trust in me to run the Bootcamp classes to ensure I had experience prior to my qualifications, which put me at an advantage and again helped gain more confidence in working directly with clients as opposed to other jobs I've had in the past, which were mainly phone based roles.
"Not only has Darren helped with learning all I need to know, he even worked my working schedule around my qualifications to ensure I had enough time to revise and wasn't running myself down. It has been a pleasure working for Wath ABC and the team and can't thank them enough for all the help."
The next step for Hollie would be to work within the same environment whilst aiming to get her Level 3 Personal Trainer qualification.
Once she has achieve this, she will be able to put a plan together to start to build her own client base, with the aim of setting up my own bootcamp-style classes and working 1-1 with clients in the gym, offering training programmes specifically for their needs.
Her long-term goal is to work towards building an online coaching business so she can expand her clients outside of her local area.
Hollie added: "I already have an online fitness account on Instagram, where I have shown my own progress throughout the years, and it would be nice to take this platform and now help other people achieve their own goals.
"Lastly, I would like to get qualifications in nutrition as this isn't hugely covered in the personal training qualification, so I can also offer advice on nutrition to my clients which is always a bonus as knowledge is power."
From a club perspective, Darren has been thrilled with the appointment and regretted that Wath, in the current climate, was not in a position to offer Hollie a full-time job after her placement.
However he is confident that the last six months have not been wasted, and that Hollie has gained invaluable knowledge and qualifications that will allow her to get interviews once she finishes her time with the club.
He added: "The Kickstart Programme has helped Hollie follow her dreams to gain experience in the fitness industry. With Wath upon Dearne ABC been a proactive employer, we searched for ways to help Hollie even more and found Envisage, a local Fitness and Education Training Company, that helped Hollie gain funding for her qualifications too.
"I honestly believe that Hollie now ticks all the boxes on future job applications. She has endless experience of coaching boxing for fitness class, circuit classes and leading strength classes. Hollie has the right qualifications in place to start her career elsewhere and has formulated an action plan to help her achieve her long term goals.
"We are currently about to advertise the posts again for the next six months, for two roles, one Admin Trainee and for another Gym Instructor Trainee.
"When thinking of roles, clubs can think slightly out of the box when coming up with positions. Maybe you need someone to run the social media pages at your club, someone to get the club paperwork up to date or just an assistant to set up classes and clean down the equipment after use.
We would highly recommend all clubs to consider using the scheme, to help free up time to allow coaches to coach."
Applications for the Kickstart Programme need to be in by 17th December, with placements having to start before March 2022.
It is only available to people aged between 18 and 24, who are unemployed and on universal credit, but if you have someone in your club who ticks all the boxes, you can recommend them.
To find out more, please click here to read a further, explanatory document.