Meet the three Priory Park Kickstart programme participants
January 4, 2023 | by Matt Halfpenny
The Police Community Clubs of Great Britain (PCCGB) has been proud to support the roll out of the Government's Kickstart programme, including in a number of England Boxing member clubs, between April 2021 and September 2022.
Here are detailed the experiences of three participants, all from the Priory Park Boxing Academy, Dudley in the Midlands region.
Mia Holland
"The Kickstart programme helped me get into a job by providing me with the opportunity to work in a school," said Mia.
"I had all the help and guidance I needed yet if I needed help or some support I could get in touch with the services provided and they were reliable in supporting me.
"By going onto the Kickstart programme it helped me to have an opportunity to work in a school, gain experience, knowledge of what work in schools is like.
"I would like to thank the Police Community Clubs GB for giving me this opportunity.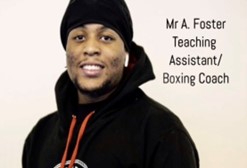 Ashley Foster
"Ashley completed the six-month Kickstart Programme and gained a great deal from it, having been introduced to the role of Teaching Assistant," said Club Chairman, Paul Gough.
"Ashley felt it was not the role he would like to base a career on, bout it ultimately assisted him in securing full-time employment with his local authority."
Jimmy Reed
Jimmy successfully completed the six-month Kickstart Programme and is now actively seeking a full-time post having gained invaluable experience and confidence," said Paul.